Best Tweets: Avid Fans, Burning Wheat & Gober Sosebee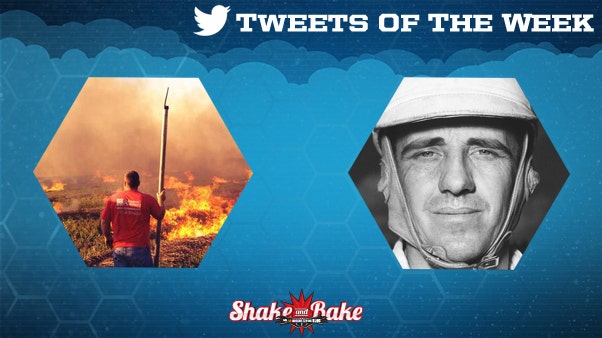 Let's take a look back at the best tweets of the week in the world of NASCAR.
We know fans love Bristol, but apparently it's even a favorite of four-time champion Jeff Gordon.
Waking up to one of my favorite race weekends @NASCAR @BMSupdates & F1 Spa-Francorchamps.

— Jeff Gordon (@JeffGordonWeb) August 23, 2013
Fans often request retweets from drivers, but one Kyle Busch fan may have taken it a bit too far.
No proof necessary!! RT @cjennings07: @MartyFalloon if @KyleBusch RT me, I will ride the bull at the red barn naked #bristolbaby

— Kyle Busch (@KyleBusch) August 23, 2013
After Friday night's Nationwide Series race, Brad Keselowski had a really, really avid fan outside his motorhome.
Soliciting ideas for the appropriate response when a fan stands outside my bus demanding the clothes off my back. #GO!

— Brad Keselowski (@keselowski) August 24, 2013
Driver introductions are always unique at Bristol, but no matter where you go the response is usually the same for Rowdy Busch.
Country music artist Jake Owen had a little fun picking Kevin Harvick's intro music.
.@jakeowen I thought we were friends… I'm every woman by Whitney Houston?? Really??? #cmonman

— Kevin Harvick (@KevinHarvick) August 25, 2013
In typical Bristol fashion, not everyone had a great night at the "World's Fastest Half Mile."
Hate it not only for my team but everyone else involved.. Absolutely nothing I could do once 55 cut down my right front tire.. #carlow

— Denny Hamlin (@dennyhamlin) August 25, 2013
Bristol… #enoughsaid

— Kevin Harvick (@KevinHarvick) August 25, 2013
However, it was a great day to be a Kenseth. Ross Kenseth captured the pole for his first career ARCA Series start, while his dad had a little bit of success too.
Holy cow! Shout out to @kaseykahne for racing clean. Proud of @mattkenseth that was an awesome finish #fp

— Ross Kenseth (@RossKenseth) August 25, 2013
So proud of my team, and glad to be part of it. What a night! #blessed #team20 #nascar

— Matt Kenseth (@mattkenseth) August 25, 2013
Kasey Kahne's night was good, but not good enough.
Damn good job by the 5 team tonight. Can't wait for Atlanta!

— Kasey Kahne (@kaseykahne) August 25, 2013
Michigan winner Joey Logano overcame a lot of adversity to score a top 5 finish.
How about that Knocked in RF Speeding penalty Blocked in pit stall Garbage on the grill =top 5 #NeverGiveUp

— Joey Logano (@joeylogano) August 25, 2013
Then he returned the love Kenseth showed him last week.
Oh and congrats on the win @mattkinsith. I mean @mattkinseth. I mean @mattkenseth

— Joey Logano (@joeylogano) August 25, 2013
With a rare day off, Kyle Larson took in some Little League World Series action, but was torn on who to cheer for.
Japan vs California tomorrow in the Little League World Series. Who do I root for???

— Kyle Larson (@KyleLarsonRacin) August 25, 2013
Clint Bowyer spent his day off burning wheat…yeah, that's the ticket.
So my friend Zack here says what do u say we fill this pipe here with GAS and burn this wheat field? Here goes!!! pic.twitter.com/CTSJYndAHV

— Clint Bowyer (@ClintBowyer) August 25, 2013
— Clint Bowyer (@ClintBowyer) August 25, 2013
Good news is we're outta gasoline….Bad news is the fires still burning!!! pic.twitter.com/BdEJId2bHp

— Clint Bowyer (@ClintBowyer) August 26, 2013
Looking ahead to Atlanta, NASCAR's stats guru Mike Forde provided this little nugget.
Among the list of #NASCAR winners from Georgia, in terms of coolest names, one stands out: Gober Sosebee, winner of two Sprint Cup races.

— Mike Forde (@mforde) August 26, 2013
And since you were wondering, here's a picture of Gober Sosebee.