Best Tweets: Go-Kart Crash, Rowdy Donuts & 'Star Wars' Lego Fun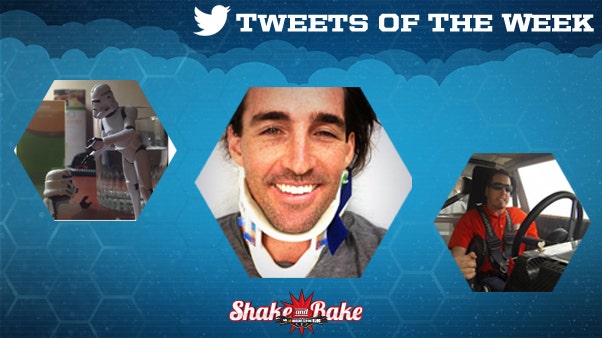 Looking back at the best Tweets from the week that was…
Kevin Harvick and Clint Bowyer went karting with country music singer Jake Owen. It didn't go well.
Got in a little go kart accident tryin to beat @KevinHarvick & @ClintBowyer . I'll stick to singing country songs pic.twitter.com/s6aQ2trym2

— Jake Owen (@jakeowen) July 8, 2013
Stick to your day job… "@jakeowen: In the ER… What a way to end the weekend.. pic.twitter.com/UurDQpzef5"

— Kevin Harvick (@KevinHarvick) July 8, 2013
Kurt Busch was getting all hot and bothered.
Nothing hotter than @Patricia_AFF teaching Houston how to shoot #GodBlessTexasWomen pic.twitter.com/OY1ClUsEB5

— Kurt Busch (@KurtBusch) July 11, 2013
While brother Kyle was delivering donuts to downtown Rochester, NY.
Inspecting the aftermath. @KyleBusch @wgi #ROC #NASCAR pic.twitter.com/B1vvxHDpXu

— City of Rochester NY (@CityRochesterNY) July 11, 2013
A Sharknado took the Twitter world by storm. The course of the storm didn't seem to run through NASCAR country, however.
Apparently I'm completely oblivious to #SharkNado Someone help!

— Brad Keselowski (@keselowski) July 12, 2013
Martin Truex Jr. ran into a HUGE problem. Luckily, everything turned out okay.
Why cant i tweet emojicons people!?!?!

— Martin Truex Jr. (@MartinTruexJr56) July 14, 2013
I could before but now they wont send if i put emoji in there. Pissed!!!

— Martin Truex Jr. (@MartinTruexJr56) July 14, 2013
Just had to update twitter app. Duh

— Martin Truex Jr. (@MartinTruexJr56) July 14, 2013
And Grand-Am driver Ryan Eversley made just about the coolest Vine video we've ever seen. Well done.
Damn Kids.. #BoredInMyHotelRoom https://t.co/BTwjqnqgT0

— Ryan Eversley (@RyanEversley) July 9, 2013