Baby on board: Rookie Kyle Larson is going to be a dad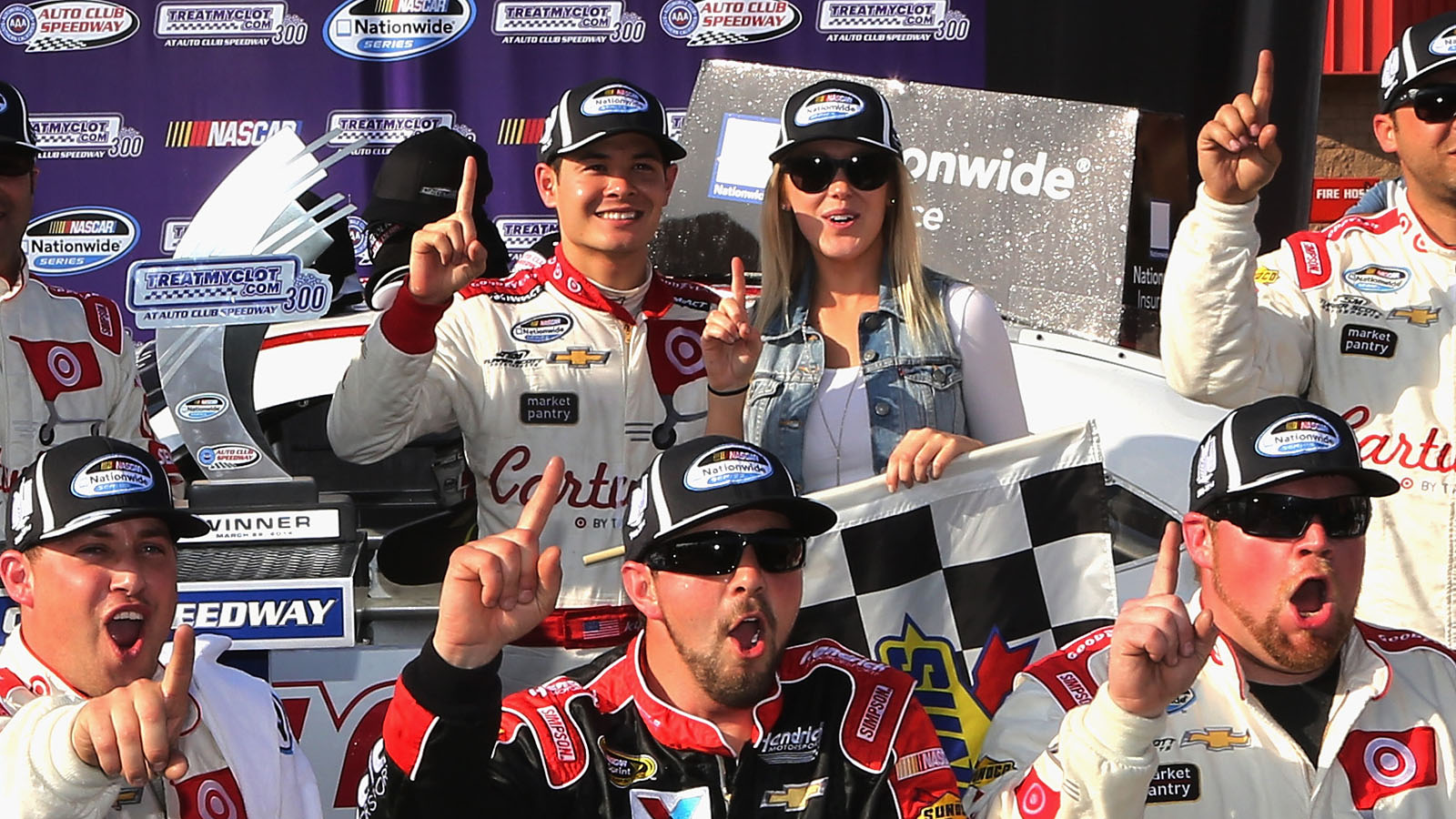 NASCAR Sprint Cup Series driver Kyle Larson recently purchased his first home, which from the way it looks on Twitter, has all the resemblances of a mansion.
Apparently, the 21-year-old rookie must have thought he was going to need the extra space.
Larson announced at the end of his scheduled media availability Friday morning at Michigan International Speedway that he and girlfriend Katelyn Sweet are expecting a child late this year.
"It was Dec. 29 the first time she went. Then it was Christmas, and now it is kind of back to December 29th," Larson said when asked about his girlfriend's due date. "Christmas sounds cool, so I will go with Christmas."
Katelyn, the sister of occasional NASCAR Nationwide Series driver Brad Sweet, posted a baby ultrasound photo to her Twitter account around the same time Larson told the media.
Really exciting news for @Katelyn_Sweet and I!! pic.twitter.com/r8WOvjrMYu

— Kyle Larson (@KyleLarsonRacin) June 13, 2014
Moments after the couple made their announcement, congratulatory tweets and well-wishes began pouring in from around the NASCAR community and beyond:
@Katelyn_Sweet @KyleLarsonRacin 👼congrats!!!! Looks like he or she is giving its self ear muffs!

— Danica Patrick (@DanicaPatrick) June 13, 2014
So were finally gonna see what a red headed Asian looks like this is exciting! Congrats to my sis and Kyle !!!

— Brad Sweet (@BradSweet49) June 13, 2014
"@KyleLarsonRacin: Really exciting news for @Katelyn_Sweet and I!! pic.twitter.com/MG33SzGCtN" congrats bud!!

— Ricky Stenhouse Jr. (@StenhouseJr) June 13, 2014
"@KyleLarsonRacin: Really exciting news for @Katelyn_Sweet and I!! http://t.co/Ybn3bwCSEy Such sweet news!! Blessings!

— Liz Allison (@Lizallison28) June 13, 2014
@KyleLarsonRacin @CGRTeams @Katelyn_Sweet awesome, congrats man!

— Marino Franchitti (@MFranchitti) June 13, 2014
Larson, who has two Nationwide Series wins this season along with six top-10 finishes in 14 Sprint Cup Series starts, is in his first year of full-time Sprint Cup Series competition for Chip Ganassi Racing with Felix Sabates.
Larson announced on Twitter June 2 that he had purchased his first home, posting a picture of the less-than-humble abode, which is not your typical "starter" house, to say the least.
At the time, fellow Sprint Cup drivers Dale Earnhardt Jr. and Brad Keselowski playfully chided Larson about what he might be planning to keep in such a large house.
Among their "guesses": Bean bags, an 80-inch TV, an Xbox One and a year's supply of Doritos.
Larson replied on Twitter that the house would "look like a Chuck E Cheese with even more TVs in there."
But now we know perhaps the real reason he decided to go big.