Watch Ryan Hunter-Reay Take The 'IndyCar Test Drive'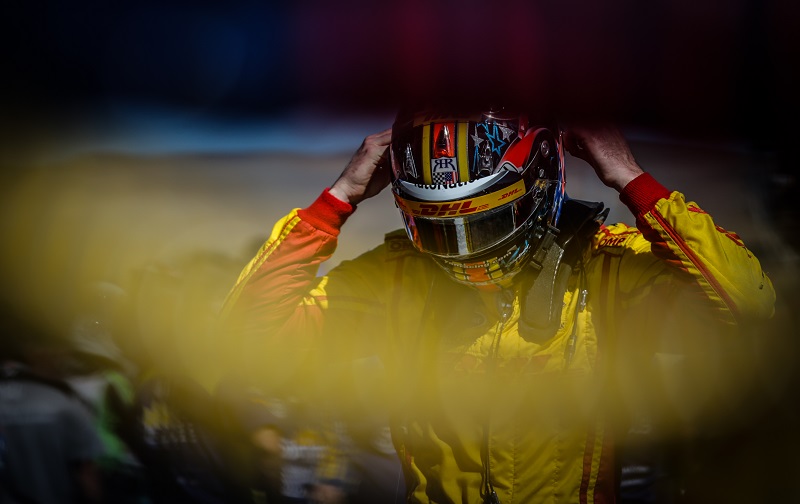 IndyCar brought back its 'Test Drive' trivia challenge and put Ryan Hunter-Reay on the hot seat. Watch here to find out how the Andretti ace fared.
After a several-week hiatus, IndyCar has resurrected its "IndyCar Test Drive" trivia challenge with a new video featuring Andretti Autosport's Ryan Hunter-Reay.
The driver of the No. 28 DHL Honda tests his knowledge of IndyCar trivia and hits a few speed bumps along the way, including just slightly overestimating his total number of starts and getting flustered when asked to name the driver that he beat out for Rookie of the Year.
Yet a strong showing in the two speed rounds is good enough to net him 30 points, good enough for third behind Scott Dixon (32) and Ed Carpenter (34).
Hunter-Reay is the tenth driver to take the "Test Drive" challenge, meaning that the league has gone through just under half of its 2016 grid. Other drivers who have taken the test include the current champion Simon Pagenaud, Graham Rahal, Will Power and Tony Kanaan.
Watch Ryan Hunter-Reay's "IndyCar Test Drive" below:
It's nice to see the "Test Drive" feature make a comeback, because there are still quite a few drivers who could post good scores in this game. Unfortunately since he's now out of the league we probably won't get to see how Juan Pablo Montoya would've done, but what about Helio Castroneves? Or Sebastien Bourdais?
Ryan Hunter-Reay certainly can be proud of himself, as right now his score is good enough for a podium finish. The real question is will anyone be able to unseat Carpenter before the 2017 season gets here? And is Pagenaud brushing up on his stats after coming in first for the championship but last in this challenge?
More from Beyond the Flag
This article originally appeared on