Takuma Sato, Carlos Munoz Expected To Swap Teams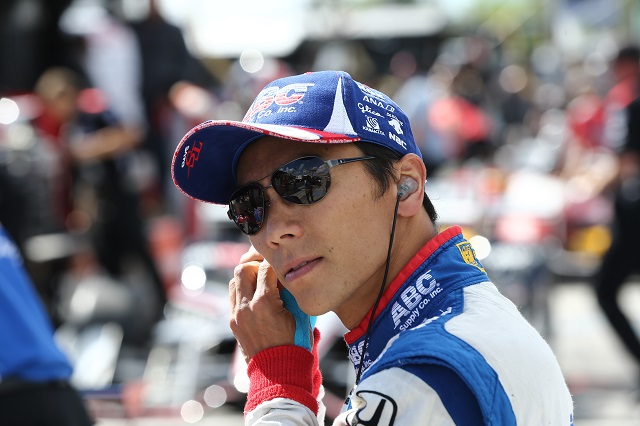 Takuma Sato and Carlos Munoz are rumored to be taking each other's seats on the IndyCar grid as sources say Sato is headed to Andretti Autosport in 2017.
The IndyCar off-season has resulted in essentially a trade between Andretti Autosport and A.J. Foyt Enterprises, as Takuma Sato is expected to take Carlos Munoz's slot at Andretti while Munoz is a favorite to replace Sato at Foyt.
Racer reported the prospect on Tuesday though no official announcements have been made.
It's worth talking about now, though, because it would put an end to questions hanging over both drivers, and says something about the future of both teams. Andretti had long been looking for a driver with more sponsorship money than Munoz could reasonably procure; in Sato the team gets one who brings the support of manufacturer Honda.
Conversely, Foyt needed a driver who was more competitive after a dismal season that saw Sato and teammate Jack Hawksworth flounder. Munoz was Andretti's best driver in 2016 and he's still very young, making the Colombian someone that Foyt can build around not just next year but for years to come.
More from Beyond the Flag
This rumored swap is, quite simply, good business.
Whether or not it will result in good racing is another story.
Both teams stand to have growing pains with their new acquisitions. As mentioned above, Sato is coming off a difficult year in which he finished 17th out of 20 full-time IndyCar drivers – ahead of only two rookies and Hawksworth.
Another knock on him is his track record of crashing, whether it's his car or causing accidents involving other cars. That gets expensive for any race team. Andretti has made significant gains on the engineering side in the off-season, so they can give Sato a great car but he still has to be able to bring it back if he's going to be competitive or financially viable.
For Munoz, moving from one of the Big Three to a two-car team is definitely a step back resources-wise, especially when that team has struggled as mightily as Foyt has. Depending on who fills the second seat there he's also going to lose some intangibles; having two Indy 500 winners as teammates (Ryan Hunter-Reay and Alexander Rossi) is certainly a huge plus as a driver on the move.
Will Foyt be able to make the push behind Munoz to let him build on his Top 10 finish this year? We'll have to see.
There will certainly be challenges on both sides, but this could also get very interesting. Between Hunter-Reay, Marco Andretti and Sato, that's an awful lot of experience for Rossi to soak up, too, which could make his sophomore season even better.
And Munoz could step up and take the Foyt squad on his shoulders, much like Sebastien Bourdais is now aiming to do with Dale Coyne Racing. If those two drivers were able to get those two teams rolling again, imagine how much that would improve the overall quality of IndyCar racing.
Swapping Takuma Sato for Carlos Munoz is a business deal, not necessarily a racing one, and it comes with plenty of risk as a result. But perhaps a fresh start on a new team is what both drivers need. Fans will have to wait and see if this pans out or winds up being a bust.
Deal follows the departure of Juan Pablo Montoya, who announced Monday that he had not been able to secure a full-time drive and will only be competing in the Indianapolis 500 next year.
What do you think of Takuma Sato and Carlos Munoz trading IndyCar rides?
This article originally appeared on