Old pipe saves car from being swallowed by sinkhole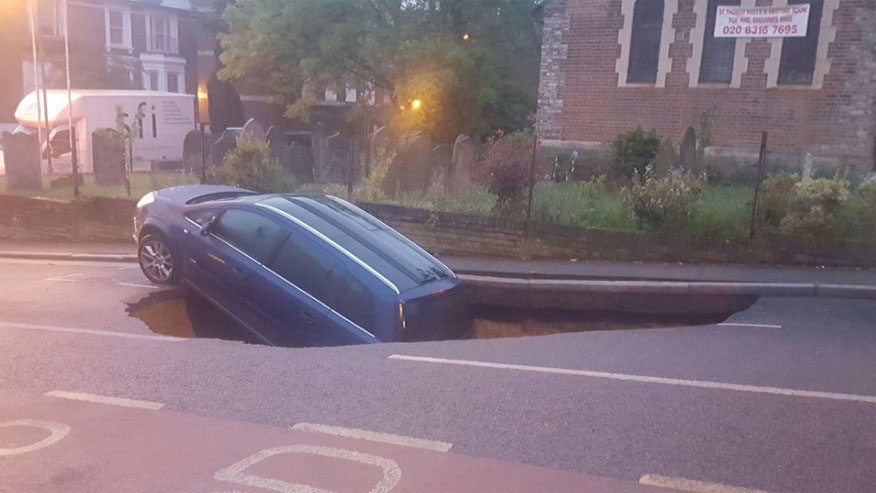 The streets of Greenwich can be mean.
A 20-foot-deep sinkhole swallowed a car in the middle of the night on May 12th in the South London district.
This is the incident we are currently dealing with in Woodland Terrace SE7. 348RG pic.twitter.com/6FdT21zBSV

— Greenwich MPS (@MPSGreenwich) May 12, 2016
No one was injured when the blue Vauxhall Zafira crossover fell into the hole, but things could've been worse. The car was caught and left precariously balanced on an old pipe crossing the chasm part way down.
CHARLTON update: That's a deep one. Saved by the pipe! #WoodlandTerrace Pic Graham Alger pic.twitter.com/2Pwlo61SkX

— Kent 999s (@Kent_999s) May 12, 2016
It turns out its owner was nonplussed by the incident.
Mr Ahmadzai said he woke up at 4am. Saw the car. Saw the hole. Went back to sleep. "Nothing I could do" he tells @PA.

— Joe Nerssessian (@joenerssessian) May 12, 2016
Police don't yet know what caused the earth to open up, but were able to retrieve the car without causing additional damage by using a crane.
The car is free #GreenwichSinkhole pic.twitter.com/QpnSrRYnet

— Joe Nerssessian (@joenerssessian) May 12, 2016