Should More Eyes Be On KVSH Racing's Open Seat?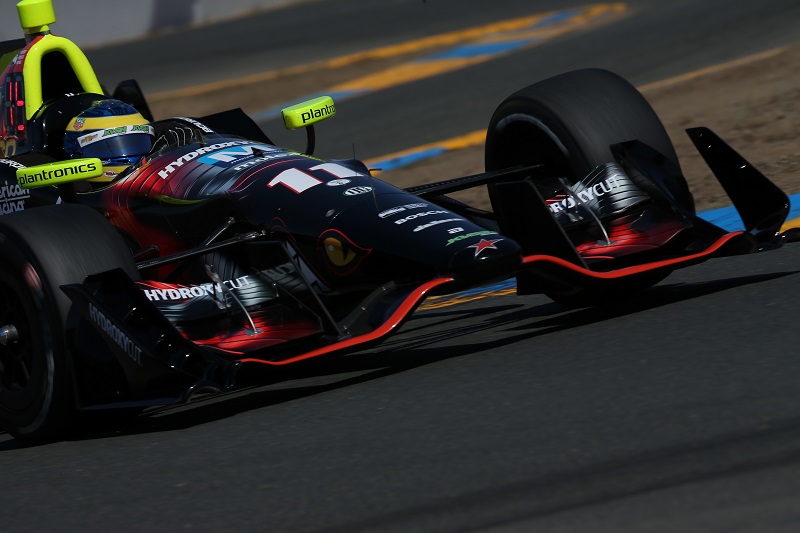 There are only two full-time seats left open for the 2017 Verizon IndyCar Series season, but could the KVSH Racing drive be the one that makes a difference?
Less than two months after the 2016 season finale there are now only two full-time IndyCar seats still available to hopeful drivers: the No. 8 at Chip Ganassi Racing and the No. 11 at KVSH Racing. All eyes are on Ganassi, but are we sleeping on the importance of KVSH?
Whoever lands the drive at Ganassi the team will continue on. Hopefully Max Chilton will get the chance to further his development after a solid rookie year. But Ganassi is one of the top teams in the league for a variety of reasons and will remain competitive with or without a star in the No. 8 entry. You can't go that wrong with two IndyCar champions on your roster, especially when one of them is the almost always contending (and seemingly ageless) Scott Dixon.
KVSH Racing is a much different story. The team has fought for everything it earned with Champ Car titleholder Sebastien Bourdais behind the wheel. Bourdais brought the team four wins in three seasons but never got higher than tenth in the IndyCar championship, and it's best just to forget the experiment that was Stefano Coletti.
And on the business side it's not smooth sailing either. Obviously Bourdais saw something that made him go from hoping to continue with the organization to leaving it behind for Dale Coyne Racing, which isn't exactly known for being a contending outfit. So there's cause to worry about KVSH financially as well.
More from Beyond the Flag
The team's choice of driver is critical now because it could solve both its problems – or make them worse.
Getting a competitive driver keeps KVSH relevant in the IndyCar conversation as all the other small teams have grown in the last two seasons. Rahal Letterman Lanigan found its stride with Graham Rahal, Coyne has improved its stock by luring Bourdais, Ed Carpenter Racing hired JR Hildebrand and Foyt is set for a promising double act with Conor Daly and Carlos Munoz.
And the best way to secure financial backing is to deliver results. Sponsors want a driver who'll give them return on their investment or at least who's marketable. If the team is worried about its future, the safety net is to find a bankable driver – one that they can hold onto and not lose next year like they were surprised to lose Bourdais this year.
But finding the right man or woman for the job is easier said than done.
There's no shortage of people wanting a drive in IndyCar. Every day it seems there's a story of a young driver saying they're hopeful for a full-time seat and think they deserve it, whether it's RC Enerson, Jack Harvey, Dean Stoneman, et al. But just because you want the job doesn't mean you should get it, and KVSH has to hire the right one.
Look at Hildebrand. He's certainly not a "name" hire and he doesn't have a shining resume, but his familiarity with Carpenter's organization and the enthusiasm he has for that team makes him a much better choice than anyone else available.
And the free-agent driver market is much thinner now than it was two months ago. The best free agent was Juan Pablo Montoya, who wound up re-signing with Penske after nobody was able to come to terms on a full-time drive for the 2015 championship-runner up. Helio Castroneves came back to Team Penske. Daly and Munoz found other rides.
So does KVSH take a flier on one of the Indy Lights drivers and hope for the best? Or wait and see if another chip falls?
The team could wait and see what happens to Chilton. If Ganassi for some reason does let him go, he'd be a solid representative both on and off-track and he's just starting his career, but there's no guarantee he's going to be available.
Jack Hawksworth is looking for a job now after being replaced by Daly. The problem there is that Hawksworth hasn't really distinguished himself, with just one podium in three IndyCar seasons. Maybe a change of scenery would help him and he does have experience, but does experience matter if it's not great experience?
Simona de Silvestro drove for KVSH years ago but she's now committed to a three-year contract in V8 Supercars.
It doesn't seem like there are many options left for KVSH Racing to make a splash in the 2017 season but the driver they do choose – and how they fare – could be either a fresh start or in the worst case, the beginning of the end.
If you're an IndyCar fan you're hoping that KVSH Racing is able to rebound. The league needs as many contending small teams as possible to keep competition between them and the Big Three, and the drivers need organizations where they can develop and aren't expected to be champions overnight.
But following Bourdais won't be easy and there's no top candidate to fill the No. 11 seat. All the drivers are eager to take the ride at Ganassi, yet it's the vacancy at KVSH that has more to gain and may have bigger implications for the future.
What do you think the 2017 IndyCar season holds for KVSH Racing?
This article originally appeared on