FOX Sports reporter Jamie Little takes an Air Race two-seater ride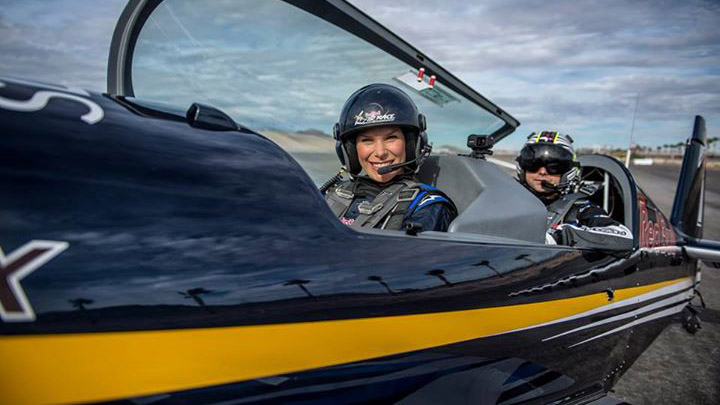 FOX Sports NASCAR reporter Jamie Little got into a different kind of motorsport last weekend.
In the lead up to the finale of the Red Bull Air Race World Championship in Las Vegas, she jumped into an Extra 330LX, a lightweight but robust low-wing monoplane – and got the ride of her life.
Cristian Bolton, a Chilean pilot in the Challenger Cup class of Red Bull Air Race, took her for a ride that included turning maneuvers, low level flying through the gates, high G turns – and he even gave her control of the steering stick.
Bolton is a major in the Chilean Air Force as well as the squadron commander of Chile's prestigious Halcones Aerobatic Team. Bolton became a tactical fighter pilot in 1995 and has been both a fighter pilot and a flight instructor for the Air Force.
On Sunday, Britain's Paul Bonhomme won the title after coming into the round with an eight-point lead over Australia's Matt Hall
In the Red Bull Air Race, which is the official world championship of the Fédération Aéronautique Internationale (FAI), the world's top pilots hit speeds of up to 230 miles an hour while enduring forces of up to 10G as they navigate as precisely as possible through a low-level slalom track marked by 25-meter high air-filled pylons.
For the latest about the Red Bull Air Race World Championship on @FS1, follow @RedBullAirRace and join the conversation with #AirRace.
ICYMI: FOX Sports reporter Jamie Little took to the air in a two-seater ride ahead of the Red Bull Air Race World Championship in Las Vegas last weekend.

Posted by SPEED on Monday, October 19, 2015