NHRA's Antron Brown saves best for last to top New England qualifying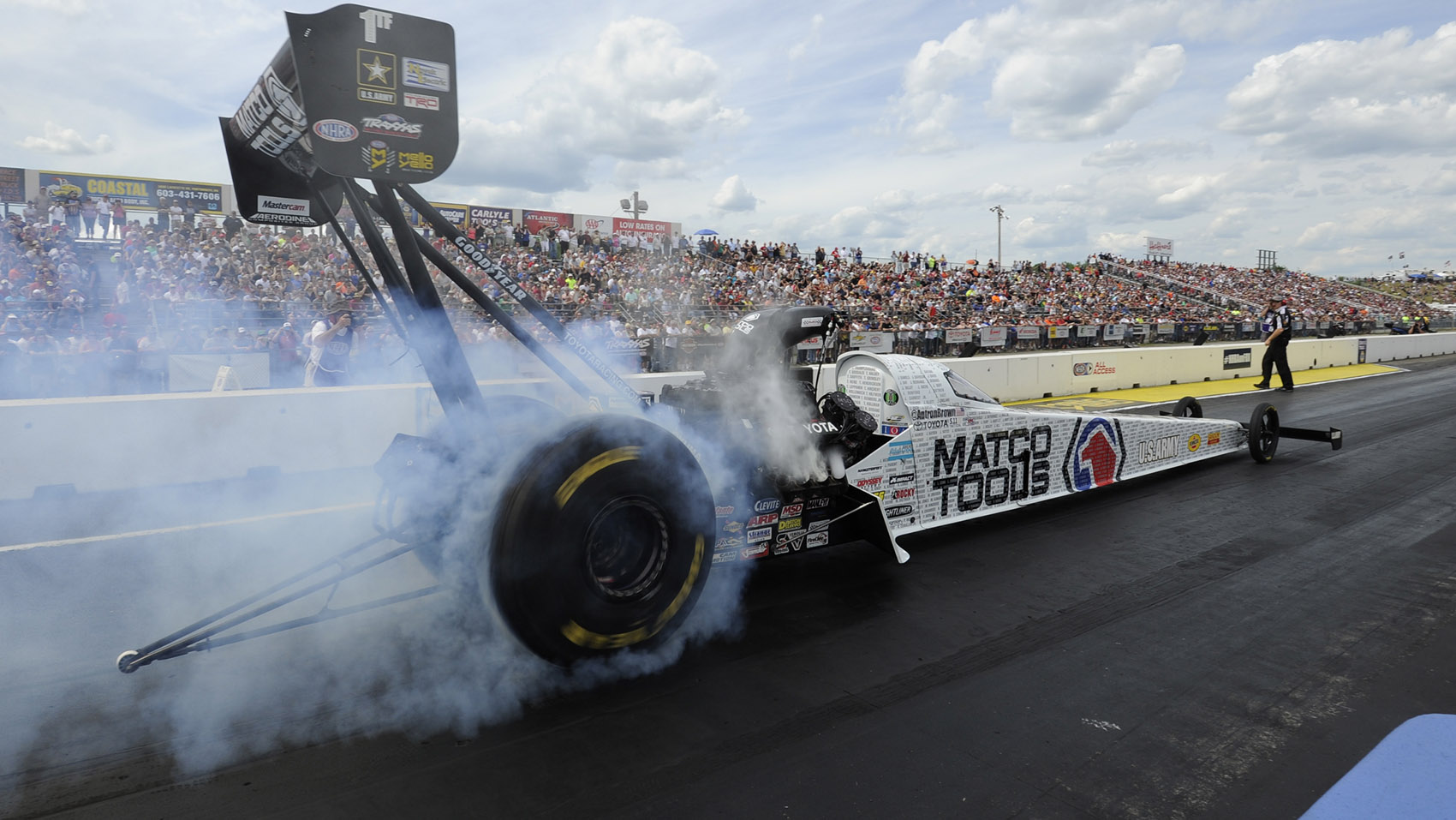 Defending NHRA Top Fuel champion Antron Brown saved his best for last, and made a major move in second day Top Fuel qualifying at the NHRA New England Nationals, snagging both No. 1 position and the New England Dragway track record all at once.
Brown recorded a 3.701s, 319.07 mph run to drive around Friday's leader Steve Torrence (3.710s) and Brittany Force (3.729s) to earn the top seed for Sunday's final eliminations and a bye-run into the second round.
Ron Capps retained his top spot amongst the Funny Car participants as did Jason Line in the Pro Stock division.
Brown finally hit on the right combination, and in doing so registered the quickest pass in both of Saturday's sessions to earn six bonus points and capture his first No. 1 qualifier of 2016 and the 45th of his career.
"We were real close to that same run on Friday, but we hurt a few parts and that caused us to back-off on the Friday night run and it bit us," said Brown. "Today, we came out with the mindset that we were just going to step back up and run what the track would hold, and the first run today we ran a really good lap with a '76' and that set us up for our pole run. We knew it was going to be cooler and we just stepped it up and put it back on those numbers and it responded. We didn't get all that we wanted. That could have been a high '60' run, maybe a '68'."
Capps led a Don Schumacher Racing dominated Funny Car field on the strength of his 3.865s, 325.92 mph performance. No. 2 qualifier Matt Hagan was just .003s behind and looks to score his third win in a row on Sunday. Tommy Johnson Jr. was third with a 3.885s.
KB Racing took three of the first four spots in Pro Stock qualifying as their consecutive No. 1 qualifying streak now stands at nine consecutive events.
Jason Line, Friday's top qualifier, maintained his lead throughout Saturday's sessions thanks to a 6.567s, 211.13 mph run. Teammate Bo Butner held on to the second spot with a 6.568s, 210.77 mph pass.
Vincent Nobile, who was third on Friday, held his spot through Saturday with a 6.573s.
Greg Anderson, KB Racing's flagship driver, stepped up in the second day of qualifying with a 6.584s ET to end qualifications as fourth quickest.
***
Bobby Bennett is the Publisher/Editor of CompetitionPlus.com, a leading independent online drag racing magazine, since 1999. For the latest in dragster news worldwide, visit www.competitionplus.com or follow on Twitter @competitionplus