Past struggles led to sponsorship of Leah Pritchett, says 'Papa John'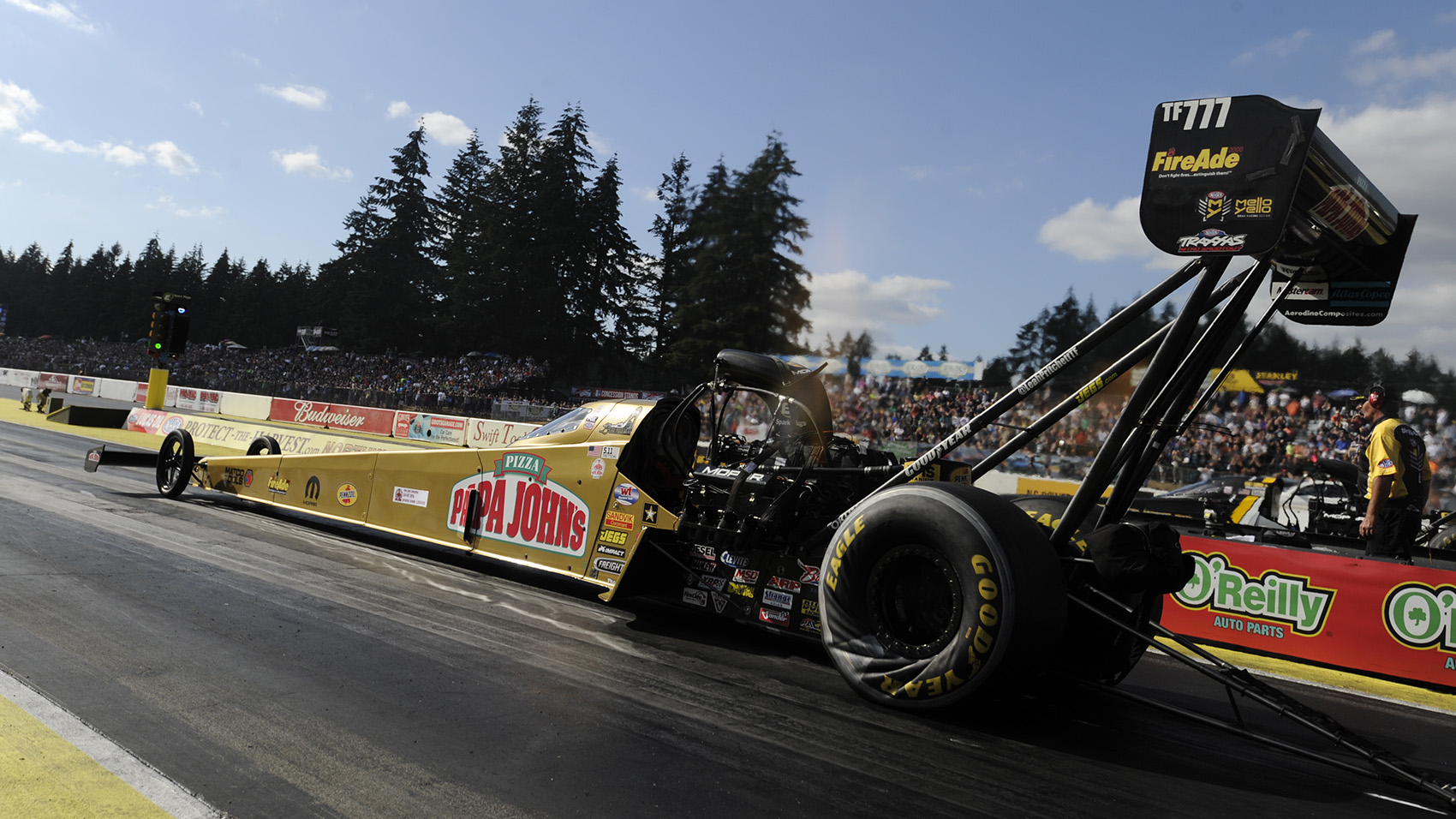 John Schnatter cannot help it. Every time he looks at the 10,000-horsepower Top Fuel dragster he sponsors he's reminded of a 1971 Z-28 Camaro.
Realistically, there are very few aspects of the Papa John's Pizza-sponsored, 300-inch dragster driven by Leah Pritchett which resembles a production vehicle, and even those similarities are limited. Both have four tires, a steering wheel, and an engine. Schnatter, President and CEO of Papa John's Pizza, looks at the 10,000-horsepower dragster from a different angle.
Schnatter is a muscle car enthusiast and owns a gold and black 1971 Z-28 Camaro. It was ironically the prized car which enables the Top Fuel dragster to bear a unique gold paint scheme with the Papa John's livery.
"I bought that car when I was 15, washing dishes at Rocky's Sub Pub, for $1,600," Schnatter revealed. "I sold it when I was 21 to get Dad out of bankruptcy, for $2,800. And I bought it back in 2009 for $275,000. So I'm not a very good hog swapper."
Schnatter sees the Camaro as priceless and a reminder of the sacrifices determined people make for survival.
"We were broke," Schnatter said. "We were just out of money."
The rest is history as Schnatter went on to create his Papa John's Pizza empire.
Schnatter has never forgotten his Camaro, a sale he admits left him with tears in his eyes as the new owner drove away. The determination to find the Camaro later mirrors the determination of Pritchett, a driver who lost her ride three races into the season and, through a relentless persistence to remain in the top 10 of points earners, caught the eye of the successful pizza executive.
"I started looking for it four years later, and finally was able to put out a plea on television in 2009 during a Baltimore Ravens and Washington Redskins game," Schnatter said. "We went to Kentucky and found it."
Pritchett found her "Camaro" when she crossed paths with Schnatter.
Pritchett entered the 2016 season with the enthusiasm of a struggling artist who had finally painted her first masterpiece. Two races into her first season as a full time drag racer, she won her first NHRA Top Fuel race in Phoenix.
Two races later, Pritchett was out of a ride when team owner Bob Vandergriff, Jr., abruptly announced his retirement from drag racing. Instead of accepting the misfortune, Pritchett began to beat the bushes searching for funding to remain in competition.
Pritchett's resolve led her to drive as many as four different dragsters just to remain in competition. She went back and forth between the underfunded Lagana family dragster to the elite Don Schumacher Racing operation. She never wavered in her determination to remain in top fuel racing.
Schnatter was introduced to Pritchett, and immediately he felt a connection.
"When I met Leah, she had muffler burns on her arm," Schnatter said. "I knew the look. Back when I started, I had oven burns on my arms. So I can relate to somebody that has had to turn a wrench to get by, or has to bake the pizza."
Schnatter wonders aloud how a driver with the complete package of Pritchett was allowed to float along in a sea of broken dreams for so long.
"When I was talking to the head of NHRA, I said, 'Why hasn't anybody picked her up?'" Schnatter asked NHRA President Peter Clifford. "I mean she's got a great reputation, great personality, she's great appearance, she's good. I mean, she wants it. I mean, why?
"And they go, 'We ask ourselves that every day, 10 times a day.'
"Why somebody didn't come along and get behind her and support her. You know, she was a top 10, and she lost her ride, so I just feel obligatory just to kinda make sure that we get her in the playoffs, and see if she can win a championship."
But even more than seeing her win a game, Schnatter just wants to provide the opportunity to play the game.
"When you start out broke, and I was broke, and you watch somebody hustle the way she hustles, it's an incredible inspiration," Schnatter said.
And for Schnatter, the story is just as inspiring as finding a long lost muscle car.
***
Bobby Bennett is the Publisher/Editor of CompetitionPlus.com, a leading independent online drag racing magazine, since 1999. For the latest in dragster news worldwide, visit www.competitionplus.com or follow on Twitter @competitionplus