NHRA: John Force Racing switches from Ford to Chevy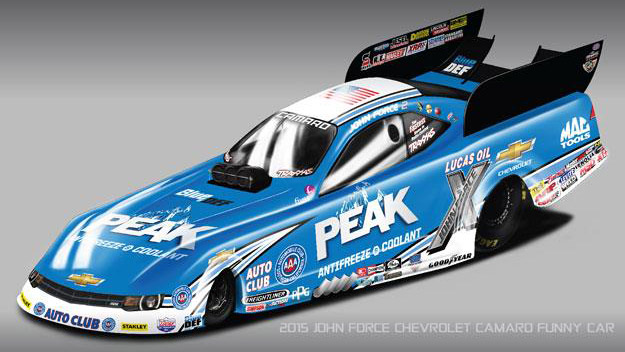 John Force Racing, an 18-time NHRA Funny Car championship team, will be switching from Ford to Chevrolet beginning with the 2015 NHRA Mello Yello Drag Racing Series, it was announced Thursday.
John Force Racing, Inc. will field three Camaro Funny Cars as well as a JFR Top Fuel dragster in 2015 as part of the multi-year agreement.
"John Force is a champion and a legend both on and off the track, as a driver and as a team owner," said Jim Campbell, Chevrolet Vice President for Performance Vehicles and Motorsports. "John Force is a racer's racer and a fierce competitor, and we are excited to welcome John and his team back to Chevrolet."
"It is great to be back with Chevrolet," said John Force, "I started my career in a Chevy and my plan is to keep racing with them for many years to come. This is a great American company and we are excited about the opportunities in front of us."
John Force's first 60 races took place in various Chevrolets from 1978-1986. The 16-time Funny Car champion won the 1994 NHRA Funny Car championship behind the wheel of a Chevy Lumina.