Supercross to host #MECMoments bracket ahead of Monster Energy Cup
Beginning on Aug. 4, Monster Energy Supercross will begin getting you revved up for Oct. 17's 2015 Monster Energy Cup with the #MECMoments bracket.
Fans will be allowed to vote for their favorite of eight Monster Energy Supercross moments from the past four years of the event.
The first head-to-head challenge in the bracket will be held between #WinTheMillion and #SevenTwoBattle. Voting will go on for a week in which fans can use the hashtag of their favorite moment to choose which one will advance to the semi-finals.
First two moments:
#WinTheMillion – In 2011, Ryan Villopoto won the biggest purse in Supercross history by winning all three main events.
#SevenTwoBattle – In 2012, Villopoto and James Stewart swapped the lead multiple times in an epic duel that eventually ended in Stewart's favor.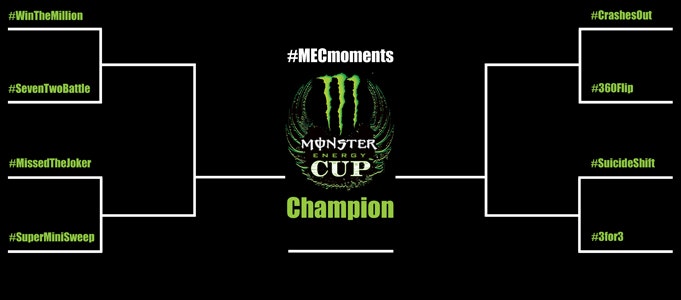 Full schedule:
Round 1 – Aug. 4 – #WinTheMillion vs. #SevenTwoBattle
Round 2 – Aug. 11 – #CrashesOut vs. #360flip
Round 3 – Aug. 18 – #MissedTheJoker vs. #SuperMiniSweep
Round 4 – Aug. 25 – #SuicideShift vs. #3for3
Round 5 – TBD
Round 6 – TBD
FINAL ROUND – #MECMoment TBD