Mercedes Bosses Respond To Criticism Of Hamilton Orders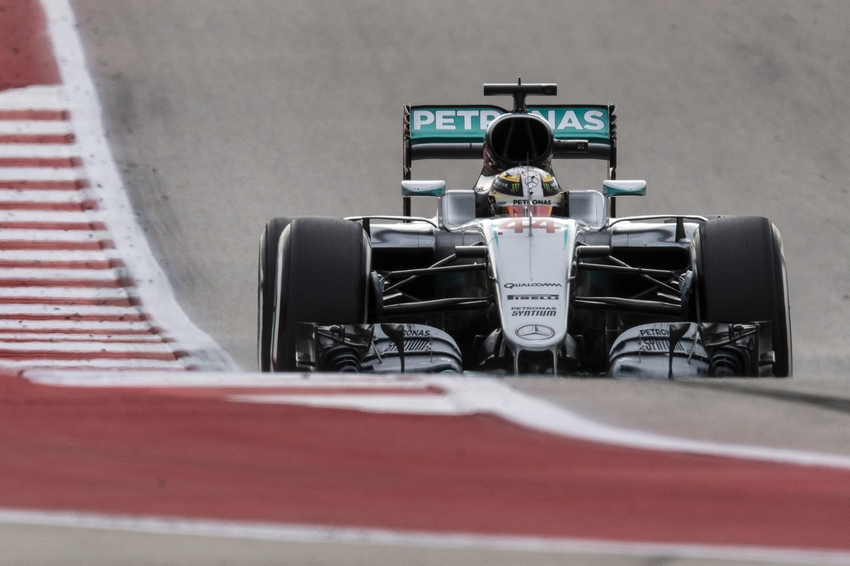 Mercedes have come under fire for issuing orders to Lewis Hamilton during this weekend's Formula One finale, and team execs are now responding to the flak.
Nico Rosberg may have won the 2016 Formula One championship but it's his teammate Lewis Hamilton that everyone is talking about. Hamilton's tactic of slowing down while in the lead at the Abu Dhabi Grand Prix – and Mercedes' decision to instruct him to speed up – has become the one biggest talking point to end the F1 season.
Fans and pundits alike have spent two days criticizing Mercedes for what they see as interference in the title-deciding race after team principal Toto Wolff was specifically asked about a backing-up strategy on Saturday and told the media "We can't really interfere in the final race."
But Wolff went on to qualify that statement by adding "As long as we are not overstepping the mark in what we see to be unsportsmanlike driving," and apparently on Sunday in Abu Dhabi the team felt that Hamilton's choice to try and push Rosberg back into traffic crossed the line because the former world champion was told to speed up.
Hamilton's race engineer instructed him to pick up his pace during the Abu Dhabi Grand Prix, and when Hamilton elected not to comply, Mercedes executive technical director Paddy Lowe jumped onto the radio to repeat the direction. Lowe is now responding to the wave of criticism about those radio calls, saying that the team asked Hamilton to speed up fearing that Ferrari's Sebastian Vettel would catch him and Rosberg.
More from Beyond the Flag
"We'd rather have some gap to control [the race] to mitigate against any possible risks. For whatever reason Lewis didn't show that pace," Lowe stated after the race to outlets including Racer. "We made him aware, particularly with the threat from Vettel, that the win was at risk if he didn't hit certain pace targets."
He may want to repeat that explanation to Hamilton, who was public with his irritation after the checkered flag.
"I don't know why they didn't just let us race," he said at the post-race press conference, adding, "There was never a moment where I felt I would lose the race. It's a shame, but it's quite clear, their thought process."
Hamilton ultimately won the 2016 Abu Dhabi Grand Prix with Rosberg in second and Vettel completing the podium, but Mercedes' commentary and Hamilton's decision to willfully ignore it has started a renewed debate on the role of the team when two teammates are involved in a championship battle.
Should the team stay completely out of the way and let the two drivers race entirely on their own merits, as many are arguing? Or is there ever a point where a team should speak up if it believes that a driver is doing something that they shouldn't?
It's a discussion that can be seen both ways. Race fans obviously want to see drivers be allowed to race and win or lose by themselves, without anyone else – be it a team or Race Control – getting in between. We want to believe that a driver actually earned the victory or the championship rather than having it handed to them by someone else's actions.
On the other hand if a driver is taking actions that are perceived as being detrimental it's the right of team bosses to take action. Some could even say it's their responsibility as people like Lowe are in their positions to look out for the team and not any one specific member.
And in this particular case both sides have something to be irritated about: Hamilton for the interjection when Wolff was directly asked about the exact strategy and explicitly said the team wouldn't interfere, and Mercedes for having a driver who disregards what he's told, which could start a dangerous precedent within the team.
Compare that to this year's IndyCar championship in which Team Penske's Simon Pagenaud battled his own teammate Will Power for the title. The two were able to compete up to the final race without incident, but Power never ran as close to Pagenaud as Hamilton did to Rosberg. Still, if Penske can figure out how to coexist and compete, there should be a way for Mercedes to do the same.
There's really no winner in the Mercedes vs. Lewis Hamilton argument, but it's certainly worth talking about, especially since Hamilton and Rosberg may very well find themselves in another situation like this next year. With the two top drivers on the Formula One grid Mercedes will have to find a way for them to balance one another, or this won't be the only criticism Lowe will have to deflect.
What do you think of the Mercedes vs. Lewis Hamilton situation? Let us know your thoughts in the comments.
This article originally appeared on