Kevin Magnussen Leaves Renault, Will Join Haas In 2017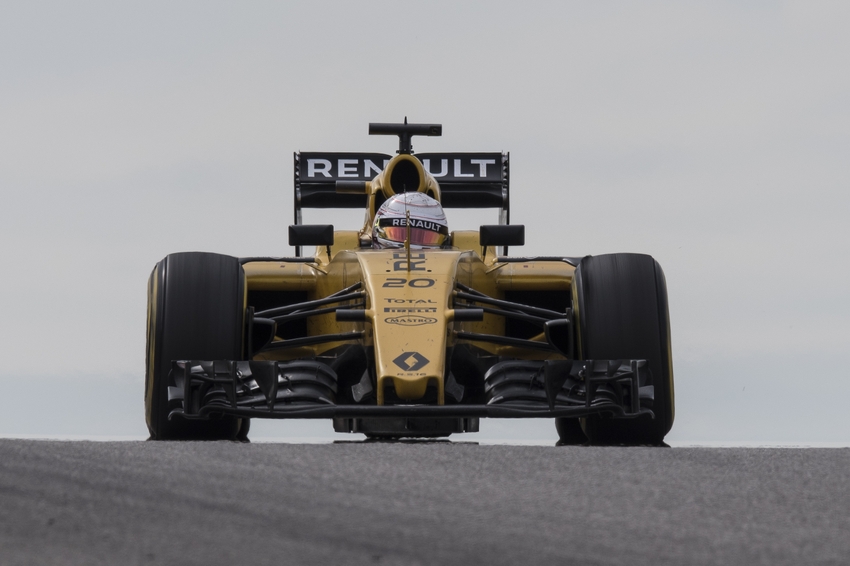 Renault driver Kevin Magnussen announced Friday that he'll depart the Formula One team at season's end and replace Esteban Gutierrez at Haas F1 next year.
Kevin Magnussen tried to stay at Renault for the 2017 Formula One season, but things didn't work out that way and now the Danish driver has been confirmed to join Haas F1 for the next campaign.
Magnussen has a multi-year contract with Haas, though exactly how many years hasn't been made public. He was confirmed to partner with Romain Grosjean on Friday per media reports as Haas heads into its second F1 season.
His future has been a talking point for the last several weeks around the Formula One world. Magnussen's contract expired in October, and the driver subsequently extended his deadline to re-sign hoping to work something out with Renault.
But he was turned off by the fact that the team was actively approaching other drivers while leaving his future in limbo, and called the offer that Renault eventually extended him "not good enough," particularly in the shortness of the contract.
More from Beyond the Flag
"If they'd committed to a longer contract I would probably have looked at that much more seriously," Magnussen told Racer on Thursday. "It was more the feeling of them not committing, taking so long and offering to so many drivers.
"I think at one point the Pope had an offer," he quipped. "It was a bit messy, so it was better for me to leave."
Now he will have someplace to work on his racecraft for multiple years.
Magnussen has two more races left with Renault, and sits 16th out of 24 in the Formula One drivers' championship. His best finish in 2016 has been seventh place at the Russian Grand Prix.
His predecessor Gutierrez is currently 20th of 24 drivers overall, with a best finish of eleventh (five times). Thus he's one of five drivers who haven't scored points during this season.
Magnussen's soon to be ex-teammate Jolyon Palmer wasted no time in criticizing the move when he found out Friday.
"If Renault turned to Kevin, then he's made a mistake to turn it down because I think they'll be ahead of Haas next year," said Palmer, who will be working alongside Nico Hulkenberg after the latter moved from Force India.
But Magnussen had his own zinger, saying of Palmer: "I think he should be happy that I left."
It certainly sounds like there will be no love lost between Kevin Magnussen and Renault, which may be awkward given that they still have two more races before they part company. But one certainly can't blame Magnussen for leaving when it was fairly clear he wasn't the team's first choice.
The biggest loser in the entire situation may wind up being Gutierrez. He's now looking for another job, and the only openings left are at Sauber – which has publicly stated that it's looking for pay drivers next year – and Manor.
This article originally appeared on