Juan Pablo Montoya Will Not Compete Full-Time In 2017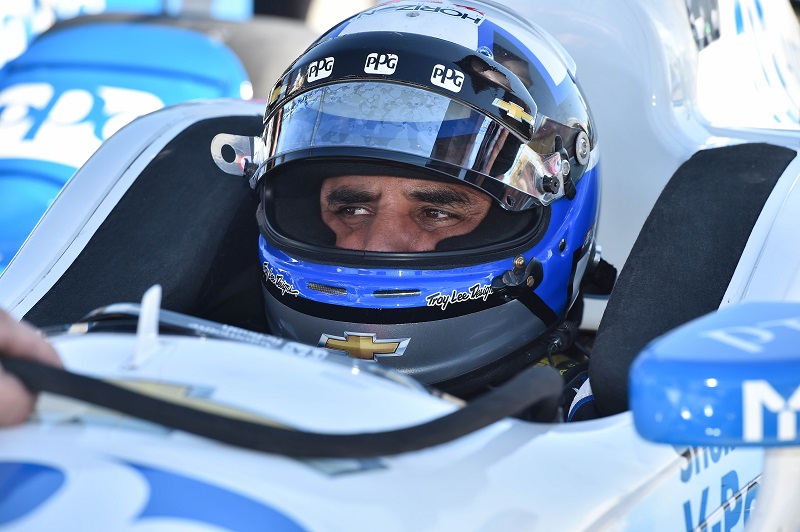 Juan Pablo Montoya will not be a full-time IndyCar driver in 2017 and has re-signed with Team Penske for an Indy 500-only drive.
How the mighty have fallen. Juan Pablo Montoya, who finished second for the IndyCar championship and won the Indianapolis 500 two years ago, has been unable to find a full-time drive for the 2017 IndyCar season.
Instead, Montoya will return to Team Penske solely for the 101st Indianapolis 500.
"There's a lot of uncertainty with other deals, and I'm not 25 anymore so I don't have time to develop cars," the Colombian told Racer on Monday, also citing the "best opportunity" to win a third 500 as another reason for returning to the team that opted not to re-sign him in favor of Josef Newgarden.
Racer reports that Montoya spoke with several teams about a full-time contract, including Newgarden's former stable Ed Carpenter Racing, Penske's chief rival Chip Ganassi Racing, Andretti Autosport and A.J. Foyt Enterprises. However, he was apparently unable to come to terms with any of them.
More from Beyond the Flag
The news is shocking given that Montoya is still on the reasonable upside of his IndyCar career. He had a difficult 2016 season, but just the year before dominated the competition until Scott Dixon was able to mount a charge for the title. Overall he has 15 race victories, including two Indy 500's.
In his most recent race, the 2016 GoPro Grand Prix of Sonoma, he still finished on the podium. He was eighth in league championship points. So it's not as if he's beyond being competitive.
And it's hard to fathom that he wouldn't have had some value to any of the aforementioned teams. Carpenter certainly needs a driver with punch to replace Newgarden (unless it's downsizing to one entry), Andretti is still looking for a fourth person to fill out its roster, and Foyt wants to make a big change after being dissatisfied with his results.
All these teams need experienced, proven help – yet none of them were willing/able to lock up Montoya?
It's not a matter of Montoya not wanting to come back; he's steadfastly insisted that he hasn't lost his interest in IndyCar competition. So one can only fathom that either he couldn't bring sponsorship – which again seems strange given his pedigree – or everyone's had a change of opinion since 2015.
If there's an upside, it's that not being a full-time driver will allow him to focus on helping his son's karting career.
But there's no doubt that the competition level in IndyCar will go down without Juan Pablo Montoya on the grid next March. The season opening Firestone Grand Prix of St. Petersburg will have a new champion after JPM won the event back to back in 2015 and 2016, and has had at least one victory ever since returning to IndyCar in 2014.
Ironically, perhaps his best moment this season was going wheel-to-wheel with Newgarden, with no one knowing then that this was a battle between the veteran and his eventual replacement.
It's unlikely that Montoya could parlay his Indy 500 agreement with Penske into additional races next season, since that would mean the team would be fielding an unheard-of five entries. But at least he won't be out of IndyCar entirely.
Still, it's an unfortunate end to the full-time IndyCar career of one of the sport's most competitive drivers, and it's hard not to think that he deserved at least one more shot at earning that elusive championship.
What do you think about Juan Pablo Montoya not returning to IndyCar full-time?
This article originally appeared on