James Hinchcliffe Talks 'DWTS' Experience: 'It's All A Bit Of A Blur'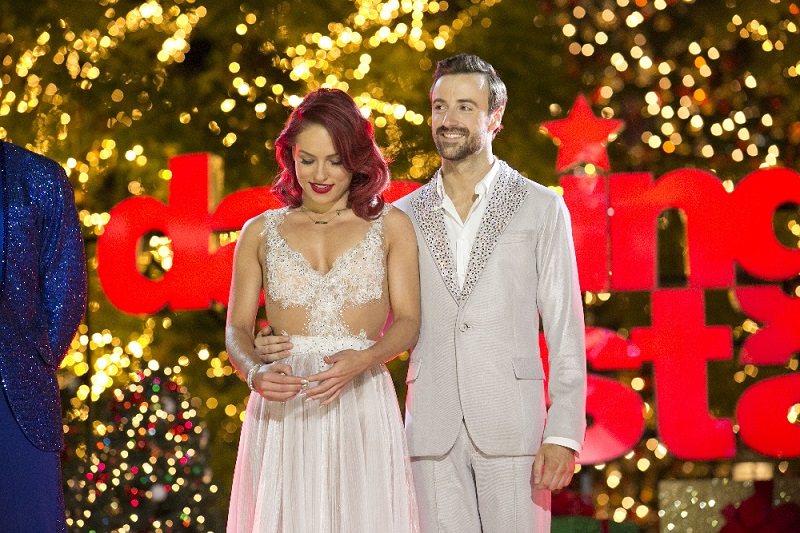 After being named runner-up on ABC's 'Dancing With The Stars,' IndyCar's James Hinchcliffe reflected on his reality TV experience and if he'd do it again.
James Hinchcliffe was revealed as the second place finisher in Season 23 of ABC's Dancing with the Stars on Tuesday, but the Verizon IndyCar Series veteran didn't mind not taking home the Mirrorball Trophy.
After one of the closest finishes in DWTS history and a whirlwind national media tour, Hinchcliffe joined Beyond The Flag on a conference call to discuss what he had taken away from his new role as a reality TV sensation – and whether or not he'd be interested in a return to the dance floor in a future season.
"It's all a bit of a blur," laughed the Schmidt Peterson Motorsports driver. "If you had told me at the start that we would have ended up in the runner-up position, I wouldn't have believed you.
"It was a huge, huge reward for a lot of effort that both [his professional partner] Sharna [Burgess, pictured above with Hinchcliffe] and myself put in. I can't thank her enough for all that effort and for being so good at her job to make me capable of being part of a team that got up that high in a very tough competition."
After eleven weeks of competition it was a head-turning adventure for Hinchcliffe, who had been vocal early about not thinking he'd get very far. Instead he wound up finishing second – an even more notable accomplishment when you consider that first place went to Laurie Hernandez, who is an Olympic medalist in gymnastics.
More from Beyond the Flag
So where, exactly, did all of Hinch's dance talent come from?
"I wish I knew, I really do," he said. "I have to give a ton of credit obviously to Sharna for having a teaching style that really resonated well with me [and] obviously just being very good at her job, choreographically, creatively.
"It was a lot of hard work. I won't lie. It was not something that came naturally," he added. "She'll be the first to tell you that every Tuesday morning when we're starting from scratch, it was pretty rough. But by putting in the hours, not being afraid of a little hard work, some long sessions, late nights, repeatedly watching videos trying to improve, it's amazing what can happen."
While the line of work was completely different, he revealed that the preparation for each DWTS routine was comparable to the approach he'd take toward every IndyCar race.
"It was very similar in that sense. That's something that Sharna picked up on with me very early, is that I am kind of an analytical learner. I'm used to looking at data and applying it on the racetrack," he explained.
"For me, whether it was watching video of other dancers, a certain dancer doing a certain move, playbacks of our own videos that I could look at what I was doing, the fastest way for me to learn was to see what needed to be done [and] apply it. There were a lot of parallels in that sense [between] how I wanted to make myself better as a dancer and how I would do the same thing on a race weekend as a driver."
Hinchcliffe originally got involved in DWTS as another way to help promote IndyCar but it became a platform for his own personal growth. His now well-known 2014 crash was the subject of two of his routines, including the jaw-dropping freestyle in the finale that earned him a perfect score and left fans of the show raving:
"It all came from a comment that Dr. Pohlman made during the 'Most Memorable Year' packet," explained Hinchcliffe, referring to the surgeon who operated on him after the wreck. "He firmly believes there was a point where subconsciously I made a decision to fight for my life.
"In the immediate aftermath of that accident, the chance of survival was very low. A lot of people wouldn't have made it through. He firmly believes that it was because of some sort of fight inside me that helped him do his job and ultimately get me through that.
"Sharna started asking me questions about that. I obviously have no memory of that," he continued. "That's not something that you do consciously. It's a subconscious thing. So from somewhere in the time from when I lose my memory to when I wake up, that happened, that decision to fight happened.
"It's not something I had really thought about, what that moment would have looked like or what that moment really meant. I'm not sure if I was purposely not thinking about it, because it is a scary thought, or something that had never crossed my mind.
She saw that was a very important moment. That's what she wanted to create," he added. "For me there was kind of a gap in the story because I had not really thought about that, whether it was a subconscious or conscious decision. She so beautifully built that part of the story for me. Now I have a visual reference to what I think happened and how that went down inside me. It was a very cool process to be a part of."
Hinchcliffe also came second in another respect; Helio Castroneves won Dancing with the Stars almost a decade ago, and Hinch is fully expecting to get an earful from the Team Penske driver for not being able to do the same.
"I'm never going to hear the end of this from him. I'm well aware of that," he admitted. "That's fine. He did a tremendous job. He did what he had to do. He was able to walk off with the trophy. We were not quite able to do that, but I was at least up at the sharp end, so we can still be proud of the effort."
There could be another opportunity for James Hinchcliffe to get his hands on the Mirrorball Trophy, though, because Castroneves was then invited back for a second, "All-Stars" season. If the same chance was extended to Hinchcliffe in a few years, would he take it?
"It's funny, when we were about halfway through the competition I thought to myself, if for whatever reason I was asked to go again, I probably wouldn't," he said, but he's since changed his mind. "With what I've learned, how far I came as a dancer in that sense, then how close we came to the top spot, I think I probably could be talked into it again."
Appearing on DWTS certainly showed him a new side of himself, and hopefully will introduce new fans to IndyCar when the 2017 season begins in March. But what would James Hinchcliffe say was his biggest takeaway from his three months as a television star?
"What it's really done for me is reinforced a belief that I had beforehand, which was that you can do anything you put your mind to," he reflected. "I came into this competition obviously with zero experience in the craft, a lot of apprehensions at doing it.
"Once I committed, I focused and put 100 percent of my effort towards it. Luckily the IndyCar season was winding down so I didn't have obligations to my day job to fulfill, could give myself to it, and look what happened.
"To finish runner-up to someone that is an Olympic gymnast, I think is a pretty impressive feat for someone who sits for a living."
This article originally appeared on