James Hinchcliffe's Team Penalized For Texas Rule Infraction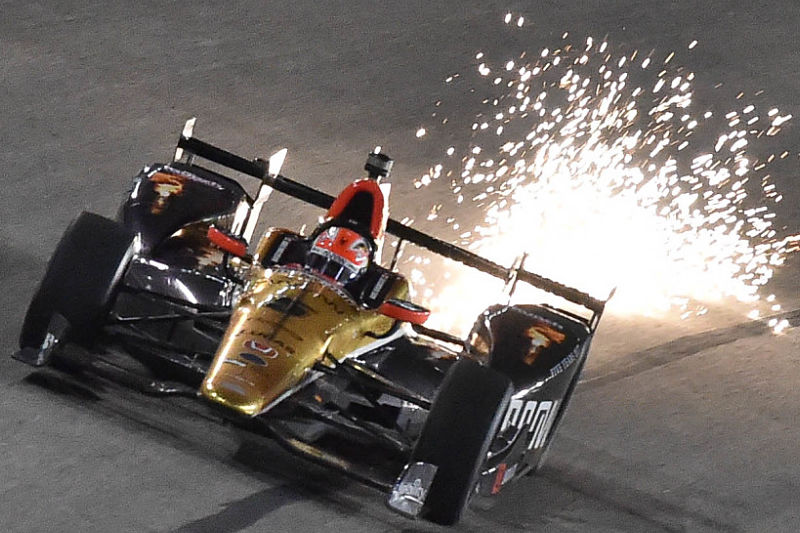 IndyCar has penalized James Hinchcliffe's No. 5 Arrow Electronics team for a rules infraction from the 2016 Firestone 600 at Texas Motor Speedway.
James Hinchcliffe's car failed post-race inspection after the 2016 Firestone 600 and his team has been penalized as a result, the Verizon IndyCar Series announced on Wednesday.
Hinchcliffe's No. 5 Schmidt Peterson Motorsports Honda – which dominated the majority of the 177-lap resumed race only to be edged on the last lap by Graham Rahal – was found to be in violation of IndyCar's domed skid wear policy.
SMP was thus fined $20,000 and deducted 25 points in the driver's championship, which should removes Hinchcliffe from title contention. According to the official standings he currently sits eighth, 137 points back of Simon Pagenaud, and the deduction will push him 162 points back.
Any driver who is 104 points or more behind following this weekend's race at Watkins Glen will be mathematically eliminated. That means Hinchcliffe would have to score 58 points in New York, and the maximum points available this weekend is 54.
Here's the official statement from IndyCar President of Competition and Operations Jay Frye on the penalty:
In our post-race analysis this week it was determined the skid plate on the No. 5 entry was worn and in violation of our rules. This was both a performance advantage and a safety concern, as the domed portion of the skid had been ground down to the point it would have been ineffective.
Hinchcliffe's skid plate was a talking point during the NBCSN race broadcast as commentators Kevin Lee, Townsend Bell and Paul Tracy noticed it and wondered about how much wear the plate was taking.
On Wednesday IndyCar also released the race broadcast online, so you can re-watch their comments and judge for yourself:
It's a shame to see Hinchcliffe knocked out of the 2016 IndyCar championship race on a penalty, but it hasn't all been bad news for the Mayor of Hinchtown this week. Fans also learned that he is participating in the upcoming season of ABC's Dancing with the Stars. You can read our interview with Hinch on his reality TV gig by clicking the link below.
Meanwhile, he'll be back on track in the No. 5 Schmidt Peterson Motorsports Honda this Sunday for the Grand Prix at the Glen. SMP has the right to appeal his penalty, but has not yet indicated if it will.
What do you think about James Hinchcliffe's penalty? Do you believe it was fair?
More from Beyond the Flag
This article originally appeared on