Interview: Max Chilton On 'Highs And Lows' Of His Rookie Year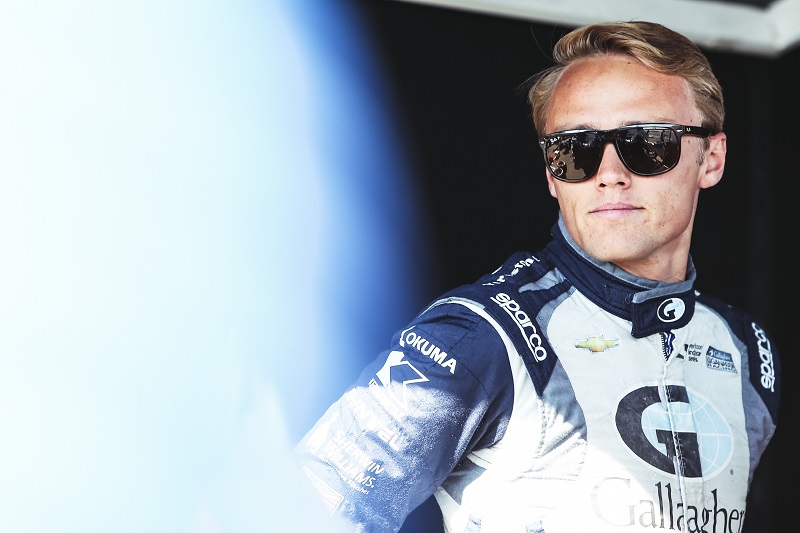 Max Chilton joined Chip Ganassi Racing's IndyCar roster this season, and with 2016 done, told Beyond The Flag how he evaluates the year and his future.
Joining IndyCar is no easy task, as Max Chilton discovered this year as he stepped into the No. 8 Chip Ganassi Racing Chevrolet. The former Formula One driver raced his first American open-wheel season in 2016 and showed plenty of promise, but he also believes there's equal room for improvement.
Chilton had two Top 10 finishes at Phoenix and Watkins Glen, and completed the season in 19th place, third best among the rookie class. Yet obviously he wants a lot more than that and as he sat down with Beyond The Flag before the 2016 GoPro Grand Prix of Sonoma he told us how he feels about year one – and his rumored long-term contract extension.
"It's highs and lows," Chilton said of his rookie campaign. "There's definitely bits I'm happy with but there's definitely more stuff that I need to work on. We all came together quite late, so certain aspects were rushed.
He pointed toward his qualifying runs, which sometimes were difficult and other times weren't. "There are courses like Elkhart Lake [Road America] and Watkins Glen, which are typical Formula One-style circuits; I qualified seventh and sixth.
More from Beyond the Flag
"It proves I'm slightly out of my depth with normal circuits in America because they are street circuits, and I come into my own when I'm at tracks I'm more comfortable with.
"That's not an excuse," he added. "I need to get my head around it and hopefully if I come back next year I"ll be fighting for some results."
That's what Chilton believes is his next step to succeed in 2017. He only has one year of experience and knows he needs more.
"Completely," he told us. "There's certain championships you can go in and win in your first year – like GP2 and people have done it in F1 if they were in a good car – but this is, because everyone is based on the same machinery it's down to experience.
"I've got teammates, Scott Dixon and Tony Kanaan, in their 15th year. You just can't beat that. You need at least a few years here to gain some great results, because it is very competitive. People have been here a long time."
Which brings us to the topic of his future. Chilton's contract with CGR expired after Sonoma, but reports say that the team is looking to secure him for the next several years. While nothing was done yet, he believes landing somewhere and staying there is what's best for him.
"I would love to be back at Ganassi," he said. "You can't argue their results…I know from experience, being with a team a second, third, fourth year does help. So I'd love to be back here next year."
It's hard to see why he wouldn't be. Max Chilton may not have been an immediate success right out of the gate, but as he points out that's not exactly a fair expectation. He knows he has work to do in order to reach the team's high standards and he's prepared to do it.
And speaking of teammates, he scores pretty well in that book, too. You've never heard a cross word said about Chilton in the paddock and he's not saying any of them either.
In fact, if you were listening into the team radio after the Grand Prix of Sonoma, you would have heard Chilton taking a moment to personally thank his crew for helping him through the season. He found his place in 2016 and he deserves to keep going.
Are there any particular accomplishments he has in his sights for 2017?
"Win the [Indianapolis] 500," he declared then quipped, "And when am I going to have my Sports Illustrated photoshoot? That's got to happen!"
Max Chilton, Indianapolis 500 winner and IndyCar cover story? It hasn't happened yet, but there's no reason why it couldn't. At least if he has anything to say about it, he's just getting started.
This article originally appeared on