Interview: Ed Carpenter, JR Hildebrand Preview The Future Of Ed Carpenter Racing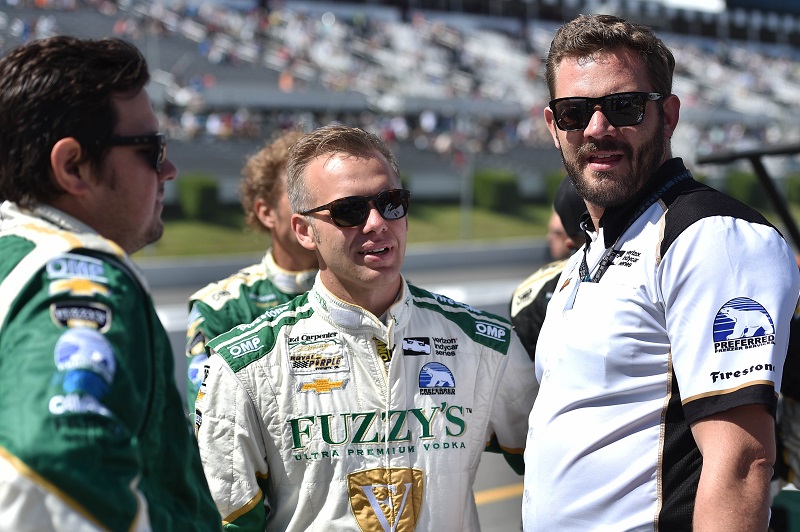 Ed Carpenter Racing will look very different in 2017, and Ed Carpenter joined new driver JR Hildebrand to talk about the future of their IndyCar team.
The next Verizon IndyCar Series season will be a year of change for Ed Carpenter Racing. Top driver Josef Newgarden left for a shot with Team Penske, and ECR promoted Indianapolis 500 participant JR Hildebrand to take over Newgarden's No. 21 Chevrolet.
Meanwhile, team owner-driver Ed Carpenter is still looking for someone who will drive his No. 20 Chevrolet on the road and street courses, in keeping with the partial schedule that he prefers to run.
It's a whole new ballgame for a team that's been climbing up the IndyCar ranks, so Carpenter and Hildebrand joined Beyond The Flag on Tuesday for a conference call to discuss what the new ECR is going to look like and why they believe they're on the path to further success.
Beyond The Flag: Ed, you spoke with several drivers about the No. 21 car. What was it about JR that made him the one you decided to go with?
More from Beyond the Flag
Ed Carpenter: In this sport there's a lot of guys that are capable of doing this job and, quite frankly, deserve opportunities. As simple as decisions can be, they can be complicated, too, just because there's always more people available to drive these cars than there are seats.
For JR, I think what we've seen from our personal experience with him, it gave us the comfort level that it was going to position our team in the best way to continue on the path that we'd been on, improving year in and year out, raising the bar each and every year. It was the right choice. Whether it's the races we've actually done or the time we've spent together away from the track, with our partners with our engineers, there was a level of comfort there I think for both of us. We're all happy that it played out.
It's hard to just straight up compare different things. You can look at results from one team or the other, whatever it may be. But I put a lot of value on our own personal experiences relative to people's results at a different time and place, or another driver's results from a different time and place. Our experience and comfort level with JR went a long way.
BTF: What is it about him that made you want to bring him into your team three years ago? Is there something in particular that stood out?
EC: When the conversation first started in 2013, when he was all of a sudden sitting on the sidelines, it was more of me reaching out just to kind of offer some encouragement because I'd been in similar situations, similar levels of uncertainty, and understood kind of what that can do to your psyche and confidence levels. When we first got together back then, it was more just like hey, don't let this affect you. You can do this. You've proven that you can do this. Let's see if we can maybe make something happen down the road.
Then when we worked together the first May, I think it became more clear getting that firsthand experience working with him, and over the subsequent years kind of getting more of a sampling of just his talent, his teamwork, the type of guy he is. He's always had the talent to be in IndyCar even though he hasn't been full-time in a little while. But that doesn't mean that he still doesn't deserve to be here as much as anyone else.
When you look at all the things that we look at, from strengths and weaknesses, personality, that's why we feel good about where we are today getting ready for the 2017 season.
BTF: JR, to turn that question around on you, what is it about ECR that's made it the team you want to be with?
JR Hildebrand: This is where I've wanted to be since my first go-around with them. It's definitely been my primary focus, to create a home for myself here, do the things sort of necessary to be in that position.
But being able to get a little bit more seat time this year during the season filling in for Josef – knowing that mattered for him, mattered for the team, that it wasn't just some sort of off-season program, it was very specific around goals they were trying to achieve in the middle of the year – our ability to work together, the ease of being able to kind of jump into that and play that role, be around during the race weekends, being a little bit more involved throughout that process I think just fired me up about the opportunity to be doing that myself on a more full-time basis.
I think that really gave me a lot of energy to sort of sit there and go yes, I want to be back here doing this, not just because I feel like I've got unfinished business, but because I really want to be here. I really enjoy it. I sort of am ready to take advantage of that type of opportunity. That was a great experience to have over the course of the season, getting a little more seat time than expected. It's great to be able to just build from that as we get prepared for next year.
BTF: You have some high expectations given the success Newgarden had in that No. 20 seat. What are you realistically aiming for in 2017?
JRH: I think my personal expectations and I'm sure our expectations as a team are pretty high just given the success the team has had over the last couple of seasons. I think my expectation certainly is [at] the places where I've been involved and we've worked together already –  the [Indianapolis Motor] Speedway being sort of the centerpiece of that program, but that certainly translates to a lot of the other oval circuits  – that we're in contention to win right away at those types of places.
My personal expectation on the road and street courses is we can continue to build from what Josef was able to do here. He proved to be a threat at those places more often than not. That's a challenge that I'm really looking forward to sort of tackling over the off-season and into the year to make sure that we're equally competitive at those events, as well.
I think the expectation is that we continue to build from where the team is right now. I think we can hit the ground running. I think a big part of the focus for me is being totally prepared to be able to do that right from St. Pete, have there not be a period of layoff and using the first few races to get back in the swing of things. I'll be highly focused on being totally prepared to really hit the ground running when the season kicks off.
Fans will certainly be looking closely at JR Hildebrand next March to see if he can continue the upward trend of Ed Carpenter Racing's future. Will the team be able to contend with its new driver? How will he make the transition from one race to a full season after years without a full-time ride? There are plenty of questions, and hopefully Hildebrand will be able to answer them all next season.
What do you think of Ed Carpenter Racing's chances in the 2017 IndyCar season?
This article originally appeared on