Inside Ford Performance's track-to-street tech transfer
When Austin Cindric and Jade Buford took the new Ford Shelby GT350R-C to victory lane for the first time at Canadian Tire Motorsport Park, it wasn't just a win for Multimatic Motorsports, but in fact for the entire Ford Performance organization, including its line of production cars.
That's because all of Ford's high-performance vehicle programs are now under one roof, thanks to the recent launch of Ford Performance, which has aligned Ford's Special Vehicle Team (SVT), Ford Racing and Team RS in Europe into a single, global team.
"The timing for the Shelby GT350R-C program was actually very good with the creation of Ford Performance," said Ford Performance Motorsports and Advanced Engineering Manager Mark Rushbrook. "When we brought our motorsports activities into Ford Performance, my team was able to work directly with the street car teams. We were able to take the learnings they had through the end of the year with everything on the (Shelby GT350R) street car and were able to start the race car development program."
The realignment has allowed for a significant increase in technology transfer between vehicles, particularly with the Mustang platform, which sees the Mustang GT, Shelby GT350 and Shelby GT350R all under the Ford Performance umbrella, along with the new GT350R-C, which competes in the Continental Tire SportsCar Challenge.
Rushbrook, who oversees Ford Performance's motorsports engineering department, works directly with his counterparts on the production line, Jamal Hameedi, Ford Performance chief engineer and Kerry Baldori and Ford Performance chief functional engineer.
In fact, all three, along with Ford Performance Director Dave Pericak, have daily meetings to go over the lessons learned from the various production and race platforms.
"Whenever we have an on-track session in anything we see, I'm sharing it in the meeting so Dave knows, Kerry and Jamal know and it's all shared across the working level," Rushbrook said. "Anything that we learn that can benefit the street car is immediately shared, and vice-versa."
The powerful alliance has already paid dividends, with the Shelby GT350R-C, largely based on the recently launched GT350R, scoring its maiden victory in only its second-ever race, following a dominant performance in Canada that included a sweep of the front row in qualifying.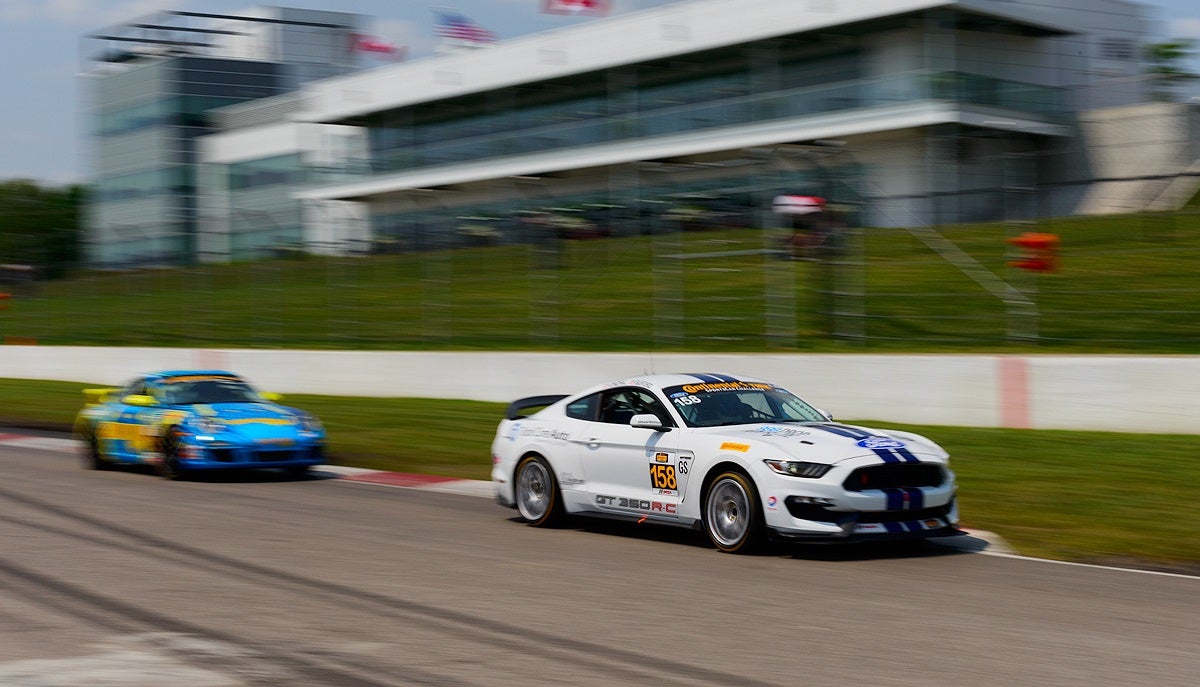 Ford Performance and its motorsports development partner Multimatic are seeking back-to-back wins this weekend at Lime Rock Park, with the pair of Shelby GT350R-Cs no doubt again in the mix for overall honors in the two-hour and 30-minute Continental Tire Challenge race.
For Rushbrook, it presents another opportunity for valuable tech transfer that will help shape the Mustang production cars of tomorrow.
"In the past, I don't think we've worked as closely between street car and race car," he said. "But now we're right there. That part alone is very exciting because the cooperation and participation we've got from the street car side has been a big help in getting everything here."