IndyCar: 2014 speedway aerodynamics could return after Indy 500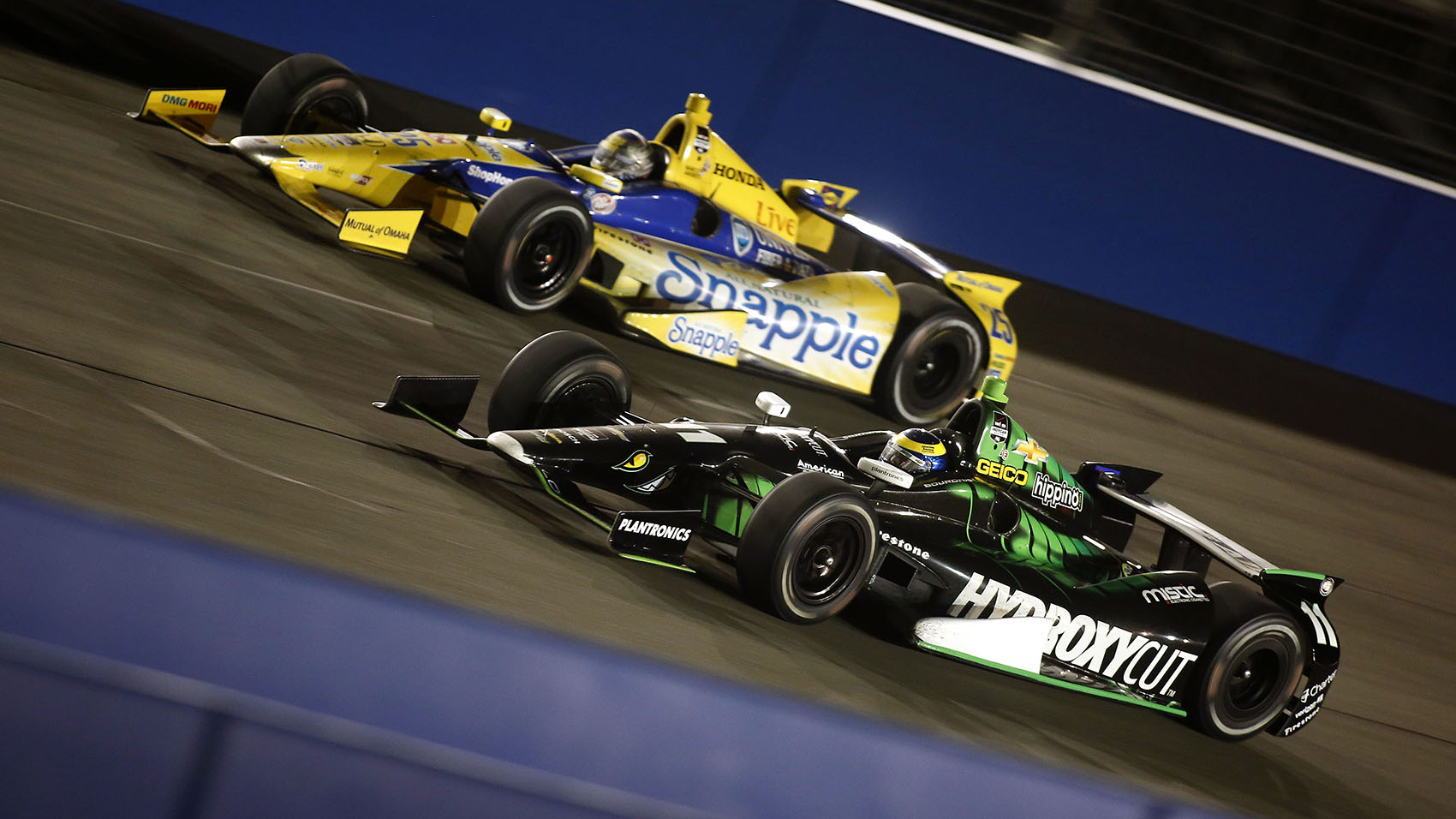 With the spate of crashes and airborne events during practice for the Indianapolis 500, IndyCar has floated an idea to its manufacturers that could see teams reverting to some (or all) of the 2014 bodywork (like at Fontana's season finale, seen above) for the remainder of this year's ovals.
Multiple sources have confirmed to RACER that a meeting between IndyCar and its engine manufacturers took place on Monday where a variety of post-Indy 500 aerodynamic options were considered. Everything from abandoning the 2015-spec floors (that feature holes at their leading edges) to a complete return to Dallara's stock oval bodywork package – starting at the June 6 race at Texas Motor Speedway – is on the table. As of Friday morning, no decisions have been made.
At least two primary reasons have been cited for the possible course reversal with oval aero kits. All four crashes this month have featured some form of flip or flight, and while many theories on the root causes have been offered, it's clear a significant knowledge gap exists. Few would claim to have an exhaustive understanding of why each crash resulted in an airborne moment, and with limited time before the next oval event takes place, switching back to Dallara's oval bodywork configurations would return the series to a known and proven state.
Teams had extensive experience using Dallara's spec bodywork from 2012-2014, and while changing bodywork would require extra labor, it would also allow teams to draw from last year's chassis and aerodynamic setups entering each oval event.
The second concern is time. Just as teams entered Indy 500 practice with only one day of testing – a woefully insufficient opportunity to master speedway aero kits, the same process would likely repeat itself at the rest of the ovals. Where Indy's schedule offers almost a week of practice, the other ovals traditionally hold one day of practice before qualifying. If teams struggled to learn the nuances and outer limits of Indy's aero kit in a week, common sense would suggest the situation would worsen at the two- or three-day oval events at Texas, Milwaukee, Fontana, Iowa, and Pocono.
Both Chevy and Honda have played an intricate part in whatever decision the series makes. Both manufacturers have been busy running computational fluid dynamic (CFD) simulations with their oval aero kits at numerous angles to simulate high-speed spins and rearward events. Both would prefer to continue using their 2015 aero kits without changes, and depending on the data that comes back from their virtual tests, it's possible their respective oval kits could remain in service. Once all of the studies have been submitted, a decision is expected from the series on whether manufacturer-based aero kit changes will be required after Indy.
The new spec floor, which was commissioned and mandated by the series, however, has been a target of derisive comments since its introduction. It's far from scientific, but in 2015 speedway trim, many drivers have cited a lack of feel from the car, and pointed to the new holes in the floor as the source of turbulence and instability while cornering. We have yet to interview a driver who says their car handles better or inspires more confidence at Indy with the new floor.
RACER has also learned IndyCar has sought feedback from local composite specialists on whether manufacturing plugs – caps that would cover the top and bottom of the holes in the 2015 floor – can be done in a timely manner. According to IndyCar crew chiefs, retrofitting the 2014 floor could be the easiest solution to consider.
Two leading drivers offered their thoughts on whether shifting to 2014 oval bodywork would make sense, and if it would be met with approval from the men and women who strap into the high-speed machines.
"It actually makes a lot of sense," said Andretti Autosport's Justin Wilson. "When they came out with a new car in NASCAR they used it originally at some tracks and the older car at others. When you're pushing the edge like we are, sometimes it's smart to go back to something you know. Especially if it's safer. There's such a short amount of time on track before you get into qualifying on the ovals, you don't have enough laps to learn all you need if you haven't tested there, so it's good they're thinking ahead and of all possibilities for those tracks."
KVSH Racing's Sebastien Bourdais echoed some of Wilson's sentiments.
"Whether we're OK with it or not, it's not our decision to make and we'll have to deal with it," he said. "It's not like I tested at Texas for three or four days and found the magical configuration. We don't even know what the setup there is supposed to be. If they want to do that, they need to get on it pretty quick."