IMSA to honor Orlando victims at Watkins Glen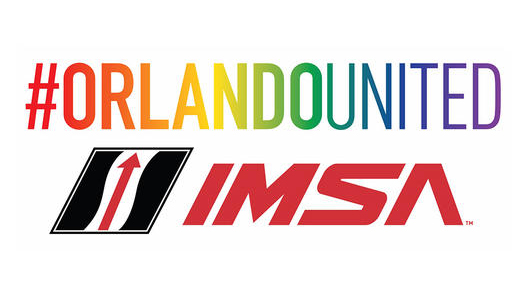 This weekend's racing action at the Watkins Glen International circuit in Watkins Glen, New York, will mark the first time the IMSA series – which includes the WeatherTech SportsCar Championship – will be back in action following the mass shooting in Orlando.
Based in Daytona Beach, Florida, IMSA's headquarters is only 50 miles away from where a mass shooting on June 12 killed 49 people at the Pulse nightclub in Orlando.
IMSA has commissioned #OrlandoUnited decals (pictured above), which will be made available to all teams competing at Watkins Glen this weekend. IMSA is also making a donation to the OneOrlando Fund at www.oneorlando.org and is encouraging others to do the same.
"As Central Floridians, this horrible tragedy hit very close to home," said IMSA CEO Ed Bennett. "This weekend, we felt it would be appropriate to pay tribute to the victims and show our support to the survivors in our own way by making these decals available to our race teams. Our thoughts and prayers continue to be with everybody affected."
Likewise, the Orlando victims will also be honored at Daytona International Speedway this weekend, where NASCAR drivers will also be racing with a special "Orlando United" decal.
Coverage of the Sahlen's Six Hours of The Glen begins at 10:30 a.m. ET Sunday on FS1.