Hinchcliffe Debuts 'Dancing With The Stars' Campaign Video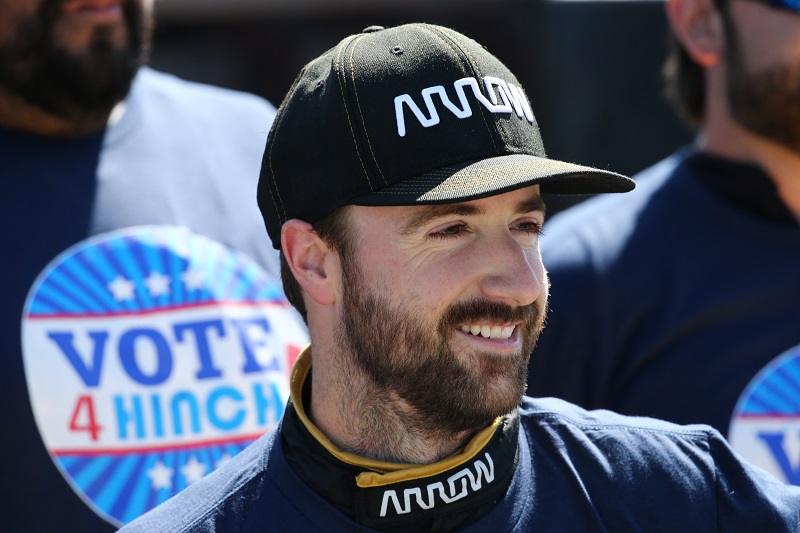 James Hinchcliffe has already begun campaigning for 'Dancing with the Stars,' encouraging IndyCar fans to vote #TeamStopandGo in a Tuesday video.
He won't take the dance floor until Sep. 12, but IndyCar driver James Hinchcliffe has already begun campaigning for votes ahead of his appearance on ABC's Dancing with the Stars.
Hinchcliffe released a "special message" via the IndyCar YouTube channel on Tuesday, spoofing ads for political campaigns and encouraging race fans to support him and partner Sharna Burgess as they compete in Season 23 of the reality show.
In true Hinchcliffe fashion, the video is chock full of humor. The driver of the No. 5 Schmidt Peterson Motorsports Honda casually wanders through various racing-related scenes while talking earnestly about how the paddock has lost its rhythm.
He also reveals the social media hashtag for his DWTS partnership: #TeamStopAndGo. (Although, since in IndyCar that means a penalty, that may not have been the wisest choice. Was #TeamHinchtown taken?)
Check the video out below:
As was noted during Sunday's broadcast of the 2016 Grand Prix at the Glen, Hinchcliffe's being on Dancing with the Stars is a great opportunity for IndyCar to get more exposure, so it's fantastic that the league is helping him promote it. The longer Hinchcliffe stays on the show the more he may be able to interest some people in checking out IndyCar.
Of course, that means he actually has to learn how to dance. Hinchcliffe's good friend Charlie Kimball was skeptical when we asked him about Hinch's chances in a recent interview, pointing out that he'll be losing much-needed practice time while preparing for the IndyCar season finale at Sonoma.
"I just hope his charming personality carries him through the first couple of shows," Kimball said, "and then he can catch up on the dance steps."
Season 23 of Dancing with the Stars premieres Monday, Sep. 12 at 8 p.m. on ABC.
More from Beyond the Flag
This article originally appeared on