Ford Shelby GT350R-C to make CTSC debut at Watkins Glen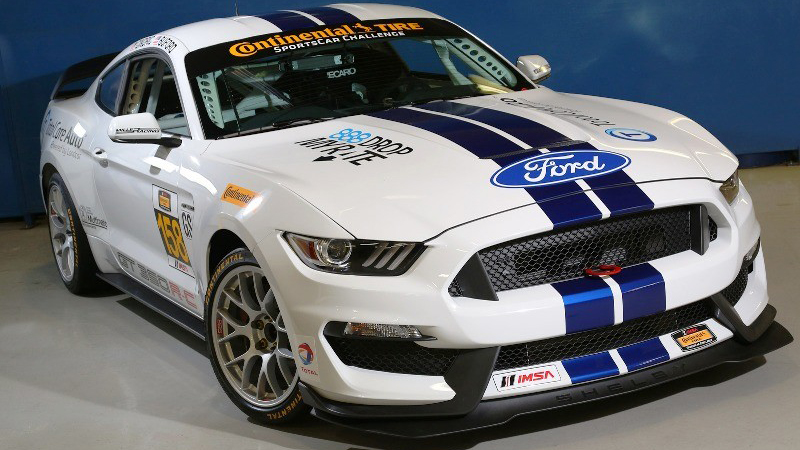 This weekend's Continental Tire 150 at The Glen will see the competition debut of the all-new Ford Shelby GT350R-C, with Ford confirming Wednesday a two-car effort led by development partner Multimatic Motorsports.
The race version of the production GT350R, unveiled at the North American International Auto Show in January, will compete in the Continental Tire SportsCar Challenge Grand Sport class, serving as the successor to the championship-winning Mustang Boss 302R.
"Like so many Mustangs before it, the Shelby GT350R is a car born to race," said Dave Pericak, director, Global Ford Performance. "We're taking it to the track as the GT350R-C and we're ready to see what it can do against the best competition in the world."
Both the production and race car versions features a flat-plane crankshaft, making the 5.2-liter V8 the most powerful normally aspirated engine Ford has ever produced.
The GT350R-C features and adapted version of the car's fully independent suspension, fitted with revised spring rates and antiroll bars, as well as a lower ride height and other track-tuned settings.
After starting the season with the Mustang Boss 302R, Multimatic and its drivers Billy Johnson, Scott Maxwell, Austin Cindric and Jade Buford will make the switch to the GT350R-C this weekend.
The car has completed an extensive testing program, including a successful run at Watkins Glen earlier this month prior to its competition debut.
"Ford is committed to the Continental Tire SportsCar Challenge and we're very happy to be campaigning its product here," said Larry Holt, team principal, Multimatic Motorsports.
"We like the endurance format, and the racing is always intense. Strategy plays a big role; the cars must be fast and reliable, and there are always at least 10 contenders running door-to-door for two and a half hours. It is the perfect home for the GT350R-C."
The race will be aired Sunday, July 5 at 10 a.m. ET on FOX Sports 1.
Visit Sportscar365.com for more sports car racing news and features.