Venturi resets electric vehicle land-speed record at 341 mph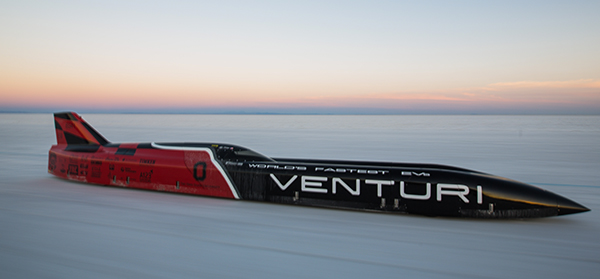 Monaco powertrain manufacturer Venturi and the Center for Automotive Research at Ohio State University have reset the land-speed record for an electric vehicle, pending FIA confirmation.
Earlier this week, Roger Schroer got behind the wheel of the 3,000 horsepower Venturi VBB-3 (Venturi Buckeye Bullet-3) and ran 341 mph at the Bonneville Salt Flats in Utah, measured over a one-mile run in both directions over a one-hour interval. The peak speed the car hit during the runs was 358 mph.
Both numbers crush the previous record that the same team had previously set in 2010 at 307 mph. The Venturi VBB-3 was initially scheduled to make its run in September of 2013, but weather has continuingly postponed it.
However, Venturi and OSU continued to persevere, and now they have achieved their fifth record together.
"I each time enjoyed driving the car and achieving this performance," said Schroer, "but at those speeds you have to focus on your task not on your emotions. I know we can go further. This week the track was good. No main vehicle instability. Much better than the last days during tuning and testing. We always have to be patient and wait for the track to be ready."
"It's a relief because we were waiting for this result for three years," said Venturi owner Gildo Pastor Bellanca. "Heavy rain and bad weather conditions on the Salt Flats prevented our success. VBB-3 is the most powerful electric car in the world. We had to demonstrate that it was also the fastest. It's done that by breaking our own record achieved with the VBB-2.5 in 2010. It shows also that our partnership between students and a manufacturer can bring a lot in this new automotive industry in terms of research and development."