'Dancing With The Stars': Is James Hinchcliffe Better Than Helio?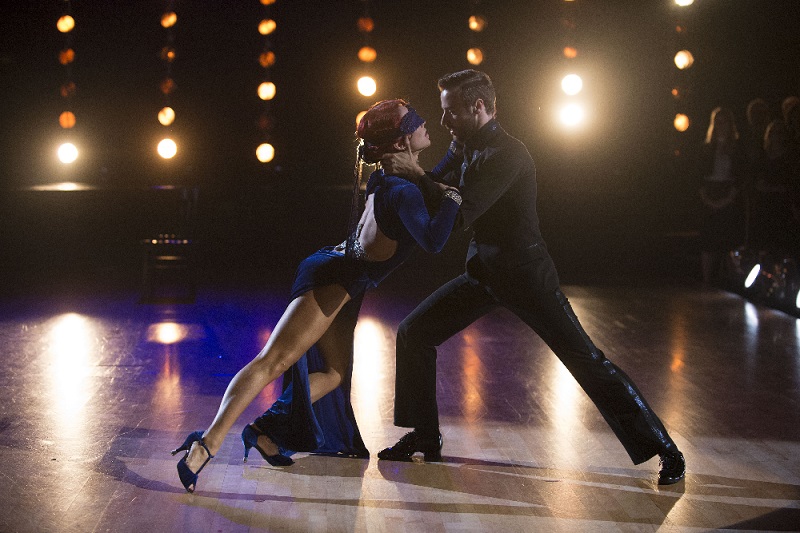 As James Hinchcliffe tries tonight to be the second IndyCar winner of ABC's 'Dancing with the Stars,' Beyond The Flag sees how he compares to the first.
Tonight James Hinchcliffe will make his bid to become the second Verizon IndyCar Series driver who is also a Dancing with the Stars champion. Hinchcliffe is one of four celebrities left standing heading into Monday's Season 23 finals, along with Olympic gymnast Laurie Hernandez, actress and singer Jana Kramer, and NFL wide receiver Calvin Johnson Jr.
Of course, the first IndyCar driver to hold the Mirrorball Trophy was Team Penske's Helio Castroneves, who won Season 5 alongside Julianne Hough back in 2007. Castroneves was even brought back for the "All-Stars" season in 2012.
So how does Hinchcliffe's run for the DWTS title compare to Castroneves' campaign for it nine years ago? Beyond The Flag matched up their numbers to see if Hinch and Helio have been on a similar road to success.
Hinchcliffe has had two perfect scores so far in Season 23. He earned the full 30 points for his Halloween Night Viennese Waltz with substitute partner Jenna Johnson, and another 30 in last week's semifinals for his trio jive with Sharna Burgess (pictured above with Hinchcliffe) and Johnson.
More from Beyond the Flag
Castroneves and Hough attained three perfect scores during Season 5 for their foxtrot, quickstep and cha-cha-cha routines. So Castroneves has a slight edge in the number of flawless numbers, but both IndyCar drivers have gotten multiple perfect scores.
On the other side of the spectrum, Hinchcliffe's lowest score is 29 twice, for his Week 2 paso doble and Week 3 cha-cha-cha. Castroneves' lowest score was 23 for his Week 5 rumba. Hinch's rumba in Week 6 was two points shy of perfect, so the two drivers are opposites as far as which routines gave them the most trouble.
Neither Hinchcliffe nor Castroneves have received less than a 7 from any individual judge over the course of their respective seasons.
Both drivers started strong and were almost consistently good throughout their seasons. Hinchcliffe tied Hernandez for the highest score in Week 1, while Castroneves had the second-highest score on his first dance, one point behind Sabrina Bryan.
Hinchcliffe's only real danger of elimination came heading into the semifinals. His Showstoppers Night routine with Johnson tied for the lowest score of the evening. Castroneves' difficult week  was earlier in the season with that rumba, but he rebounded the next time out with a five-point gain.
So you can say that Castroneves is a slightly better Dancing with the Stars competitor than Hinchcliffe thus far just because of his extra perfect score, but the playing field – or is that dance floor – between them is otherwise pretty even.
However, if Hinchcliffe is going to beat Castroneves in terms of finals performances, he'll have a high bar to clear Monday. Castroneves had a perfect performance with his finals quickstep and a near-perfect one with his finals freestyle, scoring a cumulative 59/60 between the two numbers.
They may drive for different IndyCar teams but when it comes to Dancing with the Stars, James Hinchcliffe and Helio Castroneves are very much alike. The two drivers wasted no time in getting up to speed and have been able to maintain those high standards throughout the competition. Hopefully history will continue to repeat itself and Hinchcliffe will hoist the Mirrorball Trophy on Tuesday.
Dancing with the Stars begins its two-night finale Monday at 8/7 on ABC.
This article originally appeared on