Could Conor Daly Possibly Be In Trouble Again?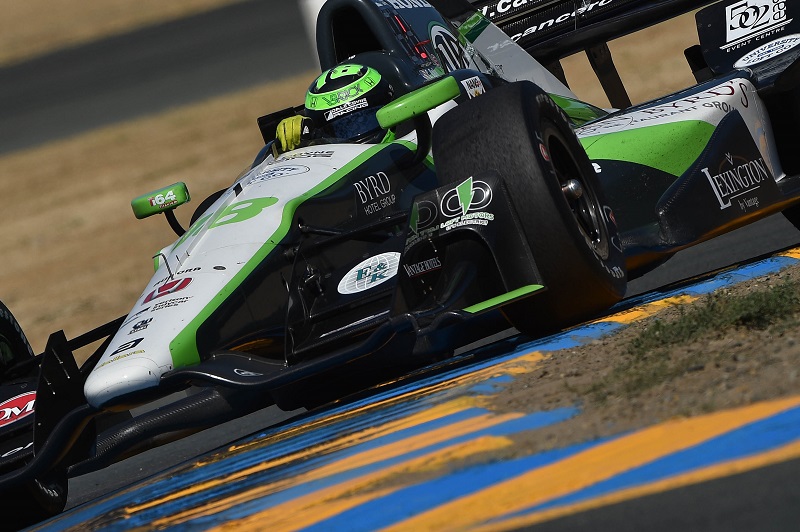 After finally landing a full-time IndyCar ride in 2016, journeyman Conor Daly is having a terrible case of deja vu as he has no seat for next season.
It was the feel-good story of IndyCar's last offseason: Conor Daly had finally found himself a full-time drive. After years of campaigning every team and filling in at every opportunity, the Indiana native had landed his own ride with Dale Coyne Racing.
And he did well with it, too, including a runner-up finish in Detroit and four other results in the Top 10. Not bad for a rookie.
So why now is he back on the outside looking in?
Daly confirmed to IndyCar.com this week that he's still looking for a 2017 ride, saying, "I don't really know yet. I'm just waiting. I don't really know what the decision-making process is going to be like."
More from Beyond the Flag
He added that he's talked to every team with an open seat, which would currently include Chip Ganassi Racing, Ed Carpenter Racing, A.J. Foyt Enterprises and Coyne. His present team is saying the same line drivers – and fans – have heard many times before: they'd like to keep him around, but he needs more sponsorship money.
That means it's back to the grind for Daly, who's hoping that his 2016 resume speaks for itself.
"I would hope this year has sort of granted me enough," he told IndyCar.com. "I just try to compare it to other rookies. What was Josef Newgarden like in his first year? What was Carlos Munoz like in his first year? What was Jack Hawksworth like?
"I think it was a good year for us. I just want to be able to use that and hopefully sign another deal for at least more than a year. Whatever deal I do next, I would like to do more than a year."
But first he has to get a deal done at all.
The situation has to be frustrating not only for Daly but the fans. He finished 18th overall this year, but was second for Rookie of the Year honors behind Alexander Rossi, keeping in mind that Rossi earned a double points bonus for winning the Indianapolis 500. Daly was the only rookie other than Rossi to reach a podium, and he also led 56 laps at various races throughout the season.
And on the business side, things should be lining up for him better than they are. For all the talk about wanting young American stars in IndyCar, here's one of them. He's incredibly marketable, too, with an outgoing personality that was showcased when the league asked him to appear on ABC's Celebrity Family Feud.
Not to mention he has his head screwed on straight. When he could be throwing a tantrum at once again facing an uphill battle, Daly is just accepting the predicament and doing his best to fix the problem, saying "Hope is not a strategy."
But for his sake – and even the future of IndyCar as it continues to try and put together its next generation of stars – we have to hope that Conor Daly will land somewhere.
Daly is in the same boat as Carlos Munoz was (presuming that Munoz's rumored move to Foyt goes through) and Gabby Chaves before him. It's always twitch-inducing from a fan standpoint when good drivers end up in bad situations because of business. Motorsport is an expensive pursuit, but when somebody does well on the track, that should be enough to keep them in the car.
He also has a very valid point about rookie drivers who had time to develop and became stars; it's the same thing that Max Chilton pointed out earlier this season. How do we expect to find the next Scott Dixon or Josef Newgarden if we keep tossing drivers out every time they can't open a checkbook?
Especially with Sato, who finished just ahead of him this year, able to get a full-time drive with Andretti one would make the argument that certainly Daly deserves to return to the grid in 2017. Here's to hoping that a sponsor comes through so that a promising career doesn't have an unhappy ending.
Do you think Conor Daly will be driving full-time in the Verizon IndyCar Series in 2017?
This article originally appeared on