Conor Daly Leaves Coyne To Join Foyt's Rebuilding Effort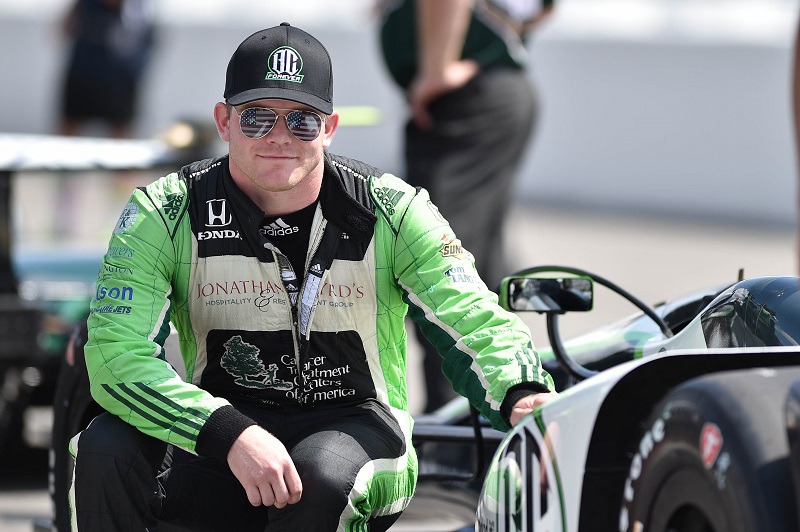 Conor Daly will get a second full season in IndyCar but not with Dale Coyne Racing. The Indiana native has signed with A.J. Foyt Enterprises.
Conor Daly is going to race again in IndyCar but he'll be moving across the paddock. Multiple reports including Racer this week say that Daly has signed to take over the No. 41 entry at A.J. Foyt Enterprises for the 2017 season.
He replaces Jack Hawksworth, who along with teammate Takuma Sato was expected to exit as Foyt cleaned house following a dismal year for both of its cars.
Though no formal announcement has been made about Foyt's lineup for next year – that's expected to come within the week –  the prevailing idea is that Daly will be paired with former Andretti Autosport driver Carlos Munoz while Sato is to take Munoz's spot at Andretti.
As late as last week Daly had been hopeful about returning to Dale Coyne Racing, but he seemed to fall by the wayside after Coyne signed Sebastien Bourdais and DCR is rumored to have its eye on Indy Lights driver Ed Jones for its second seat.
More from Beyond the Flag
Thus Daly moves to Foyt – a team that is in desperate search of a spark plug to push itself forward from the rear of the IndyCar field.
The 24-year-old finished two spots ahead of Hawksworth and one behind Sato in the 2016 league championship standings. Daly's best finish this year, fourth place at Watkins Glen, was better than any individual result for either Hawksworth or Sato.
Presuming that the signings of Daly and Munoz are confirmed in the next few days Foyt now has a duo of young drivers with which they can look toward the future. Munoz is also 24 and had his best career year in 2016.
The only potential disadvantage for Daly is that he won't have the consistency of continuing to develop with the same team; he'll have to start over with a new organization and possibly new crew members. Having the same people around you on a regular basis can be beneficial for any driver – just ask Simon Pagenaud, who made a championship run with Ben Bretzman after Bretzman came over with him from Schmidt Peterson Motorsports.
But at least Daly will remain in the league after a rookie year that showed plenty of promise as a full-time driver. And perhaps he will be that person that takes Foyt to the next level and creates another challenger to the Big Three of Penske, Andretti and Ganassi.
For those keeping score the number of available full-time seats in IndyCar is dwindling. Bourdais' former spot at KVSH Racing remains open, as does the part-time road and street course seat at Ed Carpenter Racing. The only other full-time drive left is at Chip Ganassi Racing, despite the talks of CGR signing Max Chilton to a long-term contract.
What do you think of Conor Daly driving for A.J. Foyt Enterprises in 2017?
This article originally appeared on