Cool Car of the Day: 1973 Ferrari 365 GTB/4 Daytona Spider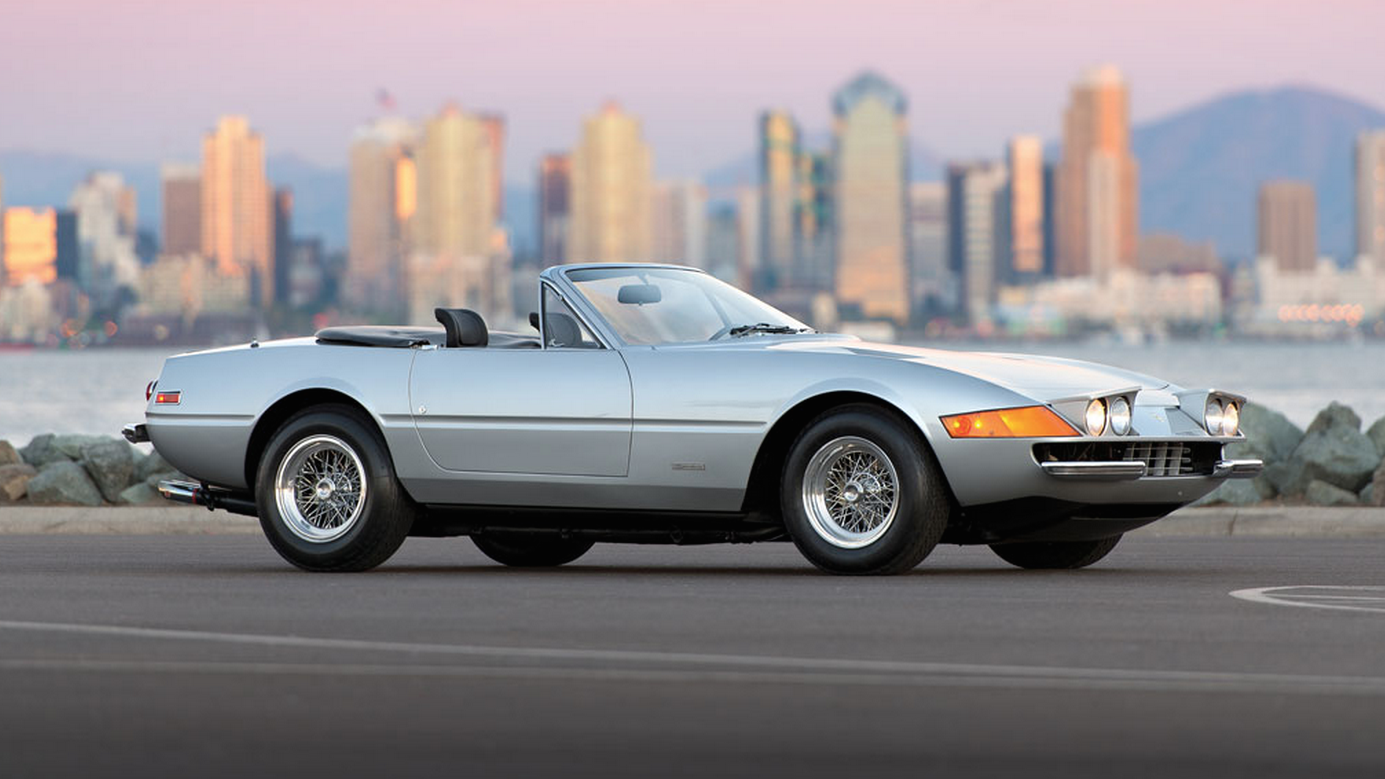 Let's be honest here: By definition, all Ferraris are cool cars.
Since its inception, the legendary Italian automaker has built cars for people passionate about performance without compromise.
This week in Arizona, a host of Ferraris will go across the block at various high-end auctions from Barrett-Jackson, Gooding & Co., Bonhams, RM, and Russo and Steele. Many will sell for more than $1 million. A couple likely will sell for more than $10 million. So there's absolutely no shortage of Prancing Horses to select as the Cool Car of the Day.
But there is something about this 1973 Ferrari 365 GTB/4 Daytona Spider by Scaglietti that makes it the perfect choice. Lot No. 235, it will be auctioned off by RM Friday, with an expected sale price of $3.5 million to $4.5 million. Quite the appreciation from its original sticker price of $29,665.
According to its catalog description, this is one of just 121 Daytona Spiders built and one of just 14 finished in Argento Metallizzato paint. It is believed to have just 17,000 miles from new and has been given a "fresh, full restoration by Bobileff Motorcars and Chris Dugan Enterprises." It's also a Platinum Award winner at the 2014 Cavallino Classic and Ferrari Classiche certified, which greatly increases its value.
The catalog description pretty much nails it:
"Ferrari's 365 GTB/4 Daytona was the last of its series of front-engined V-12 grand touring cars, and it was truly an incredible automobile. It was nicknamed 'Daytona,' after Ferrari's iconic 1-2-3 finish at the 1967 24 Hours of Daytona, and it carried the torch from the widely acclaimed 275 GTB/4 in spectacular fashion. The Daytona, graced with an all-new 4.4-liter V-12 engine, boasted incredible performance, as 60 mph could be reached from a standstill in just 5.4 seconds and it could achieve a top speed of 174 mph, making it the fastest production car in the world at the time of its unveiling in 1968. Its design, penned by Pininfarina and handcrafted by Scaglietti, was vastly different from its predecessor, yet it was also instantly recognizable as a Ferrari in a style all its own. For the individual looking to cruise across Europe at high speeds and cocooned in luxury, there was simply no better choice.
"To many enthusiasts, the only way that Ferrari could improve the Daytona was to produce a spider. Such a model was unveiled at the 1969 Frankfurt Motor Show, and it proved to be an instant success, as it retained all the character and performance of the coupe yet also added the trill of open-top motoring. The Daytona Spider was the perfect vehicle for sunny locales like Monaco, St. Tropez, or Los Angeles, and it was destined for greatness when it was released."
While contemplating going topless may seem a bit daft in January, nothing beats the thrill of a high-performance convertible. And this Ferrari would deliver that in spades.
Or as the catalog description reads, "Although the car is arguably the most at home shuttling a driver, passenger, and their luggage down the coast in style, its race bred roots are apparent the moment one presses the accelerator, and it can easily outrun modern-day automobiles. Chassis number 16793 is perhaps the finest Daytona Spider in existence, and it is presented just as it was when it was new. It goes without saying that this would be an astute acquisition for any Ferrari collector, as it is a timeless example of Italian motoring in the finest sense."
We agree, which is why this Ferrari is the Cool Car of the Day.