2016 Mexican Grand Prix Results: Hamilton Wins, Vettel Demoted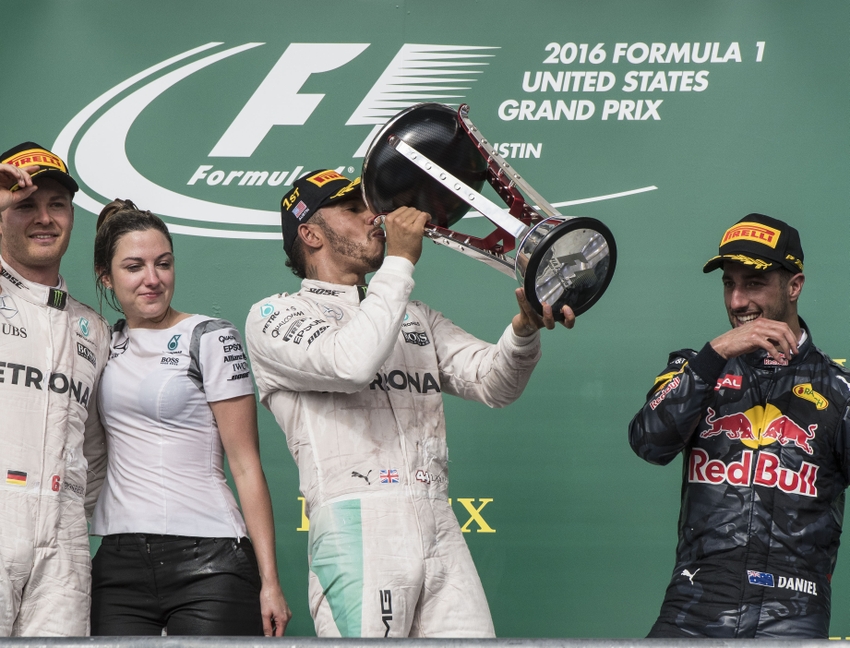 Lewis Hamilton kept hopes of another Formula One title alive with victory at the 2016 Mexican Grand Prix, while Sebastian Vettel was demoted off the podium.
It was business as usual for Formula One at the 2016 Mexican Grand Prix: another victory for Mercedes while controversy cast a shadow over the day's race.
Lewis Hamilton earned his second consecutive victory on Sunday, crossing the finish line more than eight seconds ahead of Mercedes teammate – and championship rival – Nico Rosberg. The Mexican Grand Prix win means that Hamilton has just a 19 point deficit to Rosberg with two more races left in this year's Formula One season.
It was a more difficult victory than the final timing indicated, with Hamilton telling the media afterward that he was "lucky I didn't go into the wall" on the start of the race due to a brake problem that locked up his right front tire and sent him onto the grass.
"After that I had the biggest vibration, I didn't know if I was going to be able to make the first stint," he said. "I thought I would have to stop. The vibration was so big I could barely see."
More from Beyond the Flag
But Hamilton prevailed anyway, and the bigger story of the day was the fate of Ferrari's Sebastian Vettel. Vettel had initially filled out the podium with a third place finish after Hamilton and Rosberg, but got a rude awakening when he found out on his way there that he was being assessed a ten-second penalty for moving under braking.
The decision cost Vettel two spots, as Red Bull teammates Daniel Ricciardo and Max Verstappen jumped him in the standings to make Vettel finish fifth.
In addition stewards handed Vettel an additional two points on his F1 license, raising his total to six points out of a maximum 12 allowed in a rolling 12-month period. Were Vettel to accrue 12 points against him in that span, he would be banned one race.
It wasn't a good day at all for the Ferrari driver, who also got into hot water when he was heard shouting at Verstappen as well as league race director Charlie Whiting on the radio earlier in the race.
Afterward Vettel said he had been to see Whiting, but bristled at the media asking him about the incident. "I don't understand why you are making a fuss and why you are asking the question," he said per reports.
"It was not the right thing to say, equally in my defense emotions and adrenaline is pumping high," he continued, "so I don't understand why you are trying to push me in a corner and make me answer something that then you try to make into another loop."
Further complicating matters on Sunday, Verstappen had also been eyeing third place on the podium before he, too, was penalized five seconds – which lifted Vettel to third before his penalty saw the spot change places again to Ricciardo.
All in all it was one big headache at the Mexican Grand Prix – unless you were the Mercedes team of Hamilton and Rosberg, who continue to dominate the race results as well as the championship fight.
Below are the complete results for the 2016 Mexican Grand Prix:
1. Lewis Hamilton
2. Nico Rosberg
3. Daniel Ricciardo
4. Max Verstappen
5. Sebastian Vettel
6. Kimi Raikkonen
7. Nico Hulkenberg
8. Valtteri Bottas
9. Felipe Massa
10. Sergio Perez
11. Marcus Ericsson
12. Jenson Button
13. Fernando Alonso
14. Jolyon Palmer
15. Felipe Nasr
16. Carlos Sainz
17. Kevin Magnussen
18. Daniil Kvyat
19. Esteban Gutierrez
20. Romain Grosjean
21. Esteban Ocon
22. Pascal Wehrlein
Next up for Formula One is the 2016 Brazilian Grand Prix on November 13.
This article originally appeared on