2016 Grand Prix at the Glen Results: Dixon Gets Four, Power Wrecks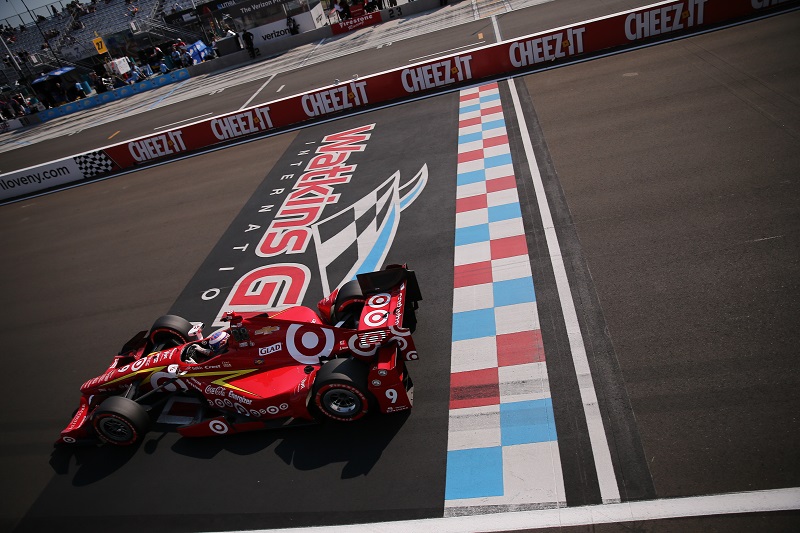 Scott Dixon earned his fourth IndyCar victory at Watkins Glen, while a crash ruined Will Power's day in the 2016 Grand Prix at the Glen.
The 2016 Grand Prix at the Glen was one for the Verizon IndyCar Series record books – and may have spoiled the 2016 IndyCar championship.
Scott Dixon, who was fastest in all but one session earlier in the weekend, drove away with the victory on Sunday. The No. 9 Chip Ganassi Racing Chevrolet crossed the start-finish line at Watkins Glen International more than sixteen seconds ahead of second-place Josef Newgarden.
It was Dixon's fourth victory at Watkins Glen in eight races, his second of the 2016 season, and also made him fourth on open-wheel all-time wins list.
"We got amazing fuel mileage," said Dixon, who is donating his prize money to the Wilson Childrens Fund. "It's been almost a sweep this weekend and you don't get those too often, especially with the competition level we have in the Verizon IndyCar Series."
The more controversial story was further back in the field. Teammates and championship rivals Simon Pagenaud and Will Power battled early, but Power's day came to a literally crashing halt on lap 39 when Charlie Kimball made contact with the rear of the No. 12 Team Penske Chevrolet and put Power into the wall.
That crash, plus Pagenaud continuing on to finish seventh, almost doubled Pagenaud's championship lead to 53 points with one race remaining.
Further complicating matters is that after the wreck Power was still being evaluated by IndyCar medical staff. He will have to be cleared to drive before he can compete again, but there are two weeks before the GoPro Grand Prix of Sonoma.
If he does not race that would hand the IndyCar championship to Pagenaud. The title chase is down to two drivers, as while Dixon and Helio Castroneves are still points-eligible, the best they could do is tie Pagenaud and the Frenchman would have the tiebreaker (more wins).
Below are the complete results from the 2016 Grand Prix at the Glen:
1. Scott Dixon
2. Helio Castroneves
3. Josef Newgarden
4. Conor Daly
5. Sebastien Bourdais
6. Charlie Kimball
7. Simon Pagenaud
8. Alexander Rossi
9. RC Enerson
10. Max Chilton
11. Carlos Munoz
12. Marco Andretti
13. Juan Pablo Montoya
14. Ryan Hunter-Reay
15. Spencer Pigot
16. Jack Hawksworth
17. Takuma Sato
18. James Hinchcliffe
19. Tony Kanaan
20. Will Power
21. Graham Rahal
22. Mikhail Aleshin
The Verizon IndyCar Series concludes on Sunday, Sep. 18 with the GoPro Grand Prix of Sonoma from Sonoma Raceway.
More from Beyond the Flag
This article originally appeared on