2016 Brazilian Grand Prix Results: Hamilton Wins A Soaker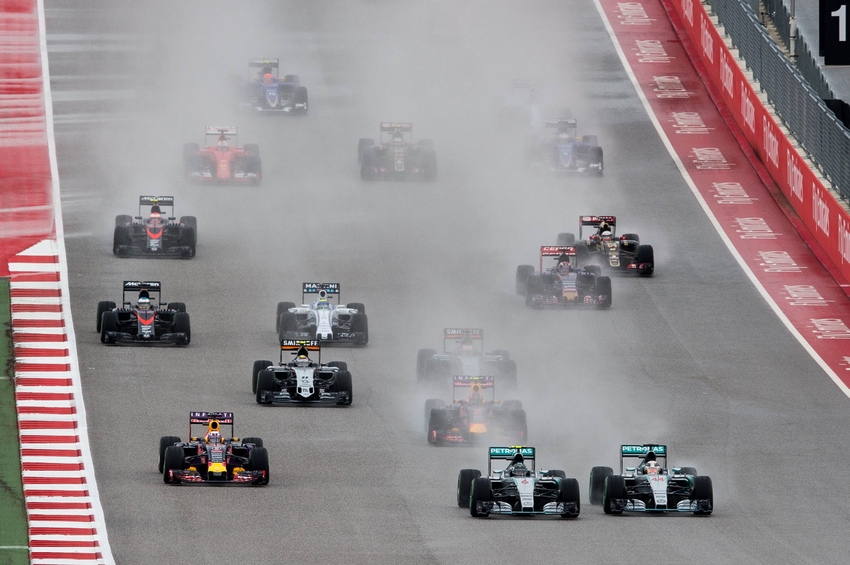 Soaking rains did not damper Lewis Hamilton as he cruised to victory in a bizarre Brazilian Grand Prix that set up a dramatic Formula One title finale.
Mother Nature stole the show on Sunday at the Autodromo Juan Carlos Pace in Sao Paolo, Brazil, but the big story coming out of the Brazilian Grand Prix is that this year's Formula One world championship will come down to two drivers and one race. By claiming the Brazilian GP, Lewis Hamilton made the upcoming Abu Dhabi Grand Prix a near winner-take-all showdown.
Hamilton's win at Interlagos was his first of his career, but not his first triumph at the track. He secured his first world championship in the Brazilian Grand Prix in 2008 and continued his success in 2016, keeping his fourth title in grasp. Nico Rosberg, the current championship leader, came home second in what was a conservative performance in the face of very challenging weather conditions.
The race became a major stop-and-go affair thanks to the wet track. Rain fell almost constantly throughout the race, and the Pirelli heavy rain tires proved to be a point of contention for teams and drivers. Many felt the intermediate tires were better suited for the conditions, and switched to them before incidents began to pile up.
Turn 13 was the toughest spot on track all day, with Romain Grosjean becoming the first victim during the reconnaissance laps before the race began. He would not make the start. Among the other victims of the dangerously wet track were Kimi Raikkonen, Felipe Massa, and Fernando Alonso – all racers with a lot of experience racing in the rain.
While some of the veterans collapsed in the slippery conditions, one man was able to pounce at the finish. Red Bull Racing's Max Verstappen pulled off one of the greatest drives in Formula One history, racing from out of the points to third following the second red flag of the event. He found grip at points on the track where no one else could, piecing together a magical ride that will prove challenging to repeat.
It was a heartbreaking day on the other side for Felipe Massa of Williams. In his final home race, he started in 13th, his worst starting spot in Brazil since his rookie year. He then crashed out of the race in the torrential rain, sobbing as he walked back to his pits.
But in honor of Massa and his great leadership and competitiveness in F1, many teams walked out to the edge of their boxes to congratulate him on an outstanding career.
Other noteworthy finishes include Sergio Perez just finishing off the podium for Force India in fourth, and Felipe Nasr for Sauber in ninth. This was the first race that Sauber scored points this season. Esteban Ocon, racing for Manor, nearly scored as well by finishing in 12th.
Here are the full results from the Brazilian Grand Prix:
Lewis Hamilton, Mercedes, Mercedes AMG Petronas
Nico Rosberg, Mercedes, Mercedes AMG Petronas
Max Verstappen, Tag Heuer, Red Bull Racing
Sergio Perez, Mercedes, Force India
Sebastian Vettel, Ferrari, Scuderia Ferrari
Carlos Sainz Jr., Ferrari, Scuderia Toro Rosso
Nico Hulkenberg, Mercedes, Force India
Daniel Ricciardo, Tag Heuer, Red Bull Racing
Felipe Nasr, Ferrari, Sauber
Fernando Alonso, Honda, McLaren
Valtteri Bottas, Mercedes, Williams Racing
Esteban Ocon, Mercedes, Manor Racing
Daniil Kvyat, Ferrari, Scuderia Toro Rosso
Kevin Magnussen, Renault, Renault Sport
Pascal Wehrlein, Mercedes, Manor Racing
Jenson Button, Honda, McLaren
Esteban Gutierrez, Ferrari, Haas F1
Felipe Massa, Mercedes, Williams Racing
Jolyon Palmer, Renault, Renault Sport
Kimi Raikkonen, Ferrari, Scuderia Ferrari
Marcus Ericsson, Ferrari, Sauber
Romain Grosjean, Ferrari, Haas F1
Just twelve points now separate the top two for the Formula One world championship. Nico Rosberg has the upper hand, but Hamilton has all the momentum after three straight wins. Which one will hoist the trophy and be called 2016 world champion? Find out on Sunday, Nov. 27 from Abu Dhabi on NBCSN.
More from Beyond the Flag
This article originally appeared on