Yasiel Puig staying with 2016 Los Angeles Dodgers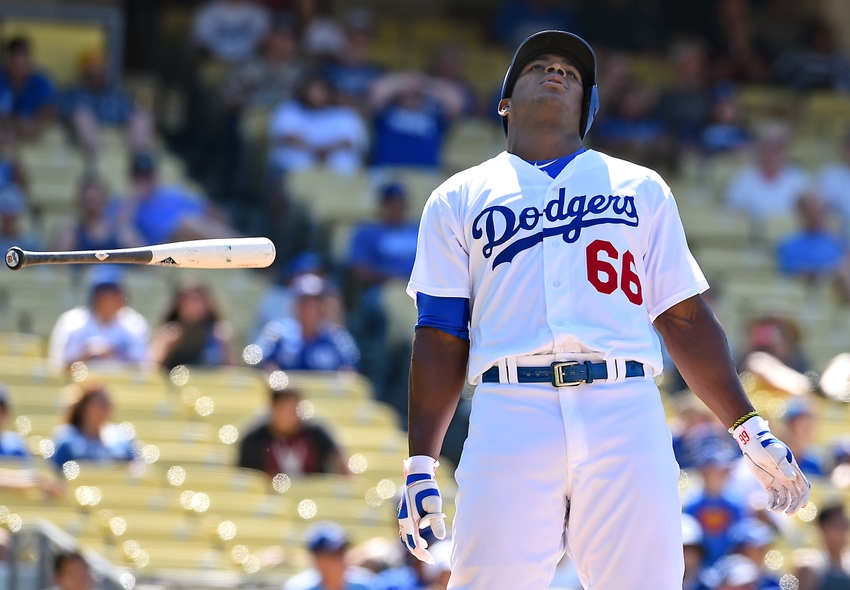 Yasiel Puig has not reached a deal with a new club after being put on the MLB waiver wire. He will stay with the Los Angeles Dodgers for the rest of 2016.
According to FanRag Sports and insider at MLB Network Jon Heyman, time has run out for teams to claim enigmatic outfielder of the Los Angeles Dodgers Yasiel Puig on the waiver wire. Puig will remain in the Dodgers organization for the rest of the season.
time's up on puig talks (for whoever claimed him). yasiel will remain with the dodgers.

— Jon Heyman (@JonHeyman) August 31, 2016
Puig had once taking Los Angeles by storm with his vibrant play in the outfield back in 2013. His game was unrefined by the expectations set forth in Minor League Baseball. It wore teammates out and once his play diminished in 2016, the Dodgers essentially DFA'd him.
Puig hasn't been with the Major League club since the August 1 MLB trade deadline, bouncing around in the Minors most notably with AAA Oklahoma City.
From Heyman's report, it seems like there was at least one team who put a claim on Puig's rights, but were unable to reach a deal with him. With the MLB rosters expanding to 40 men on September 1, will Puig be one of the players re-joining the Dodgers?
With the Dodgers holding a two-game lead over the arch rival San Francisco Giants in the National League West, it's more likely than not that Puig has played his last game for the Dodgers organization.
This waiver period was Puig's last shot at finding a new team to play for during the 2016 MLB season. Los Angeles is now almost certain to release him outright. The Dodgers haven't been to a World Series since they won it all back in 1988. It's full steam ahead for Dave Roberts' team down the stretch.
This article originally appeared on