Watch Yasiel Puig show off his catlike reflexes with a swim-move slide
If you could only use one word to describe Yasiel Puig, "unorthodox" would fit the bill nicely. How else to explain a man who advocates commuting to the downtown Los Angeles area via helicopter, like he's Kobe Bryant or something?
And it's also the perfect adjective to describe the Los Angeles Dodgers star's slide into second base against the Arizona Diamondbacks on Tuesday afternoon.
In an attempt to avoid a lunging tag, Puig slid past second, which was a pretty heads-up play. But when Diamondbacks second baseman Jean Segura met Puig on the other side of the bag, a staredown ensued — and a little bit of "Patty Cake", too:
But was he out? In the Vine, it looks like Segura might have made contact with Puig's hand as the Dodgers star was reaching for the bag: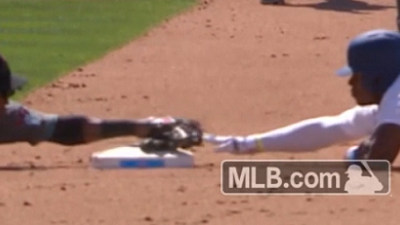 It's an incredibly close play, and the umpire was right on top of things. Either way, we're resigned to sitting back and watching Puig do his little dance next to the bag. Because it's glorious.
"If I hadn't gotten it with my left hand, I would have used my tongue," Puig said through an interpreter.
In the sixth, Puig played a ball barehanded off the wall in right field and his throw to third baseman Justin Turner got Wellington Castillo out.
"I throw to the cutoff man," Puig said with a smile, speaking English. "I never throw to the cutoff man."
The Associated Press contributed to this report.