Yankees Talk: Ownership Won't Ever Sell Team
Jennifer Steinbrenner Swindal, daughter to the late George M. Steinbrenner reiterated her families stance that they will never sell controlling interest in their beloved Yankees.
Surrounded by some of the Yankees brightest Minor League prospects at St. Malachy's Church in Manhattan, Jennifer Steinbrenner Swindal made it abundantly clear that her family has no intentions of ever selling their percentage of the organization.
Valued by Forbes at a price tag of well over $3 billion, Steinbrenner Swindal joked with media members that the team won't be sold, and that's why she and her brothers are still working.
When asked about her thoughts on how her father George would have perceived this team rebuild through the strength of the farm system, Steinbrenner Swindal told Newsday:
"I think he'd be really proud of us. … The Core Four all started as young people during dad's era."
Basking in the glow of prospects Gleyber Torres, Clint Frazier, Justus Sheffield, and Chance Adams, the Yankees contingent passed out meals and mingled with church parishioners for over and hour.
"You have to go with baseball and where it takes us and that's where our future will have to be. These kids are amazing. Brian Cashman has done an incredible job of putting this team together. So I'm really excited to see how they do."
The Yankees are clearly an organization on the rise in terms of once again returning to a winning brand of baseball that should present itself in the form of Postseason appearances and potential World Series victories. How long that takes is directly tied to how quickly the organization unleashes the rest of the Baby Bombers.
Having recently been labeled as home to the No. 1 Minor League farm system by Bleacher Report, the Yankees' prospect pipeline hasn't been this rich since the late 90s-early 2000s, when 'The Boss' was at the center of another baseball dynasty in the Bronx.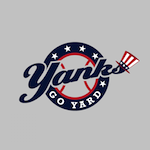 Apply to Yanks Go Yard.
Start your application process by filling out the fields below
So as many speculate that now would be the opportune time for the Steinbrenner family to cash in on their father's initial $10M investment way back in 1973, it sounds increasingly likely baseball's first family stays firmly entrenched where it rightfully belongs.
This article originally appeared on