Yankees Should Roll the Dice on One of These Risky Starting Pitchers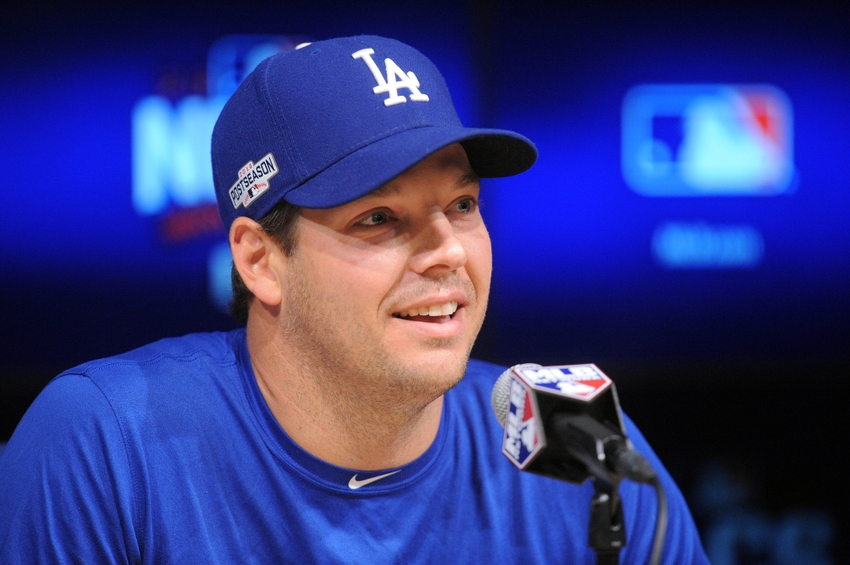 The New York Yankees should target uncertain but high-upside arms on one-year contracts this offseason to add depth to their thin starting rotation.
Let's start by acknowledging that there are really no sure-fire starting pitching upgrades available to the New York Yankees this winter. Even the big names come with huge question marks which become even more pressing because of the large salary commitments they will require to sign.
Going into his age-37 season with exactly one season as a starter on his resume (almost a decade ago), Rich Hill might land a three or four-year contract of $50 million or more. Jeremy Hellickson is seen as the "safest" of the top free agent options, and he was below replacement level from 2013-2015 according to Baseball-Reference's wins above replacement metric with a combined -0.7 WAR for those three seasons.
Jeremy Hellickson is seen as the "safest" of the top free agent options, and he was below replacement level from 2013-2015 according to Baseball-Reference's wins above replacement metric with a combined -0.7 WAR for those three seasons.
Do I really need to tell Yankees fans why signing Ivan Nova to the four-year $52 million contract MLB Trade Rumors projects for him would be risky? Before making 11 good-but-not-great starts for the Pirates down the stretch, Nova hadn't been even an average MLB starter since 2013. He missed most of 2014 with TJ surgery and had more than a full season's worth of terrible performance after returning.
I've previously said signing Rich Hill would be my top priority this winter if I was GM because, well, it isn't my money. Any move that only comes with a financial cost has little downside from my perspective. I'm focused on the product on the field, which Hill would certainly help, not profits.
If giving that kind of cash to Hill is too much of a risk for New York's ownership, however, there are plenty of other high-upside plays the Yankees could make on one-year commitments this winter. Here's a look at three free agent lottery tickets who could pay off big for the team in 2017.
The Yankees love their big, hard-throwing right-handers. Cashner is listed at 6'6 235 lbs. and averaged 93.5 mph with his heater last season according to FanGraphs, which is the highest of any free agent starter. He was undeniably terrible this year, with a 5.25 ERA and 4.84 FIP in 132 innings split between the Padres and Marlins, but at just 30 years old, there's a chance Cash has something left.
Cashner has had six trips to the disabled list in his career, so it's possible that injuries could have played a role in his poor performance last season. He missed time with a hamstring strain in May, and hit the DL again the next month with a strained muscle in his neck. The righty has also dealt with serious elbow and shoulder issues as recently as 2014.
The 30-year-old looked like a front-of-the-rotation arm as recently as 2014, when he pitched to a 2.55 ERA and 3.09 FIP in 123.1 IP (19 GS). The previous year he was also excellent, with a 3.09 ERA and 3.35 FIP in 175 IP (26 GS).
MLB Trade Rumors expects Cashner to settle for a one-year $8 million deal this winter to attempt to rebuild value. Even if Cashner is more like the back-of-the-rotation innings eater he was in 2015, that would be a huge bargain. Mike Petriello of MLB.com also speculates he has the arsenal to be dominant as a reliever, so that's a nice backup plan if he's not one of the team's five best starters.
The Texas Rangers were surprisingly unable to find a taker for Holland in a trade following the season, so rather than pick up their $11.5 million option on the lefty starter, they paid him a $1.5 million buyout to walk away.
While that would have been an admittedly steep price to pay for a guy with a 4.95 ERA and 4.75 FIP in 107.1 IP last year, it's not completely crazy given the lack of attractive options on the market and Holland's relatively recent success.
Any team that inks Holland this offseason will keep their fingers crossed that he can get back to being the guy who pitched to a 3.42 ERA and 3.44 FIP in 213 IP back in 2013 before knee and shoulder injuries derailed his promising career.
Want your voice heard? Join the Yanks Go Yard team!
If he can show he's finally healthy, Holland is young enough at 30 that there's a reasonable chance of a career renaissance. The southpaw relies primarily on a heavy sinker, but posted a career-low 38.3% groundball rate last year. If he can get back to keeping the ball on the ground, he could be a good fit in homer-friendly Yankee Stadium.
MLBTR pegs Cashner for a one-year $6 million deal, which like Cashner, is a very reasonable risk for the potential upside he brings. The worst case scenario is you can try him out as a LOOGY or long reliever if one of the team's young starters beats him out for a rotation job.
This perennial lottery ticket showed he is not a complete lost cause when he rewarded the Los Angeles Dodgers with a very rare healthy campaign in 2015, pitching to a 3.69 ERA and 3.94 FIP in a career-high 180.1 IP (31 GS). For his efforts, Anderson received a qualifying offer last winter which he wisely accepted.
In March, to the surprise of no one, it was revealed that Anderson would undergo surgery to address a bulging disk in his back. It was the second back surgery the 28-year-old has required in the last three years, amid a smattering of other injuries.
He returned in mid-August for two starts before a sprained wrist forced him back to the DL for another month. He pitched twice more in September before being shut down for the season.
After making a combined $35.3 million on his three consecutive one-year deals, Anderson will likely have to take a significant pay cut this winter. Neither MLBTR or FanGraphs has Anderson among their top 50 free agents despite the fact that he remains on the right side of 30 and has been quite effective when healthy.
Based on recent history, the team that signs Anderson has a decent chance of getting 10-15 good starts out of him. For one year and $5 million or so, that's not a bad price, and if he ends up replicating his 2015 campaign, New York would land the free agent bargain of the winter. Why not give it a shot?
This article originally appeared on