Yankees Rumors: The Free Agent DH Well Is Drying Up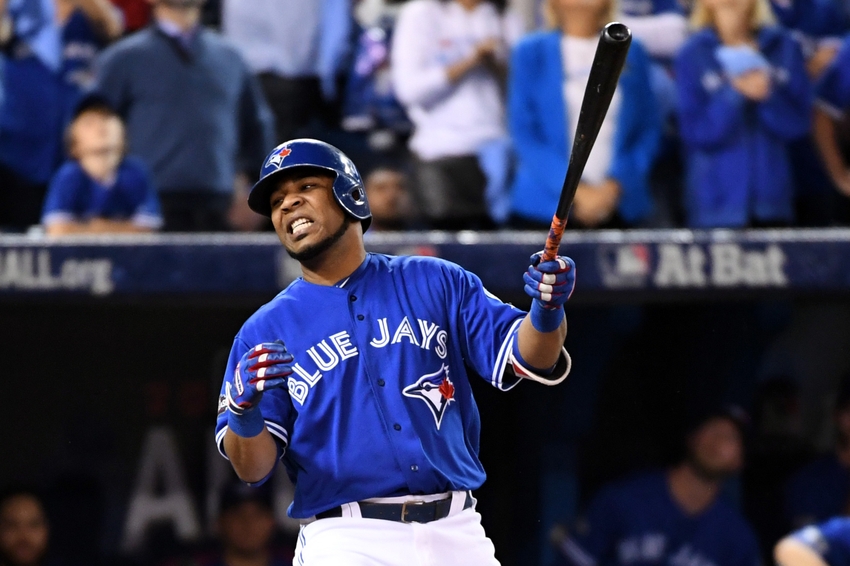 Even before baseball's Winter Meetings get set to kick off on Monday, potential offensive targets the Yankees had originally set their sights on are beginning to come off the board.
Yoenis Cespedes is a very good player. He's probably one of the marquee four-tool players (he doesn't steal bases) in all the game. But is he worth $27.5M per season? Obviously, the Mets think so. And for them, it makes sense, as, without the 31-year-old slugger in the middle of their lineup, the Mets would be severely lacking when it comes to driving in runs. Thankfully, the Yankees never seriously thought about entering the fray when it came to making Cespedes one of the top-10 highest earners in MLB per season.
Then on Wednesday morning, as the MLB Players Association and owners continue to hammer out details of a new CBA, word spread that free agent first baseman/DH and Yankees target Edwin Encarnacion was all but primed to accept a multi-year offer from the Houston Astros.
Encarnacion will be handsomely paid, somewhere near what Cespedes received in terms of both money and years. Though he is three years older than Cespedes, his ability to DH in the AL, even as he approaches 40, should be enough for a team like the Astros to overpay for his services.
Clearly Houston is a team in win-now mode — something the Yankees are not. Which plays into the fact as to why the Astros kicked off this offseason party by first signing Josh Reddick to play left field, Brian McCann to be the everyday catcher, and now Encarnacion to sit in the middle of their already potent lineup.
As I said on Twitter earlier today, there are a few things for Yankees fans to take away if/when Encarnacion does indeed sign with the 'Stros. For one, he leaves the Blue Jays — a divisional foe and constant thorn in the Yankees' side. Yes, he does indeed stay in the American League, but the Yanks only need to worry about facing him nine times, not 18 — until the playoffs (hopefully).
The Jays are a club trending in the wrong direction. Should they also lose Jose Bautista, they would have replaced the heart of their lineup with Kendrys Morales and possibly Dexter Fowler and/or Jay Bruce (as rumors suggest). That's not a tradeoff I'd be OK with if I were a Jays' fan.
Secondly, the Yankees were never 100% sure about which bat if any they would pursue via the free agent market. By missing out on first Cespedes and now Encarnacion, they can form a fresh perspective while potentially taking a run at a player who should only cost around 3-years, $50-65M (Mark Trumbo, Bautista, Ian Desmond), or the route in which I inevitably feel Brian Cashman ventures down, the 1-year, $12-17M deal for an aging, yet still effective veteran bat (Carlos Beltran, Matt Holliday, Pedro Alvarez, Brandon Moss, Mike Napoli).
Let's be clear, I'm not angling for the Yankees to sink their teeth into any particular player at this time, as I'm still of the designation that I would prefer to see them stay the course with the Baby Bombers this season before getting a better read on how to proceed in 2018. But truthfully, the Yankees shouldn't shy away from a veteran presence both in the clubhouse and in the middle of the order should the correct one present itself. It also wouldn't hurt if he were left-handed — I'm just sayin'.
This article originally appeared on