Yankees Rumors: NY May Stick with Internal Rotation Options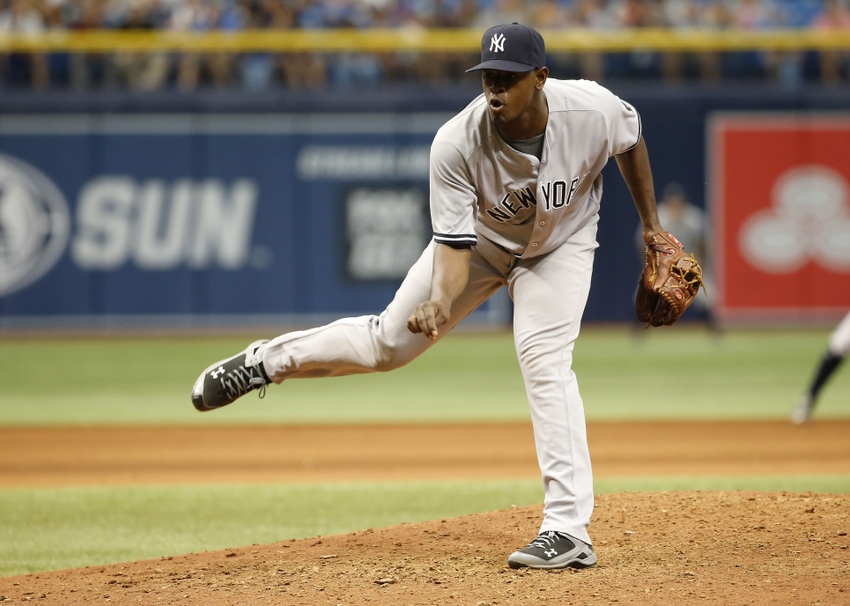 New York Yankees general Brian Cashman indicated Monday at the Winter Meetings that the team may stand pat with its current rotation options despite serious question marks.
It is looking more and more like the barren market for starting pitching this winter will force the New York Yankees to enter 2017 relying on the options they already have in-house. GM Brian Cashman told Pete Caldera of the Bergen Record Monday, "I think it's less likely that we wind up with a starter. It's a tough market to be finding one."
New York were rumored to be one of the primary suitors for the top free agent starting pitcher available this offseason, 36-year-old Rich Hill, before he re-signed with the Los Angeles Dodgers Monday for three years and $48 million.
With Hill off the market, there are no clear upgrades available over the Yankees current options on the free agent market, especially not at the prices they are expected to command. The club has been linked to Jason Hammel, but he is more of a back-of-the-rotation guy than the frontline starter the team needs to compete next year.
There are a number of impact arms rumored to be available via trade, but Cashman has already made it clear he doesn't think the rebuilding Yankees are in a position to empty out the farm for an ace like Chris Sale or Chris Archer.
Many analysts have thrown Sonny Gray out as a possibility if Oakland would give the acquiring team a discount because of the 27-year-old's rough 2016 campaign, but that seems unlikely because of the high-demand for pitching this winter.
While many of the Yankees starting options for next year are unproven, they undeniably have some interesting options to choose from. The team currently has two spots up in the air behind Masahiro Tanaka, CC Sabathia, and Michael Pineda. If they don't bring in another starter, it's likely that those remaining jobs would be settled via a competition in spring training, similar to the approach the front office is taking with right field and first base.
Want your voice heard? Join the Yanks Go Yard team!
The front-runners for those two spots are most likely the guys who got a shot down the stretch in place of the departed Ivan Nova and injured Nathan Eovaldi: Luis Severino, Luis Cessa, Chad Green, and Bryan Mitchell. Each of those arms had at least some degree of big league success last year that they can build on and are deserving of a more extended look.
The next tier of guys who could force their way into the conversation with a strong spring includes Jordan Montgomery, Dietrich Enns, and Chance Adams. Those three were among the most dominant pitchers at any level of the minor leagues in 2016, but as of now only Enns is on the 40-man roster.
More from Yanks Go Yard
This article originally appeared on