Yankees Reportedly Willing to Offer Aroldis Chapman Five-Year Deal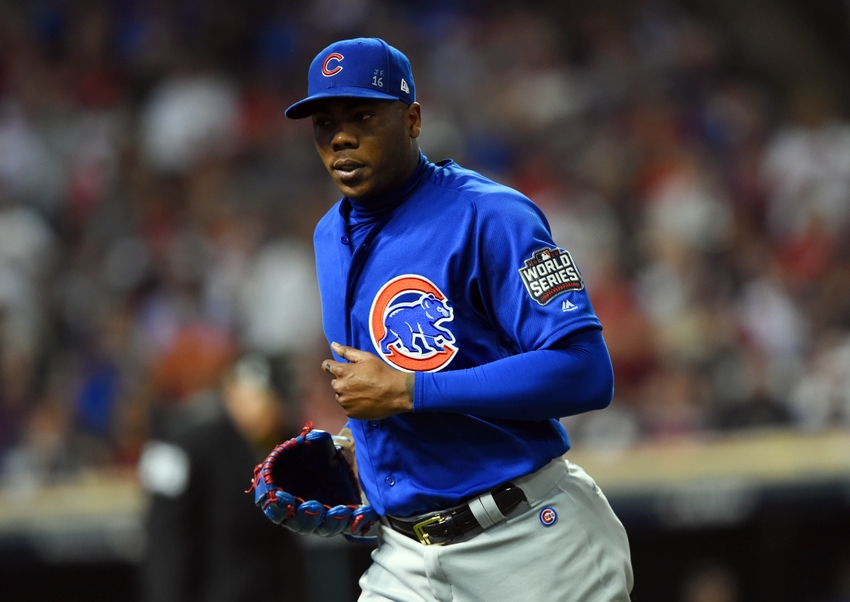 The Yankees have identified Aroldis Chapman as their main man to target throughout the entire offseason. Chapman's market is beginning to move along, and it appears New York has established a few terms and limits to pursuing their former closer.
Yankees executives are getting a clearer picture on what it will take to ink Aroldis Chapman.
The coveted closer recently spoke with ESPN's Marly Rivera about his contract desires. In the conversation, Chapman denied rumors of him seeking a $100 million deal. Interestingly, he instead admitted his want for six years. The hard-throwing left-hander knows he may not get that length and is open to negotiation.
Jon Heyman of FanRag Sports reported Tuesday of an estimate the Yankees are comfortably prepared to offer Chapman — five years and $80 million.
If the bidding for Chapman skyrockets to the point that dollars begin matching his triple-digit velocity, the Yanks will move on. As a backup plan, New York is monitoring former Dodgers closer Kenley Jansen, Heyman says.
The baseline for free-agent relievers was set with Mark Melancon's four-year, $62 million signing with the Giants. Agents for the two remaining big fish will look to better Melancon's $15.5 million average annual value.
The proposed five-year, $80 million deal ($16 million AAV) for Chapman would lock him up through his age-32 season. Of course, the inclusion of an opt-out possibly reshapes that scenario. Personally, I foresee the bidding escalating a tad beyond a flat $80 million, but the five years sounds reasonable. A contract in the range of five years, $84 million ($16.8 million AAV) may be enough to get it done. It is, however, a steep price to pay for a one-inning guy, even for the prestigious position of closer.
Chapman pitched 31 ⅓ innings for the Yankees in 2016 before being traded to the Cubs before the non-waiver trade deadline. The Cubbies used Chapman to help win their first World Series in 108 years. Meanwhile, the Yankees happily received super prospect Gleyber Torres as part of their return. Both sides came away happy with the transaction, and now the Yankees have a chance to add Chapman back into their bullpen.
It's no secret that Chapman enjoyed his time in New York. On more than one occassion after the trade, the 28-year-old has expressed his love for the city, team and fan base, saying he would "love" to wear the pinstripes again. For the right price, the Yankees certainly wouldn't mind a reunion.
However, Chapman will not come at a discount for any team. His value increased with yet another solid season last year, in which the southpaw boasted a pearly 1.55 ERA (1.42 FIP), 14.0 K/9 and 2.8 BB/9 over 58 innings. The Yankees are joined in their pursuit by the Dodgers and Marlins, with the Nationals on the periphery after missing out on Melancon.
This article originally appeared on