Yankees Reportedly Showing Interest In Brian Dozier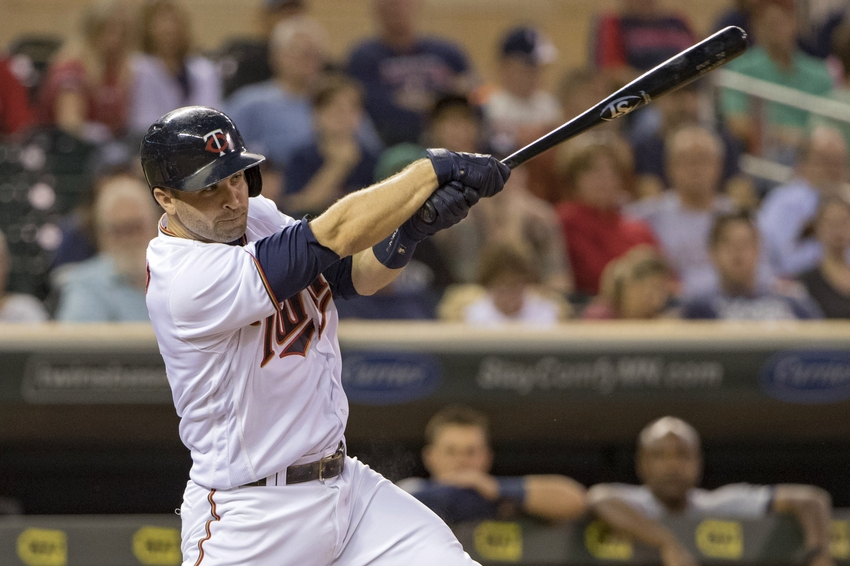 If the rumors are true that the Yankees have an interest in second baseman Brian Dozier, it would likely signal the end of Chase Headley's time in the Bronx.
Day 1 of the MLB Winter Meetings is upon us and the rumor mill is spinning at a steady pace. While there is always an "insider" report that seems to fly in from left field, for the most part, a lot of truth hides behind speculation. Which is why I was happily surprised to hear that the Yankees were kicking the tires on the possibility of acquiring Minnesota Twins All-Star second baseman  Brian Dozier.
Shortly after this news broke, Yankees GM Brian Cashman quickly came out and said that up until that point, he had no such conversations regarding Dozier with anyone from the Twins organization. This put quite the grin on my face because it's reminiscent of when a team says that their manager's job is safe, and then within 24 hours the poor guy is on the unemployment line.
Of course, Cashman is going to deny his true intentions most every player not named Aroldis Chapman. This is just smart management — I mean, why would you want your competitors to know you're on the prowl for a specific player so they can A), beat you to the punch, or B), show fake interest in acquiring the same player only to significantly drive up the asking price. It's classic gamesmanship — cat and mouse.
As for the downtrodden Twins, they're going through another rebuild, and though they do have a few nice young pieces (Nick Gordon, Tyler Jay, Byron Buxton), this club is still a long way away from contending for a playoff spot. At 29, coming off his most productive season, Dozier's trade value will never again be this high.
Now yes, he is a free agent after the 2018 season which slightly dents the return the Twins would recoup, but if he isn't dealt this offseason, you can bet the farm he'll likely be dealt next. But why would the Twins take the chance of Dozier having an off-season (anything not around 42 home runs and 99 RBI will be deemed so)?
Dozier's entering his professional prime, and at 2-years, $15M, I'm honestly shocked that more teams than just the Dodgers and Yankees aren't knocking down the Twins' door for a chance to add one of — if not the most potent hitting second baseman currently in baseball.
Now if the Yankees are serious about adding Dozier, this is coming from a place of convenience. While Headley wasn't awful last season (it took him until the middle of the summer to lose that designation), he showed glimpses of owning up to the 2-years, $26M remaining on his contract.
Signing off on this deal would not only allow the Yankees to move incumbent second baseman Starlin Castro to third base — to make better use of his plus arm — it would also let manager Joe Girardi slide Castro down in the order — to around No.6 while plugging in Dozier either before or after Gary Sanchez. Now, that's protection!
These moves would then permit newly signed DH Matt Holliday to be a chameleon of sorts throughout the lineup (depending on the pitching matchup) while giving Gleyber Torres plenty of time to mature in the Minors — especially since the Yankees are undecided on what position he'll eventually call home once he reaches the Bronx.
Obviously, the Twins' demands will be high — which is why I'd begin any potential offer with the Yankees' No.7 overall prospect, third baseman Miguel Andujar. Earlier reports this offseason had a number of teams inquiring bout the 21-year-old's services. From there you can build a deal to include an outfield prospect, a middle reliever, and maybe even Brett Gardner.
This article originally appeared on