Yankees Pitcher Jordan Montgomery Could Bolster 2017 Rotation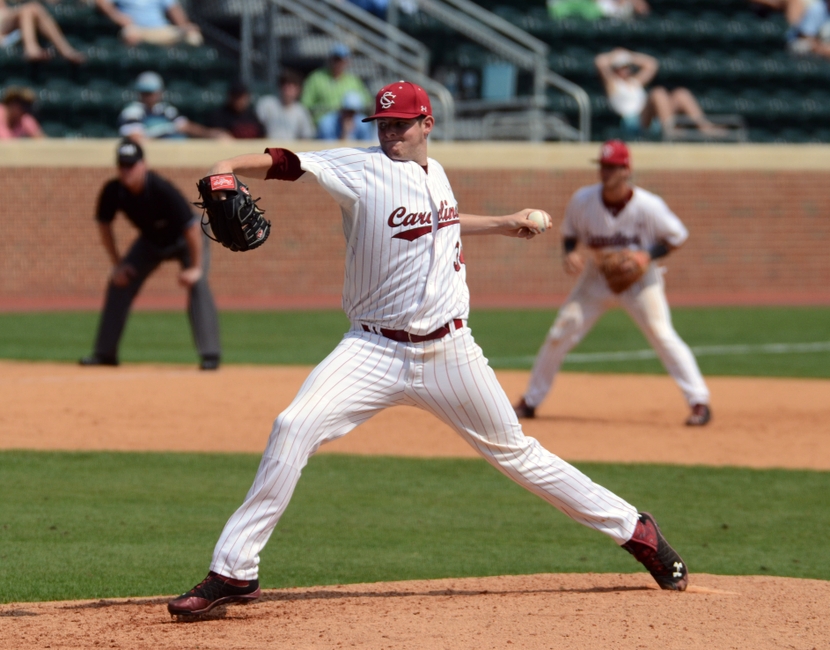 Starting pitcher Jordan Montgomery is currently having a phenomenal season with the Yankees  Triple-A affiliate, and in 2017 he will likely get his chance in the majors.
Jordan Montgomery is one of the many overlooked names in the Yankees farm system. In 2014, Montgomery was drafted as a 4th round pick and the 122nd overall pick. Prior to being drafted, he pitched for the South Carolina Gamecocks baseball team.
During  college, he was named a Freshman All American and dominated hitters as a finesse pitcher. And that is the type of pitcher he would remain with the Yankees. In 2015, he pitched his first full season as a minor league player and he began to catch the attention of the organization.
In 2015, Montgomery had a 2.95 ERA in 134.1 innings. And from here, things actually get better. So far in 2016, Montgomery has posted a 2.13 ERA in 139.1 innings. Montgomery began the season in Double-A with the Trenton Thunders but he is currently pitching with the Yankees Triple-A team, the Scranton/Wilkes-Barre Railriders. 
Since joining the Railriders, he has been a force to reckoned with. In six starts, he has a 0.91 ERA with 37 strikeouts. It has been a kind transition from Double-A to Triple-A for Montgomery and it appears he is ready to make the jump to the next level. That level is the big leagues.
Montgomery will likely remain in Triple-A for the rest of 2016 but next year, he will get his chance. Going into 2017, the Yankees will have two open rotation spots barring any acquisitions. It appears at least one of the spots will be given to a minor league player and Jordan Montgomery will have the opportunity to compete for that rotation spot in spring training.
This will be a well deserved chance and considering he has succeeded at every level of the minors, the spot should be given to him. Many of the people may be wondering what makes him so good and that is what I will explain to you.
The Skills of Jordan Montgomery
Montgomery has a fine arsenal of pitches featuring a lively fastball, an above average changeup, a curveball, and a cutter. The great thing about this arsenal is none of his pitches are considered below average. He has a good feel for all of his pitches and knows how to locate each of them very well. 
Want your voice heard? Join the Yanks Go Yard team!
One thing that has likely caught the attention of the Yankees is his ability to limit home runs. In 292.2 career innings , he has only given up 10 home runs and has allowed zero home runs since reaching Triple-A.
That is very important considering the AL East is filled with hitter friendly fields. This includes Yankees Stadium, Fenway Park, and Camden Yards. He appears to be a great pitcher but every pitcher has his weaknesses and now I will talk about his. 
The Weaknesses of Jordan Montgomery
As I mentioned earlier, Montgomery has a four pitch arsenal but the big issue is that he has no dominant pitch. All front line pitchers have a great put away pitch such as Masahiro Tanaka's splitter or Andrew Millers Slider. Montgomery relies heavily on his command rather than a specific pitch. In addition to that, many pitchers rely on a 95+ MPH fastball to power through hitters when they don't have there best stuff.
This is something Montgomery can't do very often considering his fastball only ranges between 92-94 MPH. His fastball may be lively but if he mislocates it, his velocity will not save him. These issues are what separates him from the aces in baseball. It is also why scouts only project him as a quality back end of the rotation starter. But considering the many issues in the Yankees rotation, they would gladly welcome that.

It is still possible that Montgomery will get a spot start this month but it is very unlikely. Montgomery is expected to continue helping the Railrider's in their quest for a Triple-A Championship. Seeing Montgomery's growth as a player has been a pleasure and in 2017, his skills will be be put to the test as he competes for a spot in the Yankees rotation.
This article originally appeared on