Yankees Options After Releasing Nathan Eovaldi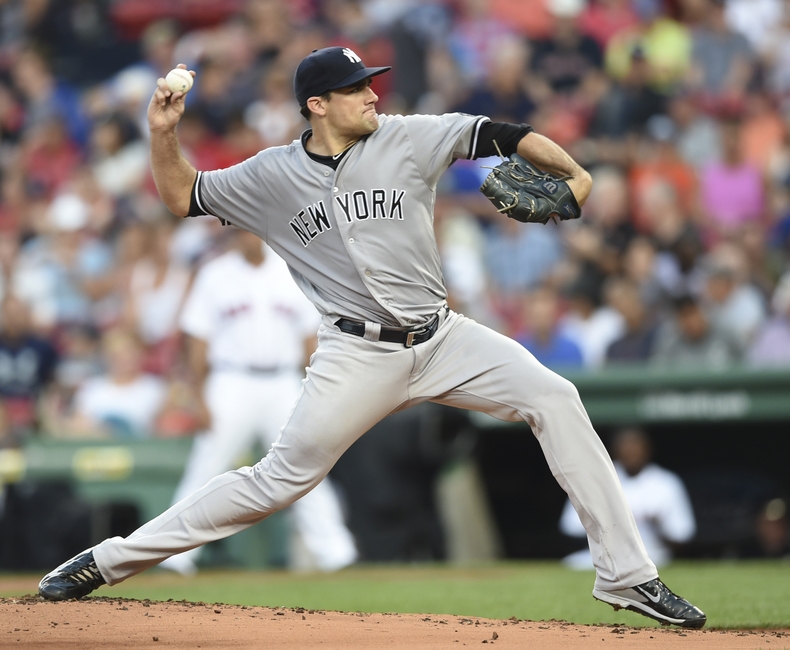 The New York Yankees officially released flame-throwing right-hander Nathan Eovaldi on Monday after designating him for assignment ten days earlier. Are Evo's days in pinstripes numbered?
The news that Nathan Eovaldi would require his second Tommy John surgery in August was devastating for a New York Yankees rotation that was already full of question marks. When it was revealed that he would require the entire 2017 season to rehab, it became just a matter of time before the team cut ties with the talented starter.
Eovaldi never quite lived up to the high expectations that came with his electric 100 mph heater during his stint in the Bronx, but we was a solid mid-rotation arm who compiled a 4.45 ERA and 4.11 FIP over 279 IP in pinstripes. Now that he is a free agent, there are a number of avenues the Yankees could explore to replace him.
One option the Yankees could take in the short term is to move Adam Warren back to the rotation. Warren started only one game in 2016 for the Cubs, but was extremely underrated as a starter in 2015 for the Yankees. In 17 starts, Warren went 6-6 with a 3.66 ERA before being bumped to the pen by Ivan Nova's return from the disabled list.
For all the talk of New York's uncertain pitching staff this winter, they actually have no shortage of depth, it just is largely unproven. Luis Cessa and Luis Severino stand out as two of the primary options to step up and taking Eovaldi's spot in the 2017 rotation if the Yankees to keep Warren in the pen.
Luis Cessa is the lesser known Luis in regards to the Yankee pitching staff. Cessa made his Major League debut in 2016, and saw time as both a spot starter and out of the bullpen.  During his nine starts, he compiled a 2-4 record with a 4.01 ERA. The 24-year-old righty didn't blow opposing batters away, but he did a good job battling and keeping hitter's off balance with his polished four-pitch arsenal.
Want your voice heard? Join the Yanks Go Yard team!
.After a successful rookie year in 2015, expectations were sky-high for top prospect Luis Severino. Many saw him as the club's defacto number two behind ace Masahiro Tanaka.
Instead, he went 0-8 with an 8.50 ERA during his starts in 2016, not exactly living up to his hype. He did see a lot of success after being moved to the bullpen, posting a 3-0 record with a 0.39 ERA in 23.1 innings out of the pen.
New York Yankees: The Hall of Fame Case for Jorge Posada
While all signs indicate that Severino should be in the pen, Yankees general manager Brian Cashman has confirmed this winter that he will work exclusively as a starting pitcher in 2017, even if that means he needs to return to the minor leagues to further fine-tune his changeup.
There have also been rumors that the Yankees could look to retain Eovaldi on either a minor league deal or on a two-year major league pact as they've done in the past with rehabbing pitchers like Jon Lieber, David Aardsma, and Andrew Bailey.
While the Yankees have said they are looking at all options to upgrade their pitching staff this winter, there has been no confirmation from the team that they are interested in bringing Eovaldi back.
With a weak class of free agent starters, New York is probably best served by replacing Eovaldi with their internal options, as they have at least three guys in Warren, Cessa and Severino who can fill that role, and a  lot more arms in the upper minors that should get a look if those three don't work out.
This article originally appeared on