Yankees Offseason Trade Target: Reliever Cam Bedrosian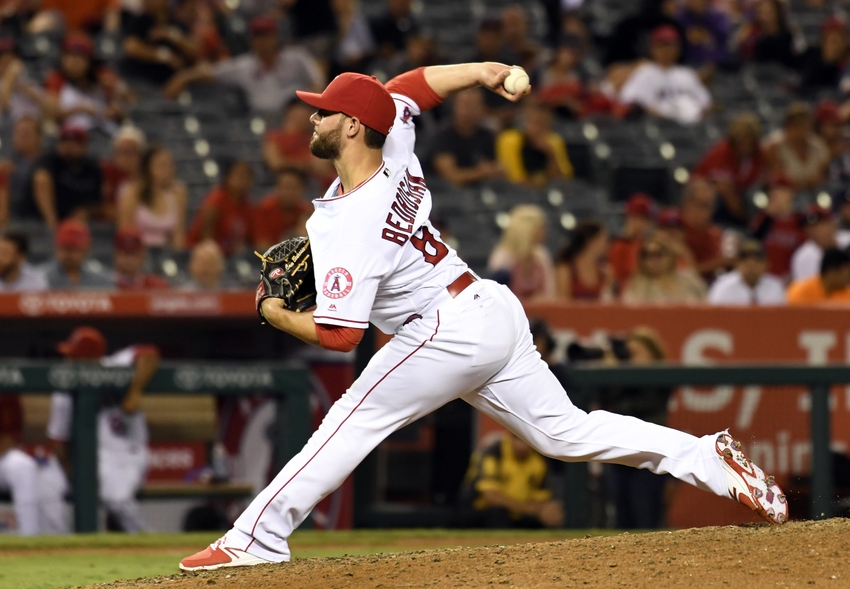 After a breakout 2016 campaign, Los Angeles Angels reliever Cam Bedrosian could be an appealing trade target to beef up the New York Yankees bullpen.
Former Angels first rounder Cam Bedrosian finally put it all together in 2016 after a tumultuous start to his major league career. The 25-year-old righty had a 1.12 ERA and 2.13 FIP in 40.1 IP for Los Angeles this year. With the Yankees looking to address their thin bullpen this winter, Bedrosian could be a possible addition.
Selected 29th overall as a high risk, high reward high school arm in the 2010 June amateur draft, Bedrosian managed just a dozen professional innings before undergoing TJ surgery and missing the 2011 season. He returned as a starter in 2012, but was moved to the bullpen after a couple of ugly appearances.
During Bedrosian's climb up the minor league ladder he was alternately brilliant and disastrous. He racked up impressive strikeout totals because of his nasty stuff, but often struggled to get the ball over the plate, walking 11.6% of the batters he faced (4.5 BB/9) over his six seasons in the minors.
In 2014, Bedrodian began his year in A-ball and finished it pitching in the big leagues for the Angels. Predictably, things did not go smoothly for the then-22-year-old. He had a 6.52 ERA and 4.27 FIP while walking 12% of the batters he faced (5.6 BB/9). He did manage to strikeout 20 in his 19.1 innings of work, however (21.7% K%).
Things were pretty much the same Bedrosian in 2015, with a 5.40 ERA and 4.15 FIP in 33.1 IP, stiking out 22.2% of batters faced while walking 12.4%. He split the year between the majors and the PCL, where his ability to overwhelm minor league batters with his stuff made his poor command less of an issue.
This year everything clicked for the talented righty. He struck out an incredible 32.1% of the batters he faced this year, while cutting his walks down to 8.8%. The free passes are still higher than you'd like to see, but he took a big step forward with his control, and is still young enough to expect him to get even better over the next few years.
Want your voice heard? Join the Yanks Go Yard team!
Bedrosian has two plus offerings, a mid-to-high 90's fastball that averaged a career-best 95.2 mph in 2016 according to Pitchf/x and a nasty slider that averaged 83.3 mph this year. He's always had the stuff of an elite big league reliever, and now looks like he's able to harness it effectively.
Brian Cashman Talks About Yankees Role In World Series
The only red flag with Bedrosian is he needed surgery to remove a blood clot from his arm pit in September, ending his season early. It isn't expected to impact him going into next season, however, so theoretically it shouldn't impact any potential trade talks.
The Angels are expected to go for it in 2017 with a number of their key players returning from injury. Any team with Mike Trout on it has no business rebuilding anyway. The two sides might be able to work out a need-for-need swap, however. Former Yankees exec Billy Eppler is the GM in LA and likely still has guys he remembers fondly from his time in New York.
Last year there were rumors about the Angels as a possible destination for Brett Gardner. Los Angeles would need to throw in another piece or two, but Bedrosian would be a good starting point to resume those talks. LA might also be interested in one of the Yankees many back-end starters. Bryan Mitchell? Chad Green?
It may seem counterintuitive to move a starter given New York's uncertain rotation, but they just have so many similar number five/swingman types on the roster. A shutdown reliever might be more valuable to the team at the moment.
Acquiring Bedrosian and signing Aroldis Chapman this winter would go a long way towards giving the Yankees back their dominant bullpen. That trio would make me a lot more confident going into tight games next year.
This article originally appeared on