Yankees Offseason Trade Target: First Baseman Joey Votto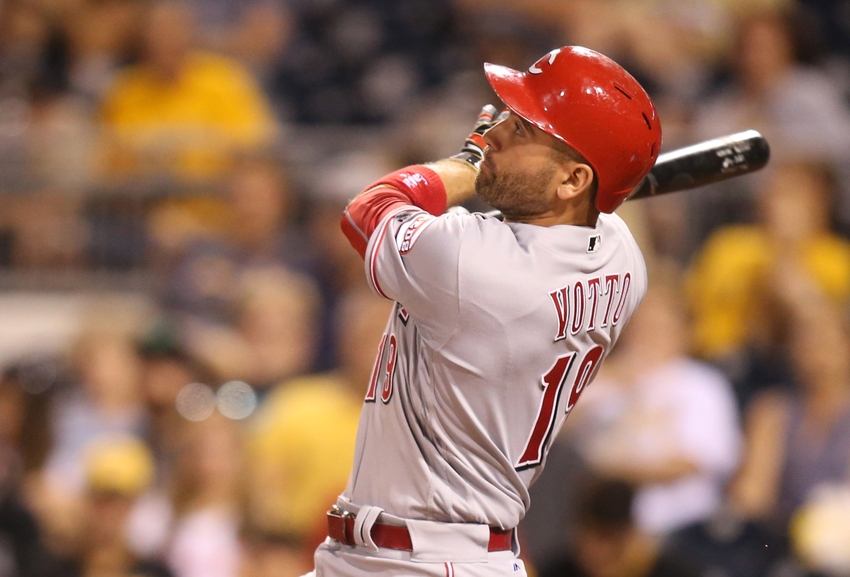 First baseman Joey Votto of the Cincinnati Reds could be just what the New York Yankees need to make the jump back to serious contenders in 2017.
It's not a stretch to say that Joey Votto is currently the best pure hitter on the planet. It's easy to forget he's still around doing his thing because he plays in the baseball wasteland that is Cincinnati. Does he make sense as a trade target for the Yankees this winter?
Since his debut in 2007, only Miguel Cabrera has a higher OPS+ than Votto's 156 mark among players with 1000 games played. He's compiled an amazing .312/.424/.533 batting line over the last decade as of this writing.
There have been no signs of slowing down either. Votto is currently leading all of baseball with a .433 on base percentage, something he has done five times in the last seven seasons. He has already drawn 100 walks through 601 plate appearances (16.6% BB rate).
Votto-matic gets a bad rap for being too passive at the plate, but his power numbers are very impressive in their own right. He has 24 homers and a .529 slugging percentage this season, and has reached both of those marks in six out his last eight seasons.
The 32-year-old first baseman is extremely intelligent and analytical. He seems like the type of hitter who will age very well because of his commitment to his craft. Sort of like Greg Maddux on the other side of the ball.
The rebuilding Reds have been giving away everything that isn't nailed down in recent years, but they haven't been able to move Votto. The obvious reason is his admittedly obscene contract. He's owed a whopping $179 million dollars from 2017-2023, a deal that will take Votto through his age 39 season.
Want your voice heard? Join the Yanks Go Yard team!
For most Yankees fans, that should rightfully be a major red flag. We just got out from under a number of these massive contracts, why would we want to go down that road again?
A good comparable for Votto might be David Ortiz, who continues to defy age and conventional wisdom through his age 40 season. The Red Sox have built a talented young core around their veteran slugger, taking advantage of their DH spot to stash one of the game's transcendent hitters.
The Yankees could take the same approach with Votto, taking some of the pressure off of Gary Sanchez, Aaron Judge, and Tyler Austin to be the big bats in the middle of New York's lineup.
Votto would also provide the club with some insurance in case Greg Bird isn't ready to begin 2017, or needs a stint in the minors to shake off rust. The veteran won't block the Bird Man of course, the two could swap between first base and DH, bumping Tyler Austin and Brian McCann into valuable reserve roles.
The only trade chatter that has centered around Votto in recent years was that the Toronto Blue Jays tried to acquire him at the 2015 trade deadline. The Reds have largely bungled their rebuilding efforts and might be willing to absorb some salary at this point in order to receive an influx of young talent.
Alternatively, the Yankees should consider putting their considerable financial might to good use. The contract would essentially replace Mark Teixeira's when the 36-year-old retires at the end of the season. While that might not be the most encouraging comparison to make, it's hard to argue that the richest franchise in American sports doesn't have the dough to get this done if they wanted to.
This article originally appeared on