Yankees Offseason Trade Target: Astros Starter Mike Fiers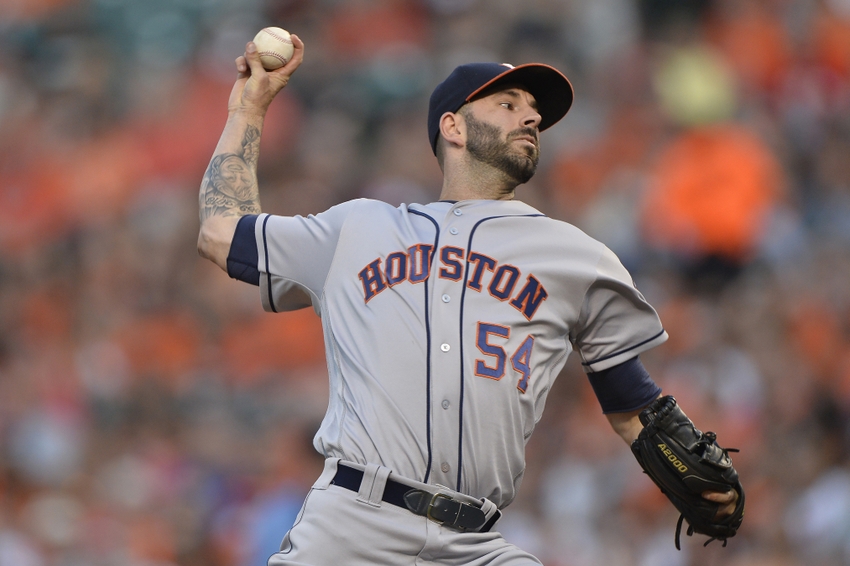 The Astros are reportedly shopping two starting pitchers that could interest the Yankees at the Winter Meetings, Colin McHugh and Mike Fiers.
On the first day of the 2017 Winter Meetings, Nick Cafardo of the Boston Globe reported that, while the Houston Astros had been perhaps the most aggressive buyer in the early days of the offseason, they were "would listen" on starting pitcher Colin McHugh and DH Evan Gattis. Cafardo singled out the New York Yankees as a fit for those two guys.
With New York's recent signing of Matt Holliday, they likely have no more use for Gattis, but McHugh remains an interesting target because of his solid dependability and the three years of team control he has remaining.
ESPN's Jayson Stark confirmed McHugh's availability on Monday and added a new name to the rumors circuit, fellow Astros starting pitcher Mike Fiers. Stark cites the Astros desire to "create roster and payroll flexibility" even as they shop for an ace at the Meetings.
The 31-year-old Fiers got a late start to his MLB career, but has emerged as a solid middle-of-the-rotation arm since his rookie season in 2012. The 2016 was easily his worst as a full-time starter, as Fiers pitched to a 4.48 ERA and 4.43 FIP in 168.2 IP, but he's still young enough that it's reasonable to bet on a return to form in 2017. He has a career 3.87 ERA and 3.94 FIP over 572.2 MLB frames.
One plus from the Yankees perspective is that Fiers is very affordable and has three years of team control remaining. MLB Trade Rumors expects him to earn just $4.3 million through arbitration next season. He's not going to blow anyone away, but he's also not going to cost a ton coming off a disappointing 2016 season.
McHugh is probably the better fit for New York because he's two years younger, had the better 2016 campaign, and has been more consistent during his professional career than Fiers. Still, the Yankees could use all of the proven, controllable starters they can find with Masahiro Tanaka, CC Sabathia, and Michael Pineda all set to depart after next season.
This article originally appeared on