Yankees May Reconsider Handing Aaron Judge a Starting Job for 2017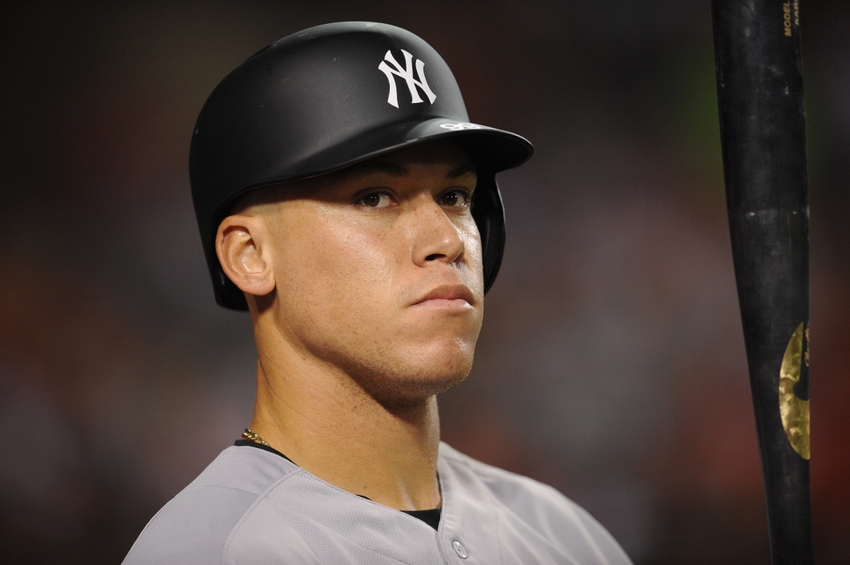 New York Yankees rookie rightfielder Aaron Judge may be in danger of losing his starting job for 2017 if he doesn't turn things around at the plate.
The Yankees front office demonstrated with their handling of Luis Severino in 2016 that they are not willing to let a young player struggle indefinitely at the big league level, no matter how promising they may be.
Even after he posted a 2.89 ERA in 77.1 innings as a rookie in 2015, New York pulled the plug on Severino after just seven starts this season. They may be "in transition", but the product on the field always takes priority for the Yankees if they see themselves as remotely in contention.
Aaron Judge may find himself in a similar position to Severino if he doesn't break out of this miserable slump. Coming into Sunday's game, he has struck out in almost half of his big league plate appearances (45.5%) and put up a .172/.258/.362 (63 wRC+) slash line in 66 plate appearances. 
The 24-year old has just two hits in his last 37 PAs while amassing 21 strikeouts. On the plus side, both of those hits were for extra bases (a double and a homer) and he is still taking a fair amount of walks.
At some point, having Judge continue to struggle isn't helping either the team or the player. Asked whether he thinks a young player's confidence can be affected by such consistent failure, Yankees manager Joe Girardi told reporters following Saturday's 2-0 loss to the Orioles:
I think it can; I don't think it has yet. I've been paying attention to how he handles things. I don't think it's affected him. But it can.
Judge has long been seen as the obvious successor to Carlos Beltran in rightfield, but given how many other MLB-ready outfield options the team has ready to go, it's not clear how long of a leash they will be willing to give him. 
Want your voice heard? Join the Yanks Go Yard team!
If the Yankees don't move veterans Brett Gardner or Jacoby Ellsbury, they will have Judge, Aaron Hicks, Rob Refsnyder, Mason Williams, Clint Frazier, and Jake Cave all competing for one open spot for the foreseeable future. Trading Gardner would give them some wiggle room, but there would still be pressure on Judge to produce with so many players nipping at his heels.
For the moment, Joe Girardi defended his players performance, suggesting he's been the victim of some bad luck and good pitching after Saturday's loss:
We've got to get him going, that's the bottom line. We have to get this kid going. … We've seen some good things too. Again, we believe in him. Obviously they've pitched him really tough, it seems like. I was talking to [hitting coaches Alan Cockrell and Marcus Thames], and they said they're making really good pitches on him and not making a lot of mistakes on him, and we know that's going to change because that just doesn't happen all the time. We're trying to learn him, but it's a process.
The bottom line is this can't go on forever. At some point Judge will need to produce or be sent back to the minors, just as we've seen with Luis Severino this year. By no means should anyone give up on Aaron Judge though.
He is a tremendous athlete with unmatched power at the plate and there's still every reason to think he'll eventually settle in as the Yankees cleanup hitter. It may just take some patience.
This article originally appeared on