Yankees Mason Williams One of Team's Few Recent Bright Spots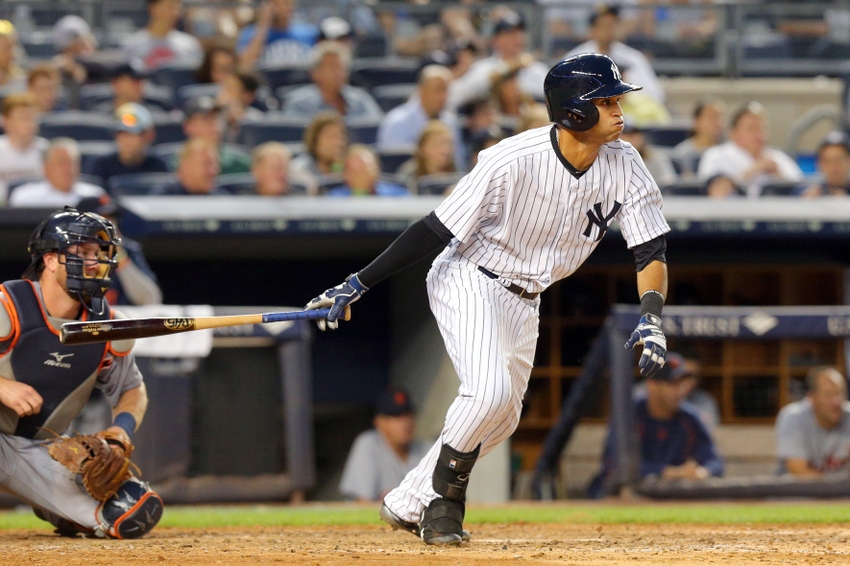 With the New York Yankees short three outfielders, former top prospect Mason Williams has stepped up his game during his second big league stint.
There were very few positives to take away from the Boston Red Sox recent four-game sweep of the New York Yankees. The good guys dropped four extremely winnable games and were straight-out outclassed by their division rivals. As if that weren't bad enough, the already short-handed Yankees lost three members of their starting lineup to injury.
Mason Williams received his second big league call up just before the start of the crucial Boston series to replace rookie right fielder Aaron Judge, whose season was ended by a strained right oblique. He wasn't expected to replace Judge in the lineup however, but rather serve as an occasional defensive replacement and reserve for Rob Refsnyder.
With the rash of injuries last weekend, Williams ended up playing in all four games against the Sox and even receiving two starts. The 25-year-old went 4-for-9 with a double and two runs scored in the series.
The fourth inning of Sunday's 5-4 loss was a perfect illustration of the kind of spark Williams can provide an offense when he's at his best. After falling behind 1-2 to lefty Drew Pomeranz, Williams managed to work his way back to a full count before smashing a line-drive the opposite way into the left-center gap. He used his impressive wheels to stretch the hit into a double, sliding in just ahead of the tag.
After moving over to third on a groundout, Williams made the aggressive decision to try for home on Ronald Torreyes's soft grounder to third baseman Aaron Hill. As soon as Hill threw to second, Williams did not hesitate, taking off for home at full speed and avoiding the tag from Bryan Holaday with a nifty slide.
Want your voice heard? Join the Yanks Go Yard team!
Although his first two major league stints have been brief, they have been undeniably successful. He now has a career .333/.353/.567 line in 32 plate appearances, including a memorable home run in his firs big league at-bat.
After a roller coaster minor league career, Williams finally looked ready to establish himself in the Bronx last May before a shoulder injury sustained diving back to a base ended his season and kept him on the disabled list until July this year.
With Jacoby Ellsbury still day-to-day with a bone bruise in his right knee, Williams should get a nice little audition down the stretch. General manager Brian Cashman recently said that Aaron Judge will have to earn the starting right field job next spring, so there may be room for Williams to push his way into the competition with a strong September performance.
More from Yanks Go Yard
This article originally appeared on