Yankees Jorge Mateo Could Be Shipped Out After Disappointing Season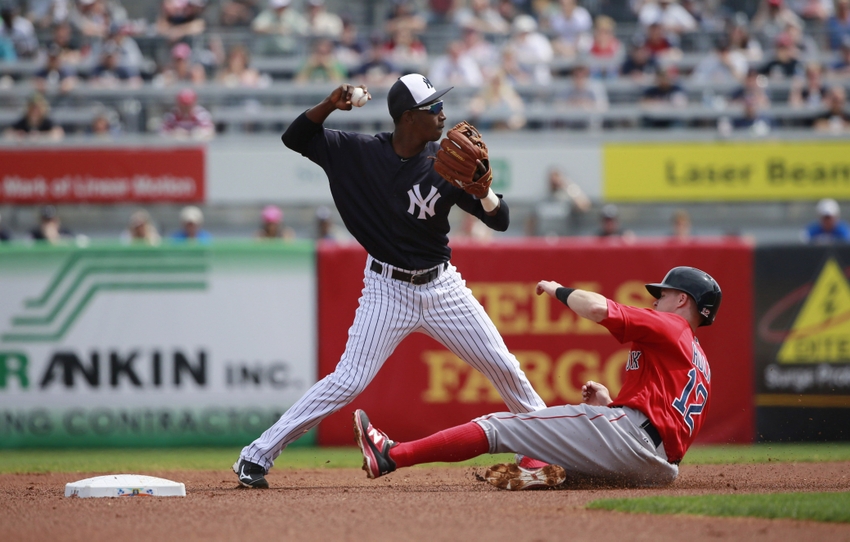 New York Yankees prospect Jorge Mateo had a disappointing season both on and off the field in 2016 and may find himself trade bait as a result.
While he remains one of the more promising talents in the New York Yankees minor league system, there have been whispers in the second half that the team has soured on young shortstop Jorge Mateo.
The first public sign of discord was the two week suspension in July. The organization would only reveal that the discipline was the result of a violation of team policy, but declined to specify the nature of the offense.
George A. King of the New York Post reported that Mateo had clashed with Yankees executives, demanding to be promoted to Double-A Trenton and suggesting that the club release another player to make room for him (speculated by many to be former New York first rounder Cito Culver).
Sources close to Mateo would later tell Brendan Kuty of NJ Advance Media that the reason for the suspension circulating in the public wasn't accurate, and Mateo had been suspended for a different off the field issue he had previously been warned about by the team.
In addition to concerns about his maturity and makeup, Mateo's on-field performance has taken a step backwards as well. The 21-year-old slumped to a .254/.306/.379 batting line in 507 plate appearances for the High-A Tampa Yankees, after hitting .278/.345/.392 in 500 PA split between Low-A and High-A the previous season.
Even more concerning was a tremendous drop-off in his stolen base totals. After leading all minor league players with 82 SB in 99 attempts in 2015 (82.8% success rate), Mateo only swiped 36 bags in 51 attempts this year (70.6% success). It's conceivable that he was told to run less often to avoid injury, but he was also caught considerably more often when he did attempt to steal.
Keith Law of ESPN named Mateo on his list of "Top MLB prospects who have taken a step back in 2016" (Insider subscription required), citing multiple scouts who "haven't seen Mateo make anywhere near enough hard contact" this season.
With current starting shortstop Didi Gregorius just 26 and a wealth of other exciting shortstops in the pipeline, Mateo seems pretty expendable at this point and could be traded to address other needs if the team is down on him.
While the recent bad press might make team's pause slightly, Mateo is ranked number 19 on MLB Pipeline's Top 100 prospects list even after his down year. The Yankees reportedly almost swapped him staight up for Craig Kimbrel at last year's trade deadline and could once again dangle him for some much-needed pitching help this winter.
This article originally appeared on