Yankees Interested In Free Agent Kendrys Morales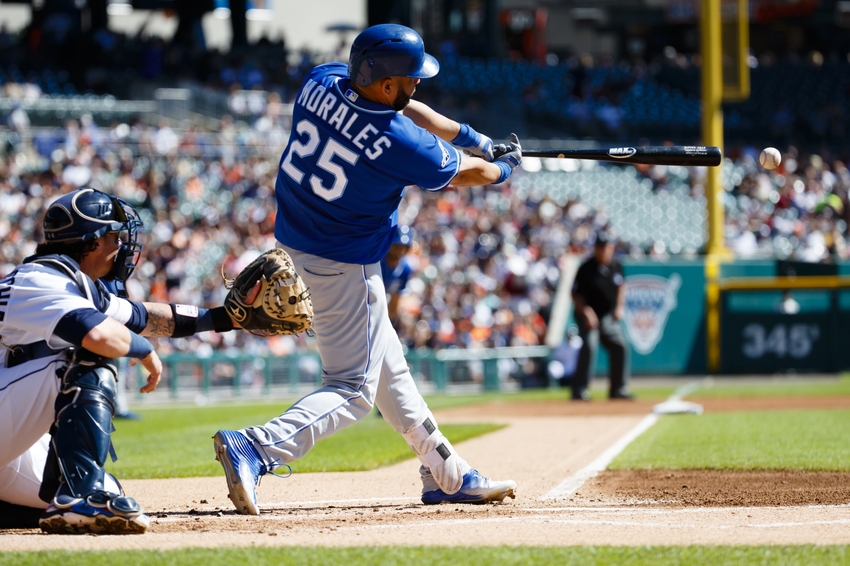 In the event, Brian McCann is dealt sometime this winter, the Yankees would consider adding 33-year-old Kendrys Morales to replace him in the middle of their lineup.
Now that Gary Sanchez has officially been named next season's starting catcher (was this really news?), it seems the Yankees are destined to inevitable trade Brian McCann. While the club still hopes to get back a mid-level prospect or two in return, their real concern should be replacing the left-handed hitter with another aptly suited slugger.
So why not get a guy who hits well from both sides of the plate then? Enter Morales who batted .263/.327/.468 in 2016 with 30 home runs and 93 RBI. Cleary he's recovered from that horrific ankle injury that limited him to only 51 games from 2010 through the entirety of the 2011 season.
Morales' former employer, the Kansas City Royals decided at the 11th hour to not place a qualifying offer on him for fear he would actually accept the one-year, $17.2M pact. After all, his expiring contract was only for two years and $17M.
Over those final two seasons in KC, Morales rediscovered his offensive prowess, slugging 52 home runs, 199 RBI, and a .821 OPS while playing in no fewer than 154 games.
It's likely the Yankees won't be alone in their pursuit for Morales' services, as the Blue Jays and Orioles are both undecided about bringing back their own free agent sluggers (Edwin Encarnacion and Jose Bautista with the Jays — Mark Trumbo and Pedro Alvarez from the O's).
As for the Yankees, if they change course and keep McCann, who still hit 20 home runs, albeit with a .242 BA and 58 RBI, Morales may not fit into their overall scheme for 2017. McCann is owed $18M in each of the next two seasons — while Morales should cost considerably less, let's say $10-12M per, there simply wouldn't be enough at-bats to go around for both in any iteration of a Yankees' lineup.
Of course, should Greg Bird fail to pick up where he left off in 2015, before shoulder surgery cost him all of last season, Morales would be a more than adequate replacement (though he's only played a total of 15 games at first since joining the Royals).
At 33, Morales still has a few good years left in his switch-hitting stick, which is something the right-handed heavy Yankees could certainly use in their everyday lineup. So don't worry about his age — be happy that the Yankees are actually interested in wisely improving upon their hit or miss offense.
This article originally appeared on