Yankees Fans: Most Important News and Rumors from the GM Meetings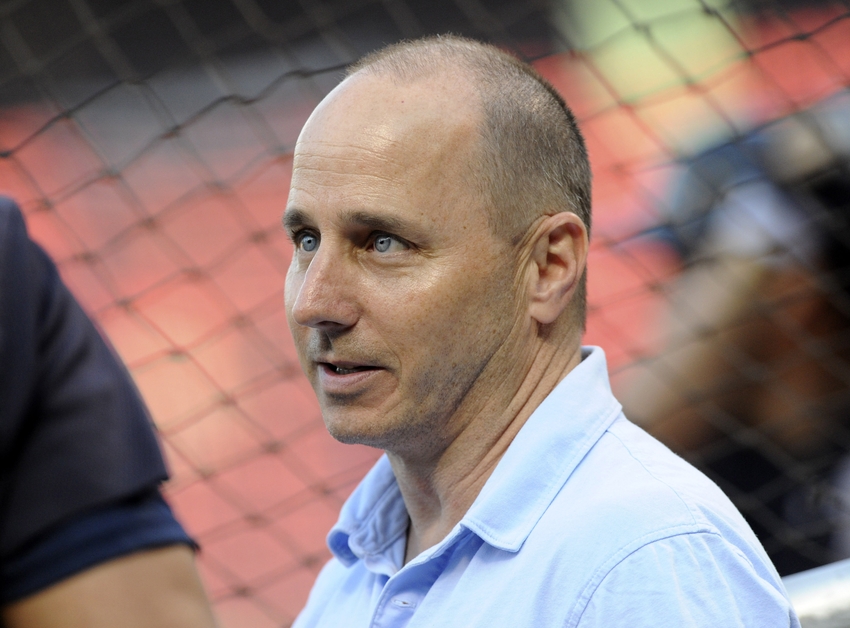 The New York Yankees hot stove season kicked off in earnest during the annual General Managers' Meetings in Scottsdale, Arizona.
While the annual General Managers Meetings don't feature the same rapid-fire action as December's Winter Meetings, they do mark the beginning of the hot stove season in many ways. October was a pretty quiet month for New York Yankees news, but there was plenty of interest for fans that emerged over the course of this three day event.
General manager Brian Cashman usually plays his cards pretty close to the vest, but he was usually candid during the meetings this year, going into detail about the team's plans and many of the names they could have interest in this winter.
Because they are in a "transition" phase (the Yankees code word for rebuilding), Cashman made it clear during the Meetings that no players on the roster are untouchable, although unsurprisingly New York's newest budding superstar is the likely exception to that rule. As he told Brendan Kuty of NJ Advance Media:
It should really be, "No one's untouchable." You really need to be open-minded to anything. But there has to be a reality factor to it. Are we going to be trading Gary Sanchez? No. We're not.
Even without a blockbuster trade centered around The Kraken, it seems likely that this is going to be an even more active offseason for the Yankees than last year. A number of wheels have already been set into motion and it shouldn't be long before we see a deal or two get done.
Yankees Looking Into Top Free Agents
After not signing a single major league free agents during the 2015-2016 offseason, the New York Yankees once again have a little money to spend following the departures of expensive vets like Mark Teixeira, Carlos Beltran, Aroldis Chapman, Andrew Miller, and Ivan Nova.
During the GM Meetings they reportedly reached out to many of the biggest names on the market. The Yankees GM confirmed he had contacted the representatives of two of the top available pitchers, Aroldis Chapman and Rich Hill, as well as many of the notable sluggers on the market such as Kendrys Morales, Yoenis Cespedes, and Jose Bautista.
At the moment, the expectation the Yankees will hold competitions during spring training to fill their vacant first base and right field jobs. They have a number of promising corner outfield/first base types in the upper minors who are at least close to MLB ready, so it is unlikely New York will commit big money to a veteran about to enter their decline years.
Jon Heyman of Today's Knuckleball reported Cashman saying the team may have interest in adding a bat "if we move money." The plan is still to get under the luxury tax in the next year or two (we should have more clarity on that when the next CBA is hammered out), so the Yankees are unlikely to increase payroll.
That means if they're going to bring in a big-ticket bat, they'll likely have to trade a veteran of two first, with Brian McCann and Brett Gardner rumored to be the most likely to depart.
Brian McCann Trade Likely
Probably the biggest concrete news of the GM Meetings was that Cashman had contacted Brian McCann's agent B.B. Abbott about the possibility of a trade, something that didn't happen at the trade deadline, despite the fact that talks reportedly progressed pretty far with Atlanta.
That suggests that the front office might believe a trade is imminent this winter, despite the insistence of team officials and McCann himself that they want the veteran catcher to remain in the Bronx.
Want your voice heard? Join the Yanks Go Yard team!
Cashman reportedly has already received several offers, and it seems like just a matter of time before he receives one he can't turn down given the shortage of quality backstops around the league. He more or less acknowledged that was the case when he told Ken Davidoff and Joel Sherman of The New York Post:
The catching market is very thin, so it's not surprising to anybody [there's interest in McCann]… A lot of teams have expressed interest and offers that I've said no to. If I ever get to a point where something makes enough sense, then Mac will have the final say, as he's earned the right to have that final say.
The fact is, McCann isn't that great of a DH option either. His 2016 production was well-below average for a DH, and his bat didn't seem to rebound much when removed from the stresses of catching full-time in the last two months.
Top Prospect Updates
Opposing general managers have taken notice of Miguel Andujar's success in the Arizona Fall League. Brian Cashman revealed that he's received a number of calls from rivals about the club's top third base prospect. Andujar reached Double-A this season and his hitting .309/.400/.382 through his first 64 AFL plate appearances.
Cashman also clarified that the organization still viewed Andujar's Scottsdale Scorpions teammate Dillon Tate as a starting pitcher, despite the fact that he has worked exclusively as a reliever since coming over from the Rangers as the centerpiece of the Carlos Beltran deal at the August 1st trade deadline. Apparently the Yankees simply didn't have any starting pitching slots left on the Scorpions, but wanted to ensure Tate got to play in the AFL.
The Yankees GM sounded pleased with the progress Tate had made in the last few months, telling Brendan Kuty of NJ Advance Media:
It's been good since we got him. We kind of let him go back to some of his mechanical ways before they made changes with him in Texas and the velocity came back.
Top prospect Jorge Mateo also apparently made a strong impression on Cashman with his work in centerfield during the Fall Instructional League, as the GM told reporters the experiment will continue into next spring.
Yeah, I think it's something we'll continue to look at. He's athletic as hell. In the instructional league, it was very easy for him. So, if that's a direction that we with him in conversations choose to go, it's something he'll be very good at.
Finally, Cash confirmed that all was going to plan with both Greg Bird and James Kaprielian after missing the entire 2016 season to injury. He was open about his preference for Bird to win the 2017 starting first base job over Tyler Austin as long as he's healthy, and had nothing but positive reports from Kaprielian's time in Fall Instructs and the AFL.
This article originally appeared on